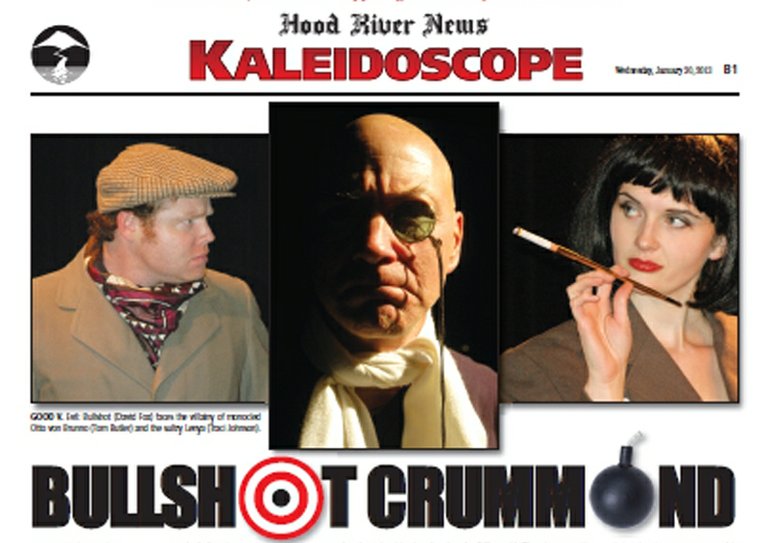 Tuesday, January 29, 2013
The next CAST play provides more derring-do and devilish deeds than you can shake a stuffed duck at.
"Bullshot Crummond" rides again on stage at CAST Feb. 7-16. It will be the third production since 1978.
David Fox plays the detective with the nose for intrigue (as well as bad disguises and remarkably good timing) — Capt. Hugh "Bullshot" Crummond — in a role he's wanted to play for more than 10 years.
With its swordfights, fisticuffs, wild escapes and even a car crash, it's a highly physical role.
"It is cardio-intensive," said Fox, who already has numerous bruises on his arms and legs from the rigors of Bullshot. Fox, an Odell orchardist, has been in numerous CAST productions including "Twelfth Night."
Early in the show, Crummond's ham-handed interrogation of a hapless waiter (Gregory Baisden) is a slapstick smorgasbord, with Fox pulling Baisden's hair, slapping his head, throwing him to the ground and putting him in a headlock.
Tom Butler, complete with shaven head and monocle, portrays Crummond's archenemy, Baron Otto von Brunno. Traci Johnson gives the full femme fatale treatment to Lenya von Brunno, and Baisden is all pith and bluster as Bullshot's trusted friend Algy.
Jake Camp makes quick-changes between such diverse characters as the dimwit village constable and the elderly Professor Benton, who the von Brunnos kidnap in order to learn the secret of synthetic diamond making.
Megan Farrell rounds things out as the lovely Rosemary, who winds up in a virtual cliffhanger with Bullshot in the race to save her father from the treacherous clutches of the von Brunnos.
"This one is for fun," said director Lynda Dallman, who directed the show in 1978 at Hood River Valley High School. "There's no redeeming social value, no big message here. The other thing it does is stretches the technical expertise of the crews."
"I'm super excited to do this play," Fox said. "In winter, we like to do comedies, to relieve the dark days, and this is one of the funniest plays to be put on in a long time."
"At the same time as it is funny and fun, it's also difficult," said Dallman.
HRVHS staged the play again in 2002, under the direction of Rachel Harry, HRVHS drama teacher.
"I had tried out for the show and was really bummed when I didn't get a part," Fox said about the high school production. "I was really glad when the opportunity came up again, because that was my senior year. This is awesome. I'm having a blast."
(See sidebar for historical notes on the 1978 and 2002 productions.)
"The humor of the play is not only the melodramatic good vs. evil, but the attempt to recreate big effects with limited means," Dallman said.
"With the sound and lighting effects, basically trying to recreate what you see in films on stage, it adds to the humor, because they are mock-ups," she said.
Fox said, "It's more about what they (the crews) pull off than whatever we (the actors) do."
Kathy Crow designed the lighting with Anastasia Taylor creating the sound and stage effects. Jeff Cook is technical director. Joanie Thomson runs the light boards.
Technical preparation began in December, as there are more than 100 props used by six principal actors who fill 23 characters.
"The complexity of it is fun," Dallman said.
Between the slapstick, special effects and quick costume changes, "it is fun and funny but there is an art to what we are pulling off," Dallman said, acknowledging the interplay of music, sound, lights and set pieces.
"Then there is the acting, which in farce is tricky because of timing," she said.
"We have a new sound system and a new lighting board, so we now have the technical capability to do a lot of this," Dallman said.
The strange case of 'Bullshot' at HRVHS in 2002
The 2002 production involved one of the strangest, and scariest, theatrical incidents in Hood River theater history.
One of the performances was cut short when actor Hans Severinsen, as Crummond, bit on his clay pipe and a piece got lodged in his throat, choking him. One more show was canceled but Severinsen recovered and continued the run.
"It's not much of a stretch to see how that could happen," said this year's Crummond, David Fox. "I've got bruises on my knees from sliding across the stage, and there are lots of times when I'm breathing hard or dizzy from getting spun around."
Peter Dallman, who designed sets for the current production, played Professor Fenton in 1978.
— Kirby Neumann-Rea
'Blackout. A car engine is heard': behind the scenes in 'Bullshot'
The highly technical aspect of "Bullshot" requires a large crew behind the scenes.
Assisting director Lynda Dallman, technical director Jeff Cook and musical director Bill Weiler are: stage manager Lisa Roth Baisden, assistant stage manager Adrian Chaton, production coordinator Kathleen Morrow, set builder Peter Dallman, choreographers Tony and Margaret Dallman, and prop masters Debbie Olson and David Gross.
In addition, stage crew members (and seasoned CAST actors) Emma Spaulding, Andy Bell, Dell Charity, Kim Robichaud, Kathleen Morrow and Joe Garoutte present key props — including a menagerie of stuffed animals — as well as make set between scenes. Meanwhile, Weiler provides the music right on stage.
This show has an unusual crew credit — namely "Fightmaster" — that goes to Jonas Grosserhode, who choreographed the swordfight scene, among others.
"Bullshot Crummond" was written by Ron House, Diz White, Alan Shearman, John Neville Andrews and Derek Dunningham.
Props for the "crazy comedy and musical mayhem" of "Bullshot" include authentic clothing, weaponry and alcoholic beverage bottles of the period, combined with whimsically realized set pieces that had to be manufactured.
Then there were the accents: Mimi Macht served as dialect coach. Bruce Ludwig does the dramatic voice-overs.