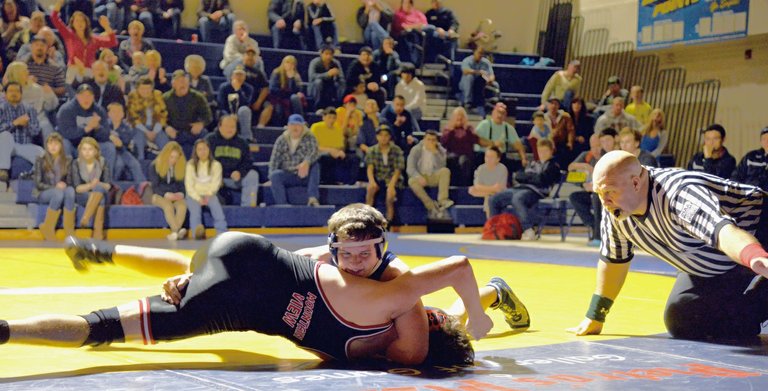 Tuesday, January 29, 2013
With a few weeks remaining in the regular season, the Hood River Valley High School wrestling team is boosting its training regimen to twice a day and upping the level of intensity in the mat room. The goal in the timing is for wrestlers to peak — both physically and mentally — at the district and state tournaments set for Feb. 15-16 and 21-23.
"We want our wrestlers to be the very toughest at the end of the season when it really matters," coach Trent Kroll said at practice this week. "That means tough physically because of the amount of work they put into it and tough mentally because they believe they have prepared hard enough to win any match they are faced with."
Senior wrestler Karlos Hernandez faced a test of his preparation Saturday in the 220-pound finals of the annual Hood River Elks Invitational. After cruising through the first three rounds of the tournament, Hernandez, the top seed in the bracket, wrestled to a 2-2 tie in the finals against Aaron Beadle of Century. The match went into overtime, then double overtime, then triple overtime.
"When you get to that point, it's all about who is in better shape," Hernandez said. "He was showing that he was tired a lot more than me. I'm not going to lie, I was a little tired; but I was less tired than he was."
In the third overtime period Beadle started in the down position and had 30 seconds to escape. If he got away he won the match; if he didn't, he lost. Hernandez held him down and was awarded the winning point.
"I've been in that situation a few times," Hernandez said. "That's when training really makes a difference. I had a couple disappointing losses at the beginning of the season that made me want to train harder and learn from."
Along with Hernandez at the top of the podium Saturday, HRV saw seven wrestlers finish in the top five and three make it to the finals. At 120 pounds, sophomore Christian Marquez finished in second place after wrestling his way to the finals with four straight wins, including a 20-4 major decision over the top-seeded wrestler from Riverside. Cesar Zarate worked through the 152-pound bracket with a bye, a pin and a tough-fought 9-8 win before losing 9-3 to first-seeded Yadnel Ayala from Cleveland. HRV's final finalist, Ramon Ramirez, picked up first and second round pins before losing 5-1 to Trevor Roberts of Mountain View.
Finishing third, Andrew DeHart logged what is sure to be the fastest pin of the season for the Eagles — a 6-second smashing in the first round — before losing a tough 5-1 match against the eventual winner from Centennial. Nick Morgan faced a similar fate at 182 pounds. After a bye and a 17-second pin, he was knocked into the consolation bracket by a 4-3 loss against the eventual tournament winner. He then won two more matches to claim third.
Steven Swafford rounded out the list of placers, finishing fifth at 170 pounds with three wins and two losses.
For the second year in a row, the girls high school state championship qualifier was run alongside the Elks Invitational. The tournament was to narrow down the top two wrestlers in each weight class, who advance to the girls state tournament in a few weeks. Jessica DeHart and Payton Riggert qualified as top-two finishers and Marina Smith qualified as an alternate.
"Our tournament is growing to be one of the more prestigious tournaments in the state," Kroll said. "We're getting top teams and a lot of state placers to come, and other teams begging to be a part of it. So for us to finish fourth out of 17 teams is a pretty good accomplishment."
Century, Churchill and Cleveland finished in the top three respectively, with HRV just a few points shy of the latter two.
n
Saturday's tournament was the third contest in as many days for HRV. On Thursday the team traveled to Stevenson for a growing rivalry between the Eagles and the Bulldogs, unofficially titled the Battle of the Bridge. HRV took control early with seven straight wins from Chas Peterson at 152 pounds to Brandon Dominguez at 285 pounds to seal the 51-19 win. Stevenson picked up points at 132, 138 and 145 pounds to finish the night on a good note for its home crowd.
"The dual was a lot of fun," Kroll said. "Like Hood River, Stevenson has a tradition of wrestling, so there was a big crowd and a lot of community support."
Notable matches came from Rafael Villegas and Jeremy Fischer, both of whom picked up their first varsity wins.
On Friday HRV hosted Bend's Mountain View High School for an action-packed dual under the spotlight that ended with a 33-24 win for the Eagles. In another blossoming rivalry, Hood River gets to keep a small bronze stature of a Griffin until MVHS can win it back (Griffin is a mythical creature, half eagle and half lion, that represents the battle between the HRV Eagles and the MVHS Cougars).
Picking up key wins in that dual were Swafford, Dominguez, Marquez, DeHart, Junior Rojas and Fischer.
The team is contest-free until Saturday, when it travels to Oregon City. The final dual of the season will be in Hood River, Feb. 7 vs. The Dalles-Wahtonka. Varsity action starts at 7:30 p.m.