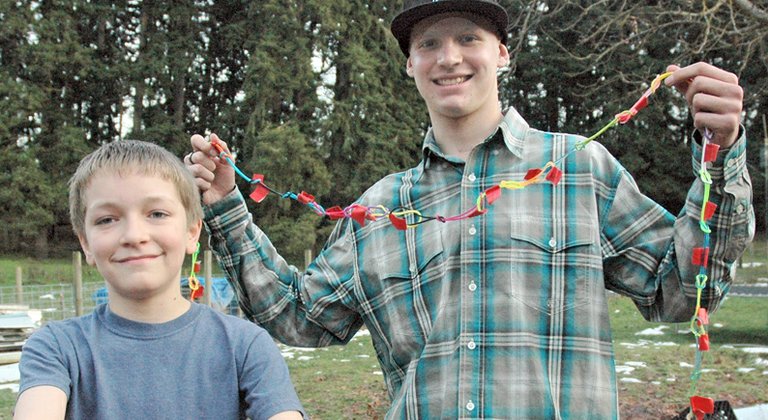 Tuesday, January 29, 2013
ODELL — Jaydon Gabriel wears his caring on his wrist, not on his sleeve.
Jaydon, a seventh-grader at Wy'east Middle School, gave $400 to a friend in need this month, the result of funds he raised by selling colorful bracelets and glow sticks at school and sporting events.
Over Hawaiian Punch in the house where he grew up, Donovan Doroski, 19, of Hood River, gratefully accepted an envelope from Jaydon, who had read a November 2012 letter to the editor in the Hood River News. That letter asked people to contribute to a fund to assist Donovan in his fight against Stage 4 Hodgkin's lymphoma.
Donovan underwent stem cell transplant surgery in December, and is gradually getting back to work and school, with help from people in the community such as Jaydon.
"He's beyond his years in my eyes," Donovan said of Jaydon. "I didn't expect it but when I heard about it really touched me.
"I was in the hospital when he got a hold of me; I was really surprised," Donovan said.
Jaydon's gesture was part heart and part shared memories.
"My teacher (Anne Edwards) showed me the letter (to the editor). I didn't know Donovan had cancer. I was pretty close to Mike and Cody (Doroski), his cousins, and decided I wanted to help," said Jaydon, who turned 13 on Jan. 16. "I decided it wouldn't be too much for me to try to start a charity that would help with some of his bills and expenses, and thought I could do a pretty good job at it ... I think I did."
"Donovan had helped us move here," Jaydon said of his home on Dethman Ridge Road.
Donovan replied. "I grew up on this property. My uncle built it — all these houses. I grew up in this house,"
"We used to live on Booth Hill and he came down and helped us move to here," Jaydon remembered. "And then I can remember him going up there (to the neighboring house) and cussing at his Jeep — it was always giving him trouble. He'd pull up at his grandma and grandpa's, so irritated, banging and clanging, I'd see him up there trying to get the thing working."
Perhaps it has been that very feistiness that has helped Donovan face his ongoing health battles.
Donovan learned in September that his lymphoma was recurring.
"I had it (in 2011) starting in December. I went to treatment for six months in Hood River every other week as an outpatient, and in September I started having some recurring symptoms," he said.
"I got it checked out, got a scan and there it was again. A transplant is usually a last resort for my case."
Right now, Donovan feels well, and will return to Columbia Gorge Community College this spring.
"In September I had signed up for classes at the community college. It was supposed to be my first day in fact, but I went to the hospital and found out (the cancer) was back instead."
The 2011 Hood River Valley High School graduate plans to settle in La Grande and attend Eastern Oregon University to pursue a degree in law enforcement. He currently works at Little Bit Ranch Supply.
Jaydon's gift "will definitely help," he said.
"It'll put the stress off for a little while. I'm back to work, but not full-time yet; just slowly building back up," he said.
Asked what moved him to help Donovan, Jaydon said, "Besides knowing him and Mike or Darryl or Cody, it was me thinking, 'Well, I know there's lots of people out there that are older in their 20s or 40s and they have cancer, and it's bad that they have to go through it, but I don't think a 19-year-old should have to go through cancer."
Jaydon said he read about the disease on line.
"I didn't really understand all the big words in the computer, and I needed (my mom) to explain them.
"I talked to the principal (Catherine Dalbey), my teacher, and went through student council and was allowed to sell (at the school)," said Jaydon, who sold his goods at school dances, after school in the halls, and at the Wy'east school store, as well as two HRVHS sporting events.
At Wy'east the store was already selling snacks to raise money for school computers, and over two weeks made about $600. According to Jaydon the school decided to donate $200 from that fund to his efforts for Donovan.
"Some kids didn't want the bracelet, they just wanted to support Donovan," Jaydon said. "They wrote their names on a piece of tape, and wrapped it around the bracelet, and turned it into a chain," which was displayed at Edwards' classroom door.
To sell at the high school, Jaydon approached a group of students raising money for cancer research, and they let him sell glow sticks and bracelets at the concession stands.
"One of the funniest things happened that night," Jaydon said. "I was selling glow sticks and this old man comes up and buys a hot dog. He grabs one of my glow sticks, dips it in the mayonnaise, puts it all over his hot dog, puts the glowstick down, puts his hot dog in the bun and walks away," said Jaydon. "It was just totally worth it. Three high school girls are sitting there with me and we just watch him. We don't say a dang word until he leaves, and we just laugh and laugh."