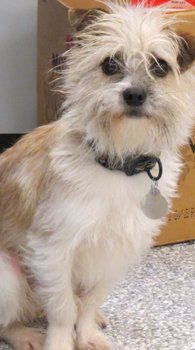 Tuesday, January 29, 2013
This week volunteers at Adopt A Dog have selected Scamp as the program's adoptable pet of the week. They describe him as follows:
"Scamp is about 3-4 years old, a terrier mix weighing in at about 10 whole pounds and quite the little rascal! Scamp loves to show off his hi-steppin' dance style he fondly calls "Doing the Scamp" and has quickly learned that dancin' brings cuddlin' and he likes that just fine! Check out his video on our website.
"Scamp is still very playful, too; but not the running-around kind — more just silly play here and there. Scamp can be unsure of big dogs so introductions must go slowly for him while he realizes big dogs can be nice, too!"
Scamp is current on shots, micro-chipped and will be neutered this week. The adoption fee for Scamp is $185; cash or check only, please. The fee to adopt is charged to recoup standard veterinary expenses.
Since many of the program's dogs are in foster, please call ahead to meet Scamp at the Hukari Animal Shelter, 3910 Heron Drive, Odell, or call for more information at 541-354-1083.
Adoption hours are Wednesdays from 5-7 p.m. and Saturdays from 9-11 a.m. Applications may be downloaded at www.hoodriver-adoptadog.org and faxed to 877-833-7166.
The Adopt A Dog program offers 24PetWatch microchips, which include free registration into the 24PetWatch pet recovery service. (For more information visit www.24petwatch.com or call 866-597-2424.)