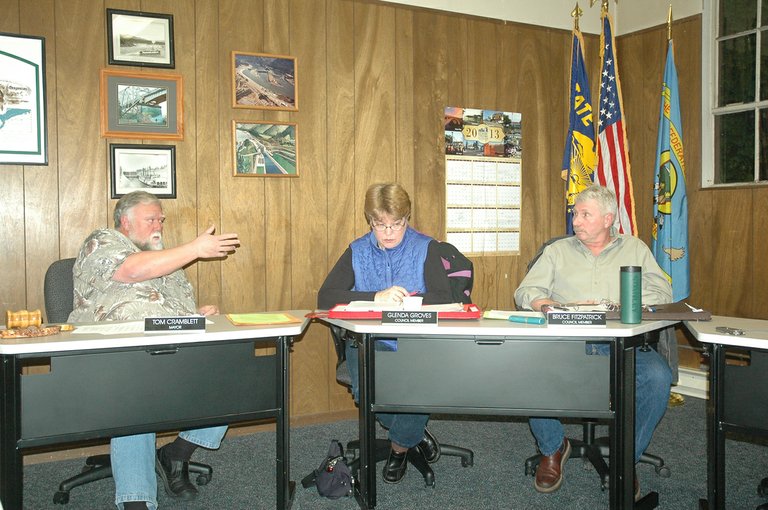 Tuesday, January 29, 2013
Cascade Locks — The City of Cascade Locks will go to the polls to try to fill its vacant City Council positions.
Past poll results, that is.
The offer of appointment to fill three of four open spots will go to Jeff Helfrich, Richard Randall and Ralph Hesgard, who finished in that order on the Nov. 6 General Election ballot behind Glenda Groves and Bruce Fitzpatrick, who were elected and are now serving. Mayor Tom Cramblett presented the idea and Groves and Fitzpatrick agreed.
It was the one and only action the truncated council could take in Monday's meeting; the openings had occurred last week with the sudden resignations of Randy Holmstrom, Mark Storm and Brad Lorang, who had all been appointed in late 2011. Holmstrom was elected in the Nov. 6 General Election, but chose to step down.
"The fact is we just had an election, we had an election that had somewhere around 80 percent and the citizens really turned out," Cramblett said. "People came out for this election and they ran. They wanted the office, and they all got votes. My suggestion is to take three positions to the people (who) got voted on."
With only two council members and the mayor, the city currently lacks the quorum of four councilors required to conduct business. By law, the only action the council could legally take Monday was on to fill vacancies.
The council heard support from citizens on the idea of holding a special election to fill the seats, which was among a range of seven options presented by city staff, but decided to offer the jobs to the three runners-up.
To fill the fourth council position, vacated by Cramblett who defeated Lance Masters in the Nov. 6 mayoral election, the council decided Monday that it will take applications, available at city hall and due by Feb. 11, the date of the next council meeting.
Cramblett, Fitzpatrick and Groves will then interview candidates at the start of the Feb. 11 meeting.
According to City Administrator Gordon Zimmerman, the council would then choose one or more of the applicants, depending on how many of the three intended appointees do accept appointment.
Cramblett prefaced his remarks by saying, "I heard from a lot of people, and I want to make a suggestion of what I think one good route would be. There are several different ways we can go." However, Cramblett's recommendation was the only one discussed.
Groves said, "My opinion is to go with what Tommy said. These people ran, like I did, they stood up and said, 'I'm running for council.' Anybody could have done it, but there were six of us, and my opinion is we have three that can be filled with these people who were not elected but ran for council, assuming they're willing to serve."
Fitzgerald said, "I like this because it brings us up to strength quickly, and we can get to the business of the city. Like you said, Mr. Mayor, we just had an election, so I would support that plan."
City Attorney Ruben Cleaveland said the city charter clearly calls for appointments to be made.
"You need an appointee, not an electee," he said.
"If there were an election it would not really be a special election per se. The charter says there would be an appointment process," Cleaveland said. "So if there were any formal election with a ballot then it would merely be an advisory election; it would be 'Should council appoint this person?' is all that would be on the ballot, and the council would then take that and use that to appoint that person,"
Groves asked if the council could require that any appointee to run for the office in the next general election. "That would be up to you as the council to determine what that term would be and what the election requirements would be," Cleaveland said.
Prior to the council decision, Randall himself spoke against the idea of appointing anyone, recommending a special election, saying that while appointments are traditionally the route the city takes, in accordance with city charter, "a vote will give a clear understanding of who they really support."
Citizen Sandra Kelley called on the council to make appointments rather than hold an election, and said it is time to follow the leadership of Mayor Cramblett.
Bob Walker said he is interested in serving on council, as an electee, and recommended to appoint one person to council now so that the council could conduct business, and let the voters decide in a new election how to fill the remaining three spots.
He turned to City Recorder Kathy Woosley to confirm that $3,000 would be the city's cost to run a special election, and said, "I think that's $3,000 well-spent."