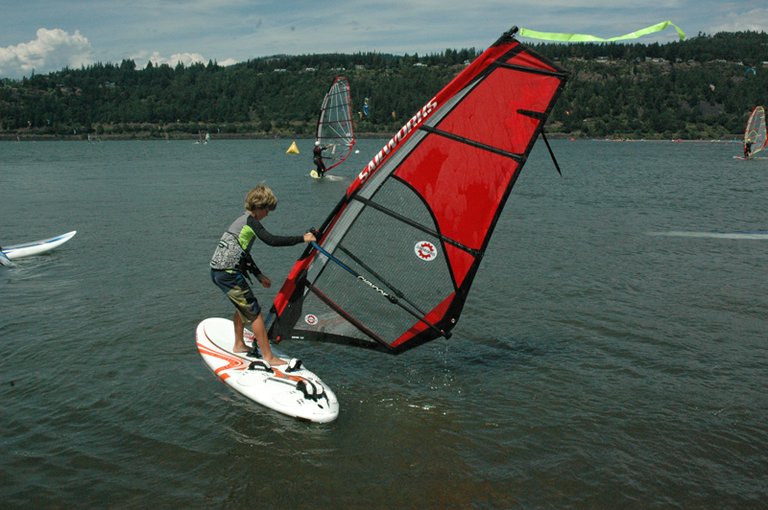 From learners to experts, hundreds of people flocked to the Event Site Saturday in near-perfect wind and temperature conditions for the annual Windfest, sponsored by Columbia Gorge Windsurfing Association.
"It was two in a row for a windy Windfest, which is not the norm," said Greg Steigel, CGWA president. The festival brought gear demonstrations, clinics, games, a gear swap meet, food and beer, stand-up paddling relays and opportunities for sailors and paddlers to trade stories and show their moves.
The Sandbar cornice was lined with colorful sails and kites, and the air above the river was filled with triangular and rectangular shards of sailcloth as sailors and kiters plied the winds.
All of this and, after a one-year absence
Boards for Hope
Boards for Hope is back.
Recycle a wind or other sports board, paint or collage it, and enter it by July 4. From July 8-15 boards will be on display around Hood River. Auction July 13 at Kiteboarding 4 Cancer at the Event Site benefits Camp Koru, kiteboarding4cancer survivorship program. Details at athletes4cancer.org.
, the return of the Blow-Out races: Stevenson to the Event Site for the windsurfers, won by near-annual winner Dale Cook, and Viento to Hood River for stand-up paddlers, won by Jan Boersma of Hood River. (Look for results and comments below.)
"It was just about perfect," Stiegel said. "We had a less-than-ideal forecast, but we got ideal winds. At 6 a.m. it was steadily blowing at 15 miles per hour, and it's perfect for an event like this with a lot of demo gear and skill sets, novices, experts, and the freestyle guys were able to get up.
"It was perfect for races, the racers got to get up their bigger gear, and it was light enough this morning we even got some SUP clinics going. So it's kind of the best of both worlds."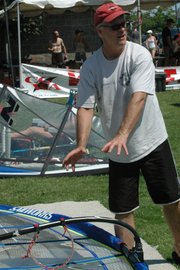 Windfest included 15 vendors including Windsport, DaKine, Full Sail, NoLimitz, Big Winds, Sailworks and Windance.
"The local shops all stepped up and helped out. We got a good crowd this year," Steigel said. Global Sessions event management provided Frisbee golf, a balance board, croquet and other games. Sue Sunderland of Hood River and her family came down to ride the river and try out new equipment.
"The wind is nice and light, so it's fun. It's good getting to use all the new equipment," Sunderland said, pointing out the Starboard Kode, and Sailworks' new sail, Gyro.
Early in the week the specter of poor water quality at the Event Site hung over the event, as Columbia Riverkeeper found high E. coli bacteria levels in its weekly testing at the site. The levels dropped to well within normal by Friday, and no-swimming signs posted by the Port and City were removed before the festival.
"The water situation was a bummer for us. It's not the best marketing for the entire town thinking the water is not okay to swim in," Steigel said Saturday. "But the test results from Wednesday came back below-normal levels. Bad news travels quicker than good and you hope that people figured it out. Today it hasn't seemed to be deterring people from going into the water."
Blow-Out comes back big
"It's the blowout, a 20-mile race where the conditions change all the time on the course. We like it say it's a pumping and then a thumping," said Bruce Peterson, who took second behind Dale Cook. "He's Downwind Dale, it's his to lose. He's the fastest guy."
"I just rigged big and held on," Cook said. "I took the biggest board I could find and the biggest sail I could find." Specifically he used a 9-9 race sail and formula board. "It's wide and short and powerful — and a handful. My arms were like Popeye's.
"It was not fun the last 6 miles. It was getting overpowering."
"It was pretty much a classic blowout," Peterson said. "Light at the start, and we were moving, and then that narrow spot between Home Valley and Viento where the wind always dies, and you have to pick a puff and try and get through there.
"You're looking for that little puff of wind and you're looking over your shoulder to find it and you get a little zephyr and stay in it with some quick little turns and slog over to the next wind, and you just keep working your way down."
"For the Blow-Out it was the best conditions you could possibly sail in," said 16-year-old Fiona Wylde, the only female to finish the race. "It was no wind, light wind, like way-overpowered crazy wind, and then pump-ing, trying to go somewhere wind."
Wylde finished seventh, 21 minutes behind her father, third-placer Macrae Wylde. "It was fun, though; it was a great experience. I had one good last reach, and I was a little overpowered at the Hatchery, but I think everyone was," Fiona said. "It was really interesting how it was pretty light and manageable all the way until Viento and as soon as you rounded the buoy at Viento it was 'Oh my goodness, it's so windy,' you're just like trying to hang on. In the super gusts it was a little scary."
"The biggest thing is getting through the narrows, the wind is always so light," Cook said. "Bruce and those guys made up a couple of miles on me. I got caught in the narrows, but other than that it was a good race; just really overpowering. It was a blast. It was good to be back out there and doing it."
"If you're wind surfing the Gorge your experience is not complete if you have not done the race," said Peterson, who since his first year, 1984, has done the Blow-Out "about 20 times" — probably the record. Blow-Out started in 1982.
Here's where a modest disagreement comes in between these friendly rivals. While Peterson claims Cook is unbeaten, Cook said, "Bruce beat me one year but I guess I've won it 14 or 15 years." Both sailors have missed a few times, including three years ago for Cook, because of the birth of his child that day.
"I knew I'd be in trouble if I even looked out the window," he recalled. "My phone was going off and everyone was texting me about the wind and she said, 'Not a chance.'"