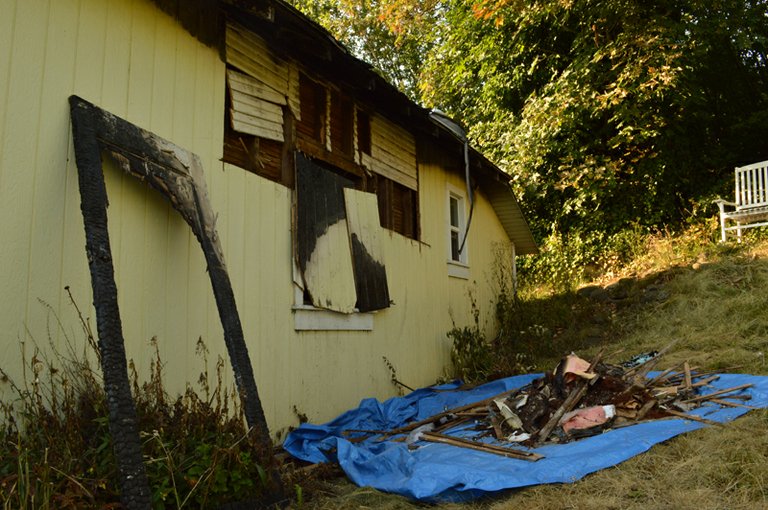 Jessica Sanderson was on her way home after walking her dog Friday evening in Hood River when she saw a crowd of people and vehicles gathered a couple blocks from the home she rents at 1335 Cascade Ave. Sanderson could see smoke rising against the darkening sky.
"I asked, 'Whose house is it?'" Sanderson remembered, "and they said, '1335,' and I just started running."
Sanderson arrived at her residence to find the windows blown out and the west side of the house blackened with smoke. The most extensive damage was to a bedroom that was being used as an office and a storage room.
"The whole room is charred down to the studs," she said on Monday. "The whole rest of the house is covered with caustic black smoke."
It could have been much worse though. Hood River Fire and EMS responded to the fire shortly after receiving the call around 9 p.m., according to Fire Marshal Peter Mackwell, and firefighters were able to put the fire out in seven or eight minutes and were assisted by the departments of Wy'East, West Side, and Cascade Locks. Sanderson said she was told her house was "minutes or seconds" from going up completely as the temperature inside the dwelling grew hot enough to melt a flatscreen TV in the living room, which was adjacent to the office.
Although Mackwell believed the house was salvageable, many of its contents were not. Sanderson's boyfriend, Steve Millea, had recently moved in and most of what he owned was in the room most damaged by the flames. Although Sanderson has rental insurance, Millea did not.
"Pretty much all of his stuff is gone," she said.
But all the rental insurance in the world can't replace what Sanderson lost in the fire. After her mother died of a rare form of breast cancer six years ago, Sanderson inherited her library, which contained dozens upon dozens of books that had been marked up by her mother's hand, with key passages underlined and notes in the margins. They were lost in the fire, as was a quilt her mother made.
"It's been real hard," Sanderson said of losing her mother's belongings. "I think that's the worst part."
Despite all the heartache, Sanderson noted that the blow of losing her home has been softened by the outpouring of compassion from the community.
"People in the community have been incredibly generous," she said. "People I don't even know have been calling and asking me if I need to stay at their house."
Sanderson wanted to thank a number of people in the community who have helped her, particularly Hood River Fire and EMS Chaplain Jeff Mueller and West Side Chaplain Dave Hancock. She said the chaplains were "imperative at getting us housing before insurance kicked in" and helped connect her and her boyfriend with aid organizations such as Red Cross "when it first happened and we didn't know what to do." She was also extremely grateful to all the firefighters who saved the house from being burned entirely.
After staying in hotels, Sanderson and Millea will be staying, for the time being, in The Dalles at a friend's rental home, which is close to One Community Health, where Sanderson works as a physician's assistant.
The house at 1335 Cascade, which Mackwell said was owned by "an individual in Seattle," was examined on Monday to determine the cause of the fire, which he suspected was "electrical in origin — emphasis on 'suspect.'"