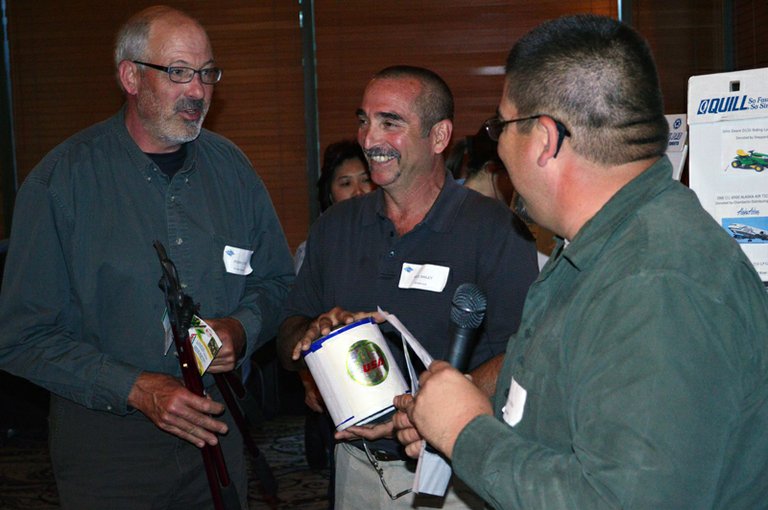 Linda Miller of GEM Farms took home the top sponsor prize, an ATV from Sheppard's, in one of the more festive moments of 100th annual meeting of Diamond Fruit Growers Inc.
The event took place June 26 at the Gorge Room at Best Western Hood River Inn.
"We could not have planned for a better year for our 100th celebration to fall on," said CEO David Garcia. "The 2012 crop was one of the cleanest crops in recent history and the market was outstanding, producing record-breaking proceeds. Hopefully we do not have to wait another 100 years to have another year like this."
"First and foremost, congratulations," said guest speaker Katy Coba, director of the Oregon Department of Agriculture.
"This is truly an incredible accomplishment for Diamond and its growers, overcoming the many challenges you have faced over the years. I understand that there is a lot of promise looking forward to this company. This is also indicative of Oregon agriculture; you are an example of what is so wonderful about our industry in Oregon."
Diamond gave a send-off to Linda Gray, nine-year board member and current chairman of the board. Gray, a Parkdale grower, is the first woman ever to serve as president. She finished a two-year term as chairman, her second such stint.
"Why has Diamond succeeded for 100 years when so many cooperatives have failed?" Gray asked. "Maybe it's because the co-op spirit that's been alive through the Great Depression, through labor shortages during both world wars, the closing of the cannery, and the consolidation of the markets.
"Maybe it's because Diamond has continued to provide service to the 40-acre grower as well as the 100-acre grower through all economic conditions," she said. "It could be because our loyal growers value the benefits of having equity in their company, or an employee base that has been around for 30, 40 and 50 years."
Gray noted that, "Although the poor economy of the 1980s forced Diamond to close the cannery and disassociate itself from the Washington, Idaho and Eastern Oregon cooperatives, today Diamond is the largest packer of Anjou pears in the world. Diamond packs and ships approximately 40 percent of the valley pears and cherries, and is still one of the largest employers in the country."
In his remarks, Garcia said, "So what does the future hold for Diamond Fruit Growers? I believe in order to get a glance of the future we need to take a quick journey into the past.
"Since the 1919 freeze the pear has begun its journey to becoming the major crop of the valley and since the 1980s has been the major crop in Hood River County. I would not expect that to change in the near future; the pear has shown to be the prefect fit for the valley's climate.
"Within the valley there is very little new land to plant, so pear acreage has not increased and has been challenge as farmers diversify their orchards with planting of cherries, blueberries and grapes. Pear production has increased; primarily because of higher density plantings and better farming practices. Land use will continue to be a challenge for farmers and the valley continues to be recognized for its recreation opportunities.
"Diamond's forefathers understood that if members could have a better understating of company operations, and complete control over their own company, as well as reap the rewards, they would be loyal and successful," Garcia said. "In the cooperative spirit, Diamond's current mission statement is as applicable today as it was 100 years ago:
"'We strive to maximize efficiencies and deliver a reflective and competitive returns to our members. Through continual self-evaluation, we learn from the past, apply this knowledge to the present, and pursue opportunities in the future.'
"Tonight as we think back over the past 100 years, I hope you will appreciate the hard work and dedication that has brought us this far and share in the joy and excitement for the future of Diamond Fruit Growers."
Gray introduced special guests including Oneonta Trading Company officials Brad Thomas, Brian Focht, Jill Morrison, and Scott Marboe. Oneonta, of Wenatchee, has contracted with Diamond to do all the cooperative's marketing for the past five years.
Gray welcomed Wayne Lowe of HR Spinner, who has called upon Diamond for 48 years, and recognized Longview Fibre, CM & WO Sheppard, Chamberlin Distributors, Wilbur-Ellis, GS Long and Excel Fruit Brokerage. She also introduced fellow board members Paul Abramson, Tim Annala, Scott Halliday, Warren Hunt, Dwight Moe, Bill Munk, Jason Sandahl and Gordy Sato.
Also in attendance was Kevin Moffit, director of Pear Bureau NW, and Wayne Annala, attorney from Annala, Carey, Baker, Thompson and VanKotten, who has been the cooperative's attorney for the past 53 years, since it was called Apple Growers Association. In 1964 the name was changed to Diamond Fruit.
Annala said the theme of the evening might be "Why are we still here?"
He said credit goes to two elements — primarily loyalty.
"That's the thing I've most observed in 53 years," Annala said. "It's the chief support of this organization, because we've had some bad years and some good years, and it's really heartwarming to know that there is a great number of growers in the Hood River Valley, and some out of the valley, who just have loyalty to Diamond fruit. They were loyal to AGA and they continue to be loyal to Diamond Fruit.
"I am not so naïve as to say there were not those growers who took all their marbles and left Diamond Fruit," he said. "It has happened a time or two, but we've got tremendous loyalty on the part of the people and when we have a bad year, the prices is bad, the fruit is bad, whenever of those things sour they have enough loyalty to hang in there."
The "second element" for why the co-op has continued for 100 years, said Annala: A willingness to change.
"Most people abhor a change, and it takes a lot of nerve; the board and general managers and growers have gone ahead and taken action that could have been disastrous but it wasn't."
Annala pointed to the closure of the cannery downtown in the 1980s.
"It employed a lot of people. It was unthinkable that the Diamond Fruit cannery would close," he said. "It was just part of the community. But it was closed because it was not producing a profit. We also closed many things that those of you who are semi-new members might never have heard about."
He cited a merger with Vancouver-based Washington Canners Coop, where Diamond canned beans, broccoli, and corn.
"It was a new venture. Well it was a new venture we decided we didn't need to continue after a few years ago," Annala said.
"We had also canned pears in Vancouver for a few years, and ultimately that cannery was sold and it was decided it was better to concentrate on winter pears, to concentrate on what we knew, rather than this new business of having members who grew row crops and we canned them and the ultimate result was not as helpful as we thought it would be."
Diamond had also merged with two co-ops in Idaho, "and we even had reserved corporate plane so we could get to Idaho, and it was ultimately decided (not to continue)," Annala said.
He said that Diamond's endurance, in addition to loyalty and willingness to change, was also helped by the Department of Agriculture.