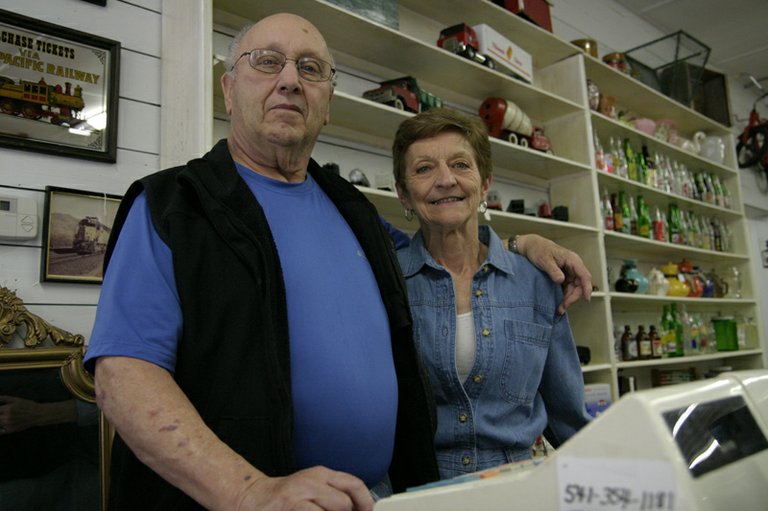 Many people enter their golden years intent on taking it easy, eagerly anticipating boundless leisure time after working day jobs for the majority of their lives.
Not so for married couple Roger and Lindamay Woosley. Despite being well into retirement age, the septuagenarians and longtime Gorge residents recently purchased, opened, and are operating The Old Trunk antique shop/fruit stand/bookstore located in between Hood River and Dee on the Dee Highway.
"Life is about adventure," Lindamay said when asked about why she and her husband of 53 years decided to start the new business. "Life is about the unknown."
The Woosleys, however, are far from novices when it comes to entrepreneurial endeavors. Over the past several decades the pair, both together and separately, have operated a dizzying array of businesses both in and outside the Gorge, including candy stores, grocery stores, delis, three different orchards, Columbia Photo, a dealership that distributed The Oregonian in Vancouver, Wash., and a bark dust business — just to name a few.
Their love of entrepreneurship has also been passed on to their daughter, Tammy Hall, who owns Tammy's Floral in Hood River, and their son, Tim Woosley, who owns the Sportsman's Barber Shop, also located in Hood River.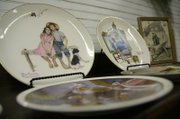 "We pretty much always had some business going," Roger said.
The Woosleys' last shop was located at 1115 Hull St. on the Heights and was called "Tricycling Along: Antiques and More:" a unique hybrid of store that sold antiques, sandwiches and candy.
After a few years, they closed the business in 2012. In November of the same year, Roger suffered a stroke that paralyzed the right side of his body and it seemed unlikely he and Lindamay would ever be able to run a business side-by-side again.
However, after some intense physical therapy, Roger recuperated, regained most of the use of his right side and soon went stir-crazy watching Lindamay to go to work at Windermere Real Estate in Hood River while he stayed behind at their home in The Dalles.
One night, Roger dreamt he and Lindamay bought The Old Trunk — a purchase the couple first considered making when the property last went up for sale approximately seven years ago, according to the Woosleys.
"I asked him, 'You sure you want to tackle that?'" Lindamay recalled. "He said, 'Yes, I do.'"
The Woosleys sold their building at 1115 Hull three months ago and bought The Old Trunk property at the end of April, which included a house located directly behind the store building where Roger and Lindamay now live.
The Old Trunk is the same name of the former business located on the site that served as a bookstore, an antique store, and a berry stand when the small grove of raspberries located behind the store building bore fruit.
While the majority of the space for the current store is dedicated to an eclectic collection of books and antiques — with a particular emphasis on vintage soda bottles and model trains — Roger and Lindamay are looking to expand the food options available at the store. In addition to the fresh raspberries (get them now!), the store will carry other local fruit and honey throughout the season. The Woosleys are looking to add vegetables and locally raised eggs to the shelves this summer, as well.
Also carried are Lindamay's homemade pies and jams, as well as some delicious snickerdoodle cookies.
Although they're looking to operate a profitable business, Lindamay noted that she and Roger want more than anything to make visitors who visit their store feel right at home.
"I think the pleasure is that even if people don't buy anything, they reminisce back to their grandmother or mother, and to me, that's special," she said.
That reverence for the past is succinctly summed up on their business cards for The Old Trunk, which declare: "Sometimes, older is better."

The Old Trunk has only been open for a month, but Roger remarked that business is "growing every day," and he expects it to get busier as summer kicks into high gear.
But it's nothing the Woosleys can't handle.
"Our bodies may be getting older," Lindamay noted, "but our hearts aren't."
The Old Truck is open seven days a week during the summer and plans to stay open six days a week during the off-season. For more information, call the store at 541-354-1181.