This week volunteers at Adopt A Dog have selected Blossom as the program's adoptable pet of the week. They describe her as follows:
"Blossom is about 3 years old, and can't decide what she likes better — squeaky toys, sitting on laps or going on walks! Whatever, she's a very sweet little girl who charms everyone she meets!
"She's a delightfully playful girl who gets along very well with other dogs and is usually the one to start a game of tug or chase. And she loves people and does her very best to please — and who can resist that adorable face? She's also very smart, knows several basic commands and is house trained.
"You might recognize Blossom from before; she was actually adopted a few months ago, but she found their cats too interesting for their comfort and try as they might, the owners were not able to get Blossom to leave the kitties alone and so she was tearfully returned. But they say she's a completely wonderful dog and absolutely hated bringing her back.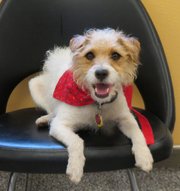 "Blossom is managing shelter life OK as long as she gets to play with the other dogs, or find a comfy lap. She adores car rides and easily keeps up on long walks. But still, chasing squeaky toys is definitely her favorite thing to do. No, no — wait — sitting in laps is! No — going on walks — oh, she just needs a family who won't care either way!"
Blossom is current on shots, micro-chipped and spayed. The adoption fee for her is $160; cash or check only, please. The fee to adopt is charged to recoup standard veterinary expenses.
Since many of AAD's dogs are in foster care, please call ahead to meet Blossom at the Hukari Animal Shelter, 3910 Heron Drive, Odell; 541-354-1083. Adoption hours are Wednesdays from 5-7 p.m. and Saturdays from 9-11 a.m. Applications may be downloaded at www.hoodriver-adoptadog.org and faxed to 877-833-7166.
The Adopt A Dog program offers 24PetWatch microchips, which include free registration into the 24PetWatch pet recovery service. (For more information visit www.24petwatch.com or call 866-597-2424.)