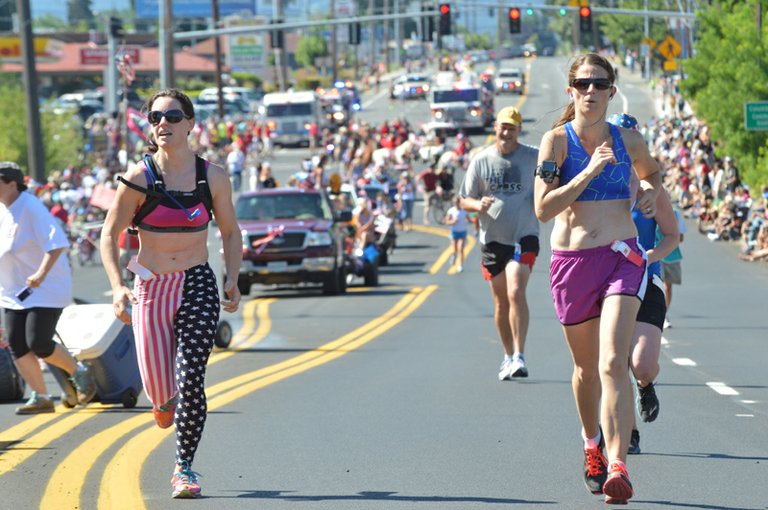 Runners and walkers turned out in full force for this year's Kollas-Cranmer Memorial Run on July 4, breaking not only attendance records, but also posting some of the fastest times in the history of the event, which started in the early 1970s.
Mary Gumm, who has been organizing the race for the past 15 years, said 356 runners and 138 walkers registered for the 7.4-mile race, which starts at the fire hall in Odell and finishes in Jackson Park in Hood River. That marked a total increase of 25 participants compared to last year's race.
The hot, sunny weather didn't seem to bother runners as course record after course record fell.
"More records were set this year than any other year," said Gumm. "In 2002, we had perfect weather and Ahrlin Bauman set the overall fastest time of 37:18. A total of four records were set that day. This year, five new records were set."
According to the unofficial results, Andy Bennison, Yonny Castillo (who won last year's race) and Samuel Cordell (second in 2012) were the top three male finishers, with times of 39:46, 42:51, and 42:54, respectively. For women, Gwen Thomas, Kayla Lloyd and Marcy Scheiber were the top finishers, with respective times of 43:59, 48:24, and 49:09. More results will be available on the race's website at www.kollascranmerrun.webs.com.
The following records were set in this year's race:
Female overall and female age 30-39: Records were set in both categories by Gwen Thomas with a time of 43:59. These records were previously set by Marti Schepsis with her time of 44:01 in the 1993 race.
Female grades 1-5: Record was set this year by Grace Neal with a time of 55:52, upsetting the record held by Stephanie Nelson of 1:04:03, which was set in 1983.
Female age 50-59: Record was set this year by Madeline Sellers with a time of 51:09, upsetting her own record of 52:53, which was set in 2009.
Male age 60+: Record was set this year by Don Menard with a time of 51:15, upsetting the record held by Jack Rademaker of 52:27 set in 1992.
Gumm added that one of the highlights of this year's event was the participation of Philip Kollas and Charlie Cranmer, who were "representing their family names in the event." The run is named after Joe Kollas and Jerry Cranmer, who were regular race participants before their passing.
Gumm wanted to thank the Hood River Wrestling team for volunteering at the event and expressed gratitude for the "generosity of all those that donated extra money to the Hood River Wrestling team."