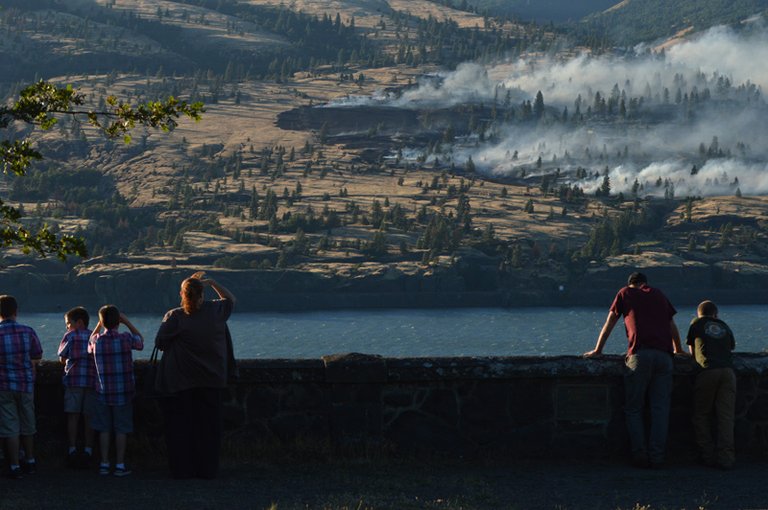 A wildfire that started west of Lyle Wednesday afternoon and burned 150 acres of U.S. Forest Service and Native American trust land was at 40-percent containment as of Friday morning, according to Stan Hinatsu, recreation program manager for the Columbia Gorge National Scenic Area office in Hood River.
Flames and smoke could be clearly seen from across the river in the area around Mosier. Onlookers gathered at Memaloose Overlook and a rest stop on I-84 to watch fire crews battle the blaze from the air with helicopters and on the ground with hand crews and engines.
The fire is burning west of Major Creek and east of Catherine Creek on a plateau above the Columbia River that primarily contains dry grasses, timber, and poison oak.
The estimate of the fire's size jumped from 100 acres to 150 acres on Friday as crews measure the fire's perimeter with GPS devices.
"It didn't grow," Hinatsu said of the fire's size. "It reflects more accurate mapping."
A total of 122 personnel were assigned to the fire as of press time, including four crews and two strike teams of five engines that make up the Type 3 management team. Hinatsu also said two helicopters were still available if necessary, but would likely not be needed. The majority of the firefighters are from the Washington Department of Natural Resources and the Forest Service, which took over the management of the fire from local fire crews, who initially responded to the blaze Wednesday afternoon.
The hot, windy weather caused great concern as the fire grew and moved east toward the west canyon wall of Major Creek. Firefighters worked diligently Wednesday and Thursday to make sure the fire did not cross Major Creek and travel east, where it would have endangered homes and other structures.
"That would have been a bad thing," Hinatsu said.
No structures are in the immediate area of the fire, but Old Highway 8 was closed and was scheduled to remain closed through Friday. Hinatsu estimated the nearest structure was a quarter mile to a half mile away.
Though Hinatsu described Wednesday and Thursday as "red flag" fire days, he said crews had a good handle on the fire Friday morning and expected the fire would likely be mostly contained by the end of the day.
"We're at 40-percent containment," Hinatsu announced Friday morning, "but I expect that to change by the end of the day. We may reach 100-percent containment by the end of our operational day."
According to Hinatsu, the fire is human-caused, but the exact method of its ignition was unknown as of press time.