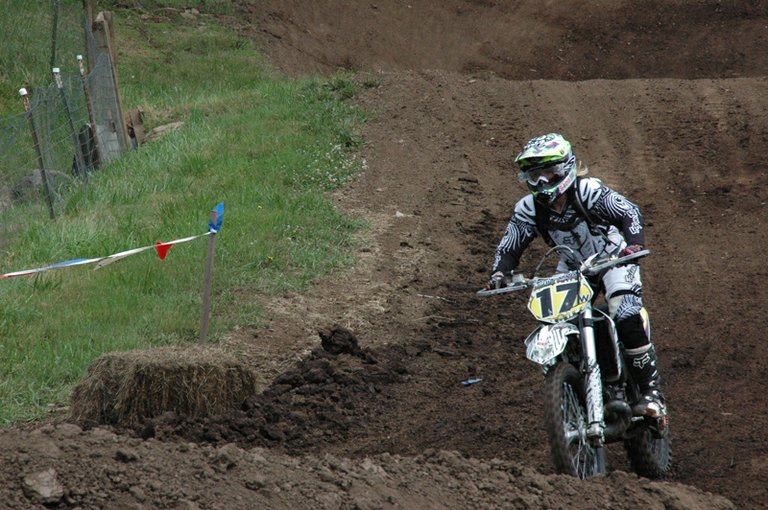 Imagine being able to compete on the same field that professional athletes do, such as jogging around the basepath at Seattle's Safeco Field or running on the football field at the Seattle Seahawks Stadium. A group of local motorcycle riders enjoyed a similar experience recently while racing at Washougal Motocross Park.
Area cyclists Tom Watson, Colin Sullivan, Erik Hasselbroek, Pat Corelli, Alistair Nicol, Bob Farro and Kalyn Benaroya had an opportunity to compete on the same outdoor track that nationally recognized pro riders race on once a year in Washougal, Wash. They were part of a group of nearly 120 riders from around the Northwest that entered the June 16 Father's Day Grand Prix race at Washougal.
The top world-class pro riders, such as Ryan Villopoto, Ryan Dungey, Blake Baggett, Justin Brayton and James Stewart, compete every year in the prestigious Washougal National Motocross race. The pros return for the 33rd annual Peterson CAT-sponsored event July 18-20 at Washougal. It's the eighth round of the 12-race Lucas Oil Pro Motocross Championship Series.
Hood River riders Sullivan and Corelli both earned trophies for first-place finishes in their respective class. Sullivan zoomed swiftly through the densely forested hillside course of downhill sections, hairpin turns, jumps and bumpy straight-aways to finish first in the age 30-and-over expert division with his 2008 Kawasaki 450 motorcycle.
"It felt good to have such a good race," said Sullivan, a 2000 Hood River Valley High graduate. "I had new tires, which actually helped a lot, so I felt like I had a good chance to win. Getting out front early makes it a lot easier instead of trying to work your way through the pack. My bike isn't new, but it's working good for me and it's just what I need."
Like most good racers, Sullivan began riding motorcycles at age 8 and then gradually improved and gained years of experience while riding on designated county off-road trails around Hood River. Sullivan achieved a career highlight in 2006, when he won the Hi-Point Series Championship at Washougal. That same year he also took third place in the Pacific Northwest Motocross Championship Series, which included events at tracks in Sandy and at Portland International Raceway.
"I didn't win any races (in 2006), but I consistently finished up front," said Sullivan, whose older brother Matt, of Hood River, also rides in motocross events. "I took a break for awhile, because it's such an expensive sport to compete in. It's tough to race, combine it with a family lifestyle and work a full-time job at the same time."
Sullivan's Kawasaki is valued at $3,500, while new bikes like his sell for more than $7,000. The riders also pay an event entry fee, which varies at each track but is usually in a price range of $30-$40 per race.
"It's a dangerous sport with a high risk of injury, so that's always in the back of your mind," said Sullivan. "People who crash are usually just pushing themselves too much. You have to know what your limitations are. You just try to stay on the bike and do the best you can, without having any mishaps."
Corelli, 47, maneuvered around the 6.5-mile-long combined motocross/off-road-type course quickly too in winning the 40-and-over expert class. The lap times were approximately 15 minutes and riders competed nonstop for two hours in a grueling and physically demanding race. It was the third win this year for Corelli, who also notched class wins at tracks located in Eugene and at Eddieville Motocross Park in Goldendale, Wash.
Corelli's girlfriend, Kalyn Benaroya, competed in the amateur class, but was unable to finish the race and had a DNF (did not finish) after her KTM-200 motorcycle broke down with an engine problem. Benaroya, 30, was one of just two women who competed in the June 16 race.
Watson, 57, a veteran racer and former pro, could be considered as Hood River's track master and somewhat of a guru, evidenced by his knowledge and experience in the original extreme action sport of motocross. He operates his own business, Watson Performance & Suspension, at 1225 Wasco St. in Hood River, where he specializes in engine tuning and repair of motocross and off-road motorcycles. He also stocks parts and accessories such as tires, oil and other components for sales purposes.
"I've worked on almost every bike that all the local guys ride," said Watson, who opened his motorcycle shop in 2001. "My primary thing is suspension, which is basically optimizing the setup of the bikes for race preparation, so I stay pretty busy. For the population density of the state, there's really lots of motocross riders in the Hood River area and probably more than in most cities of similar size. It's a great sport that's really lots of fun and that's why I do it."
Watson competes on his 2012 Yamaha YZF-250 in the 50-and-over expert class and his girlfriend Jacki Sterner, of Hood River, also rides a Yamaha in motocross events. Watson started riding at age 12 and he earned an American Motorcyclist Association pro license at 19. He wasn't too successful at that level, though, and soon after discontinued his short-lived pro career.
Watson is also a sponsor for some riders, including Corelli, Benaroya and Alistair Nicol of Hood River.
Tom's sons Wiley and Max have also been involved in the sport. Wiley, a highly experienced rider like Tom, lives in California and is a movie producer who specializes in motocross/off-road films.
Farro, of Underwood, entered the June 16 race and rode his KTM 450SX motorcycle in the 50-and-over amateur division. Farro, 52, also competed in an open practice last week at Washougal with a combined group of seven different classes of riders competing in five 20-minute heat races. Farro is somewhat of a newcomer in the sport, as he started competing 10 years ago at age 42.
"It was just a phenomenal event (June 16 race) and I had a great time," said Farro. "I had an awesome time as well at the June 29 practice session. It's just an unbelievable experience being able to ride at the same facility that world-class professional riders compete on in such a prestigious national event."
Other local riders who competed June 16 in the 30-and-over expert class included Erik Hasselbroek of The Dalles and Nicol. Hasselbroek rode a KTM 300 and took third place with his KTM 300 and Nicol finished eighth on his Kawasaki 250.
Most of the area riders are competing July 6-7 in a big off-road race in Elkton, (near Eugene) at the Big K Ranch in the Funky Chicken National Hare Scramble. Nearly 400 cyclists from all over the West Coast are expected to participate in a three-hour race, which consists of four laps on a 13-mile trail. All of the local cyclists will also compete again at Washougal in a September race.