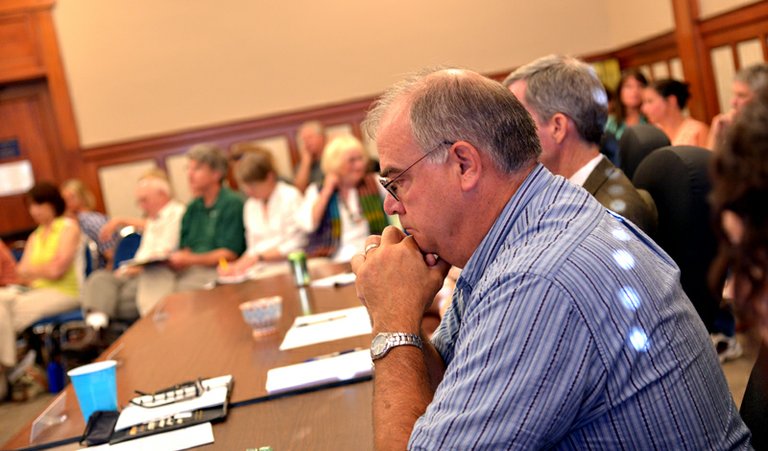 Resignation, not mediation.
Hood River City Manager Bob Francis planned to clean out his desk on Tuesday, following his resignation Monday before City Council.
Citing lack of trust in Mayor Arthur Babitz and "some members of council," Francis rejected a proposed mediation process and solidified his June 24 letter of resignation, in which he said he would step down effective July 8.
"What do you think, Bob? Will you tear up that letter?" Babitz had asked Francis after council returned from a 30-minute executive session with a mediation proposal for Francis.
"It's time to look at a transition," Francis replied, and gave a lengthy explanation of why he would resign after all.
Babitz said the search will begin immediately for an interim manager.
"The wrong guy resigned tonight," said citizen Gary Gorman, who was among several speakers critical of Babitz and the council for overstepping their responsibilities and making direct contact with city employees, in violation of city charter.
Several citizens made a direct appeal to Babitz and councilor Laurent Picard to resign but neither made any response on Monday.
"Resign or recall," several people said to Babitz and Picard, referring to the process of putting recall votes on the ballot for city residents to decide upon.
"People want you to do something in the heat of the moment, and respond in some moment of passion but that is not the kind of guy I am," Babitz said.
"As an analytical person, I'm considering a variety of options. I am not ruling anything out," he said, adding, "I haven't had enough time to think about it."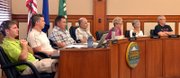 Francis resigned after what he described as a difficult June in which Babitz shut off virtually all contact with him, ignoring Francis in Babitz's frequent visit to City Hall. That led to Francis calling one-on-one meetings with council members, and Francis asserts that Picard told him in their meeting that he should look for other work "quickly." Picard has denied that claim.
Francis alleged that Babitz grew angry with him shortly after Memorial Day when Francis confronted the mayor for allegedly contacting fire department employees without consulting Francis first, in violation of the city charter.
Former councilor Ann Frodel said Wednesday that such actions would also go against guidelines in the City Council Handbook, which she helped write along with Picard and then-mayor Paul Cummings.
For the first time on Tuesday, Babitz denied asking the firefighters for a meeting.
Asked about the Memorial Day incident, Babitz said Tuesday, "A lot of people have really bad information and I am not going to create a legal risk by stating any more details. I did not disobey our process in that event.
"It's all very complicated; there is a lot of detail to this, and I want to spend some time and work with the fire chief," he said. "I think there are some things that have to be done and there are certain elements I'm not going to elaborate on.
"There are a lot of big issues with council, and I do my homework, which I need to as my job, part of which is oversight," Babitz said. "If people have issues with how I do that, it's something you talk through."
Babitz said there is error in "the assertions I wildly diverted from the rules and procedures.
"I understand Bob is the city manager and contact is supposed to go through the city manager; but this is a complicated situation, and some things were happening that I am not going to get into any details about. I'm very comfortable with what I did and I think the general impression of what happened is way off."
In his remarks Monday, Francis said he would not proceed with mediation in part because he wanted to avoid "further retribution," adding that "I don't want to be your whipping boy for everything that I've done for the past five years." Francis has not had an employee evaluation in five years.
"We made a sincere effort to bring a mediator and sort through this, but for whatever reason Mr. Francis was not prepared to put in the effort to fix it. You have to respect his decision," Babitz said.
Francis added that the mayor's criticism of him for the city budget process, reported in the July 6 Hood River News, are groundless, and that "the budget is not a personnel issue, and if I am a poor labor negotiator, that is not a personnel issue; it is a city issue."
City Attorney Dan Kearns confirmed Monday that termination of Francis for job performance would be without cause, given that the city has not done a job evaluation in five years.
It is now up to city staff and Council Member Kate McBride, who volunteered "with regrets," to formulate a transition plan.
On June 24 Babitz and council had asked him to defer his resignation to give the elected body time to discuss a mediation "path." In a special session of council July 3 Francis agreed to give the council more time. At the June 24 and July 3 sessions, dozens of citizens voiced their support for Francis and called on Babitz to resign.
On Monday, after a 30-minute executive session, councilors unanimously stated they want to engage in a process with Francis engaging a third-party mediator to review his concerns and his and the elected officials' roles and responsibilities.
"Are we all able to put aside personal feelings and anger or whatever and go down this path?" Babitz had asked.
Speaking last, McBride said, "Bob, I'd like you to remain as our city manager."
But Francis instead rejected the plan, offering praise for his staff, thanks to the many supporters who spoke Monday and on July 3, and leveling a 10-minute litany of criticism of Babitz and the council.
Francis said he believed council was concerned with "saving face and placating the many people who have come forward," and was not committed to a mediation process, and said that he had no assurance that Babitz and the council would adhere to its results.
"I'm not saying all council, because I believe that there are folks sitting up there who are sincere," Francis said.
Francis concluded by saying it was time for "a transition."
"I have to be really honest. I sat here on July 3 and I asked you if you wanted me to be your city manager, and nobody said anything. No one said, 'Yeah, I agree with support you've received and yes, we want you to stay,'" Francis said, "and you've not said that tonight.
"There is not one time that anybody has walked through that door — the mayor has — and sat down with me and said, 'Bob, I have a concern; let's talk about it,'" Francis said. "The only time anyone expressed anything on the topic was when I resigned or when I chose to call you and say that I felt the process was violated.
"I'm not sure if you're doing this now to placate most of the audience here, because you know they're upset, or to placate most of the people of the city. I don't know what your motivation is because if you wanted me to stay as your city manager you would have told me that," Francis said.
In a telling exchange just after Francis finished speaking, Babitz called for a five-minute recess "so I can speak personally with Bob."
Francis immediately told Babitz, "I do not want to talk to you personally. I do not."
At that point, Council Member Mark Zanmiller put in a last-ditch effort to change Francis' mind.
"I'm sorry, Bob, I talked too much about process and things, but because my intention all along was that the value you bring in and your community relations is super-high, and the path to keep you in that, we need to do these concrete steps and get Judge Crowley in here. I think we can fix this. We have to."
It was Zanmiller who proposed the mediation approach after Francis approached him and the other councilors on one-on-one basis in early June.
"Your lack of trust is the thing we have to fix," Zanmiller told Francis. "And for the future people who sit in this chair and for the future people who sit in your chair, we need to get this right. I agree with everything said."
Francis said the process would best proceed with a new city manager.
"I don't think we can replace Bob," said a tearful City Planning Director Cindy Walbridge. "There are ramifications to consider. It is going to cost us a lot of money. He really is the best. Bob is the best city manager I've every worked with. This is a big loss."
Gary Lindemyer, city building inspector, said, "There are a lot of projects that are not going to get done. Things are going to get lost, and that's a fact."
Lindemyer said he and Public Works Director Mark Lago have, since June 24, discussed how projects will be handled in Francis' absence, and determined "the workload will pick up incredibly."
Francis read off a long list of projects he has on his docket: current and pending Urban Renewal projects on State Street, Portway and the Heights, contract negotiations, Country Club Road relocation, and more.
Lindemyer said, "Bob is an incredible mentor to myself and all of his staff. No other city manager has been willing to take on the kind of workload that Bob has been willing to do."
Babitz said, "No doubt there is a lot planned, a lot of big projects, and we also have a really strong staff in place. I have a lot of confidence in their ability; that's why you bring in a temporary manager.
"Bob has made it clear he will help communicate what needs to be done, and someone is needed to drive those issues, but staff is completely capable of keeping them running.
"I do appreciate it will be hard on staff, who have added workload," Babitz said. "It is lean staff already because of budget cuts. That's why council has to act quickly for an effective transition."­­­