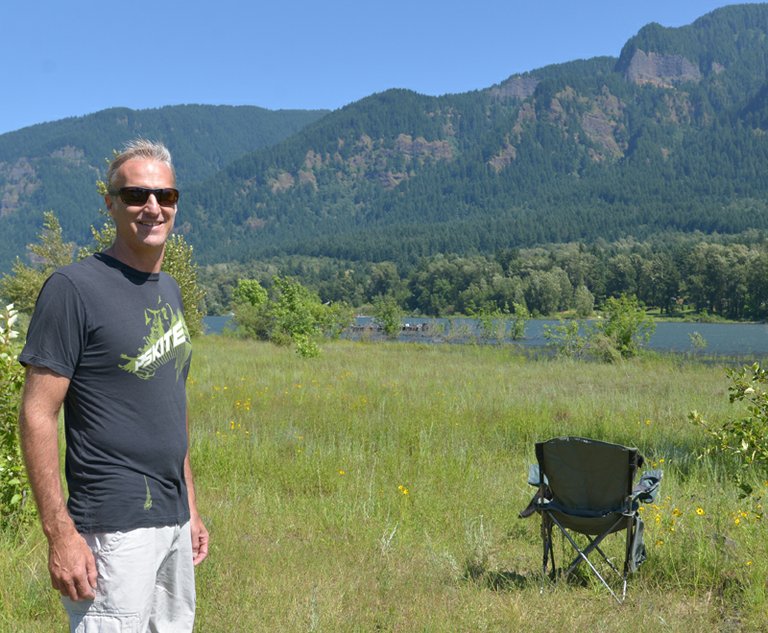 Imagine lying face down in the river, fully conscious but unable to move, aware of people around you but unsure if they'll be able to flip you over before the last breath burning in your lungs expires and you drown.
"I was awake; I just couldn't move," said Tom Dawson, who faced that fearful situation Wednesday evening while kiteboarding at the west end of the Hood River sandbar. The 49-year-old field engineer and Seattle resident was enjoying some of last week's warm, windy conditions when a small slipup nearly cost him his life.
"I had just finished a trick and was riding away on the toeside of my board. I knew it was shallow, but not that shallow. My board slipped out and I fell forward, head-first into the water."
The impact on Dawson's forehead didn't leave so much as a scratch or a bruise, but it was enough to cause temporary paralysis from head to toe. Still attached to his kite, he lay helpless and face down in the water, hoping that someone who saw the crash, either from the deck of the nearby Sandbar Café or one of the many kiteboarders in the area, would come to his aid in time. As his body began convulsing from lack of oxygen, Hood River native Justin Wiley was the first to reach him.
"I put my kite down in the water, ditched my board and put my left arm behind his neck and gently flipped him over," Wiley said Monday from his job at 2nd Wind Sports. "From the moment I rolled him over, he was awake and speaking very quietly. He kept saying, 'Please keep my head above water.' I knew I needed to be careful with his neck, so I just held him carefully in that position until other people came over to help."
Second to Dawson's aid was local kiteboarding instructor Blaine Baker, who jumped over the railing of the Sandbar Café and swam to help. A few others arrived moments later to help clear the water of kites, lines and boards and stabilize Dawson until paramedics arrived.
"It's very humbling," Dawson said. "I'm usually the one who is helping others, and the way everyone came to my side like they did is very humbling."
After being taken to Providence Hood River Memorial Hospital, he was transferred to Legacy Emanuel in Portland, where he quickly regained feeling and the use of his limbs. He was released Friday and spent much of Saturday stiff and slow, but able to hang out by the river and watch his friends kiteboard.
For Wiley and others who helped with the rescue, the news of his recovery was a great relief in what could have been a tragic situation.
"I haven't talked to him since, but am stoked to hear he is doing so well," Wiley said. "I just feel fortunate to have been there at the right time and to have been able to do what I know anyone else would have done in that same situation."
While driving back home to Seattle after what turned out to be a very long week, Dawson offered the sincere words, "From everyone who helped me in the water, to the paramedics and the staff in Hood River and Portland, I am grateful. Thank you."