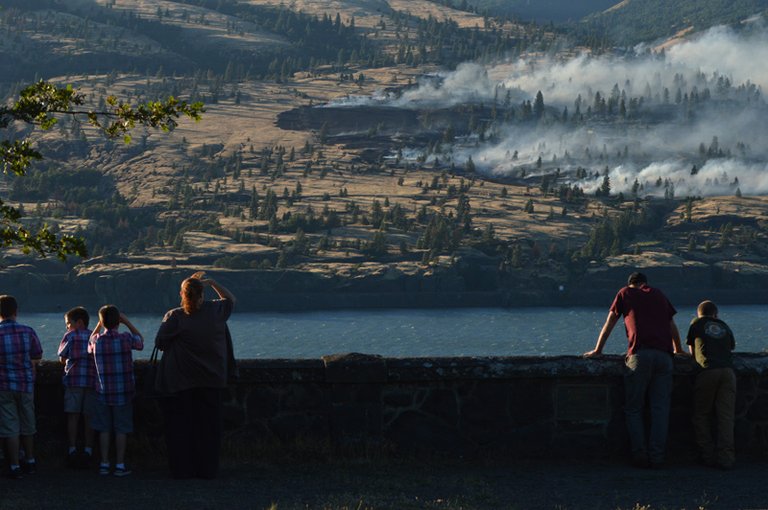 Between the hot, windy weather in the Gorge and revelers setting off fireworks both legal and not, this past Fourth of July holiday and the days surrounding it were primed for wildfires.
For Hood River, though, it was fairly quiet over the weekend, all things considered.
"We survived the Fourth of July weekend very well," said Peter Mackwell, fire marshal for Hood River Fire and EMS.
Although Mackwell noted there was a "fair share of fireworks we were chasing down and asking people to cease and desist," he said the department received only one fire call on Independence Day: a 25-square-foot fire up on the Heights that Mackwell said was likely caused by fireworks. The small fire was extinguished by the property owner.
Hood River Valley firefighters, however, were busy in The Dalles late in the evening of July 4, lending mutual aid to Mid-Columbia Fire and Rescue crews who were busy fighting a small grass fire near Old Dufur Road.
Parkdale Fire Chief Mike McCafferty said MCFR requested an "immediate needs task force" which he said translated to: "We're calling for equipment and we're calling for it now."
All Hood River Valley departments responded to the blaze, which McCafferty estimated to be two to three acres in size and threatened four or five homes on the hillside overlooking The Dalles. According to The Dalles Chronicle, fire crews from Dallesport, Oregon Department of Forestry, Dufur, and the U.S. Forest Service also helped fight the flames, which at one point, came within a mere 10 feet or less of one residence.
McCafferty reported a few tree canopies flared up, but no structures were damaged by the fire, which he estimated took about three hours to extinguish. He said firefighters received an assist from a retaining rock wall that helped slow the fire down.
The Dalles Chronicle reported the fire was under investigation, but was possibly caused by "flying fireworks" neighbors said were being launched in the vicinity not long before the fire started.
Across the Columbia River near Lyle, fire crews brought the 150-acre Major Creek wildfire under control over the weekend, which had been burning since the afternoon of July 3. Stan Hinatsu, recreation program manager for the Columbia Gorge National Scenic area office in Hood River, said the fire, which burned a grassy plateau between Major Creek and the Catherine Creek recreation area, was 100-percent contained by the end of the day Saturday.
At one point, nearly 130 personnel were assigned to the fire, including four crews, two strike teams of five engines, and a pair of helicopters that dumped water on a fire that was fueled by grass, timber, and poison oak as well as hot, dry, windy conditions. The fire, which was determined to be human-caused, burned primarily on Forest Service and Native American trust land, but didn't burn or threaten any structures.
Hinatsu reported Monday afternoon that most personnel had departed the scene, but a number of firefighters, primarily with the Washington Department of Natural Resources and the Forest Service, were staying on hand to do rehabilitation work and monitor the site for any flare-ups.
"We'll be checking on that thing throughout the summer," Hinatsu said of the burn area.