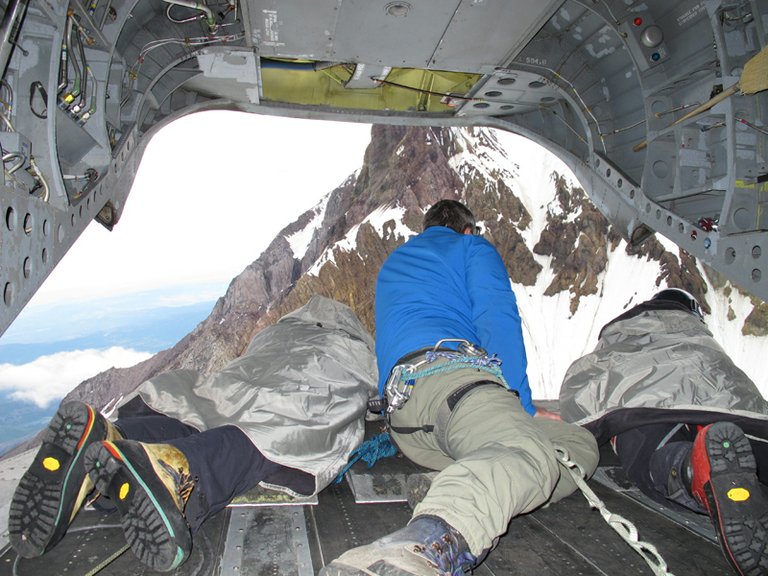 A several-day search for a climber missing on Mount Hood came to a sad end on Saturday, June 29, when the body of the climber, 59-year-old Dr. Kinley Adams, a dentist from Salem, was found near the top of the Sandy Glacier near the Hood River-Clackamas county line.
Several search and rescue teams, law enforcement agencies, and military detachments were involved in the rescue/recovery effort, including the Hood River County Sheriff's Office and the Hood River Crag Rats, a local mountain search and rescue group.
Dale Crockatt, a Crag Rat and a realtor from Sandy, helped look for Adams from the air that Saturday. Crockatt, along with fellow Crag Rat Tom Scully and two members of Portland Mountain Rescue, peered out the open cargo bay door of an airborne Chinook with military binoculars, hoping to catch a glimpse of something out of the ordinary.
"We did notice — and it was what we were all looking for — a little bit of unnatural color," Crockatt said.
The orange color the group witnessed on that day was later determined to be the body of Adams, which was found at an elevation of 8,400 feet and recovered by rescue workers Sunday. An autopsy later determined he died from severe head trauma.
"It was mixed emotions," Crockatt said of the group's discovery. "You're happy, but you're sad."
Attempts to find Adams had been hampered throughout most of the week thanks to poor weather conditions. Searches began late evening June 22, several hours after Adams was due back from his climb, but it wasn't until Friday, June 28, that the elements finally decided to cooperate.
While rescue crews searched from the air, many more scoured the northwest face of Mount Hood from the ground, particularly on and around Reid Glacier, where it was thought Adams may be based on his intended climb route up Leuthold Coulair.
Hood River resident Todd Wells, also a Crag Rat, said he went up with other rescuers at 5 a.m. on June 28 and searched for Adams on skis. They dropped in at Illumination Saddle, located at around 9,000 feet, and slowly traversed the glacier in a serpentine search pattern before ending the search for the day at 5 p.m.
Although the improved weather had made searching easier in some ways, it had made it difficult in others.
"It was starting to get warm and there was a fair amount of rockfall," Wells noted.
Brian Hukari, another Hood River resident who is a member of the Crag Rats, agreed.
"There's a lot of objective danger," he said. "Ice, rocks, avalanches.
"Conditions were tough," Hukari added. "There was really tough snow."
In addition to combing the glacier on skis, Hukari also said he and other rescuers descended into a number of crevasses to examine their depths, fearing Adams had fallen in.
Crockatt, who said he's "summited Mount Hood more times than I can count," was shocked they were able to spot Adams' body at all and noted he was "99-percent sure he wasn't visible." He was also surprised that Adams' remains were found at the top of Sandy Glacier — an area he suggested was a significant distance away from most traditional climbing routes.
"It was a very unusual place," he said.