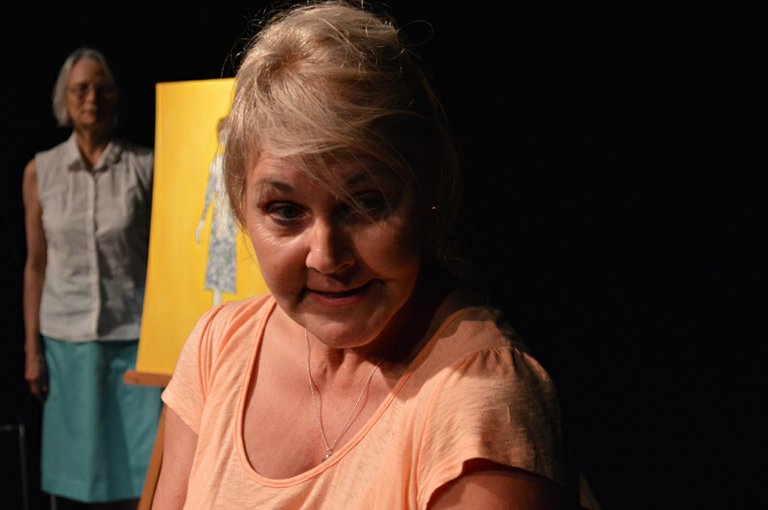 The actors' portrayals stand on their own, but a unique set of visual aids helps convey the variety of stories in the CAST production of "Love, Loss and What I Wore," opening Thursday at Columbia Center for the Arts.
Judie Hanel directs the Nora Ephron and Delia Ephron dramatic comedy about 28 characters, portrayed by nine local actors.
The monologues and multi-character vignettes revolve around recollections by narrator Ginger (Brenda Hering) and the paintings of key pieces of clothing are seen, to the side, on an easel.
Artists Karen Watson, J. Niels Harvey and Karen Watson collaborated on the drawings of Girl Scout uniforms, prom dresses, cocktail dresses and other attire. The paintings will be auctioned after the show, benefiting the arts center.
Going to 'Love, Loss'
Shows are at 7:30 p.m. July 11-13 and July 18-20, and 2 p.m. on July 14.
Running time is 2 hours, five minutes including a 15-minute intermission.
The performance also includes four original monologues written by cast members.
Tickets are $18 for adults and $14 for seniors and students; available at Waucoma Bookstore, the arts center and online at www.columbiaarts....
The production is suitable for mature teenagers.
Cast members are Barb Berry, Irene Fields, Leith Gaines, Brenda Hering, Deborah Julie Jindal, Langlois, Desiree Amyx-Mackintosh, Kim Robichaud, Lisa Roth and Emily Vawter.
The garments represent the characters and what they were experiencing at the time. Meanwhile, the performers are all dressed all in black.
"As every woman will tell you, certain items of clothing can assume the quality of sacred objects. There is that perfect black dress that makes you feel like a million bucks every time you put it on," Hanel said in her director's notes.
"There are those boots you bought that make you feel like an honorary European. There is that perfect leather bag that has always had its own special swagger, or the shawl or jewelry that is forever infused with memories because they were passed down from a mother or grandmother, or were gifts from someone special.
"And then there are the clothes that need to be forgotten; like the awful outfit you wore to a party that made you feel so self-conscious about your decision; the too-tight skirt that had you tugging and pulling at it all night and made you think you suffered a bout of temporary insanity.

"My Mom was what they used to call a 'fashion plate.' She loved clothes and I can remember some of them so vividly. There was the beautiful navy suit with the red lining and the most beautiful woven buttons with just a sliver of red running through. She and I would take the bus to downtown Denver to go shopping together when I was young and I always looked forward to the lunch at the Denver Dry Goods tea room, where the waitresses were all dressed in black and white. They all had frilly aprons and perky white hats with lace.

"For me, the key to this play is about women sharing stories with each another. It is not about flash or staging; it's literally about having no fourth wall and really communicating with each other, so women realize that they're not alone in the things they experience in their lives. The best part is I have nine women so talented that have been able to take Nora and Delia's words and bring them alive onstage.

"It's sad to think that Nora is no longer with us and we won't be able to enjoy any more of her words. Nora, up to the week before she passed, kept her battle with cancer a secret. Nora hated complaining. She did not want to become her cancer and so did not share that diagnoses.
"At her memorial, her very good friend Meryl Streep said, 'We've all been ambushed by her death. She didn't like surprises, except happy ones,' Streep said while fighting back tears. 'And she didn't want ever to be caught unawares. But she really did catch us napping. She pulled a fast one on all of us. And it's really stupid to be mad at somebody who died, but somehow I have managed it.'
"Streep said it left her feeling "so privileged and so pissed-off and so honored and so inept all at the same time."

"I particularly like this Nora-ism: 'Never marry a man you wouldn't want to be divorced from.'
"Nora Ephron once described this show as 'The Vagina Monologues' without the vagina.
n
CAST and local restaurants are offering a "Girl's Night Out" promotion with "Love, Loss and What I Wore."
At the theater, wearing your little black dress entitles you to $1 off a glass of wine and free chocolates.
Also enjoy food discounts, at The Waucoma Club (next door on Cascade) and Sixth Street Bistro (Sixth and Cascade) and Celilo Café (First and Oak streets), by showing your theater ticket.
All are serving a signature drink, the Love, Loss Stiletto Martin; just wear your black dress and say the "secret" code words: "I don't have a thing to wear."
The offer is valid only pre- or post-show on the days of performances and not in conjunction with other discounts.
The theater-restaurant co-promotion is the largest one yet done through the Center for the Arts.
The fourth wall, in theatrical terms, is the imaginary boundary between the performers and audience. In most plays, the audience supposes that the wall exists, and the play continues as if the audience is separate or omnipresent. In breaking the fourth wall, actors periodically speak directly to the audience as part of the story.