This week volunteers at Adopt A Dog have selected Addie as the program's adoptable pet of the week. They describe her as follows: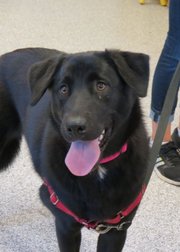 "Addie is just over a year old and everything you could ask for in a lab! She's smart — already knows lots of commands — playful, sweet, fantastic with other dogs, devoted to her person and ready to get out of this dang shelter and into a home where she knows she belongs!
But because Addie is such a smart girl, she needs to keep busy. That nose of hers is always working and she gets bored if there's nothing to do. Daily exercise is a must for this girl — she'd make an awesome hiking/biking/skiing/running partner. And even better is if you've got another playful dog, because this girl loves to play! She likes rough-and-tumble play, so she needs a buddy who can keep up!
"Addie likes car rides, of course, too, so add "travel partner" to the list! She's housetrained, current on shots, micro-chipped and spayed. The adoption fee for this awesome girl is $165; cash or check only, please."
Since many of AAD's dogs are in foster care, please call ahead to meet Addie at the Hukari Animal Shelter, 3910 Heron Drive, Odell; 541-354-1083. Adoption hours are Wednesdays from 5-7 p.m. and Saturdays from 9-11 a.m. Applications may be downloaded at www.hoodriver-adoptadog.org and faxed to 877-833-7166.
The Adopt A Dog program offers 24PetWatch microchips, which include free registration into the 24PetWatch pet recovery service. (For more information visit www.24petwatch.com or call 866-597-2424.)