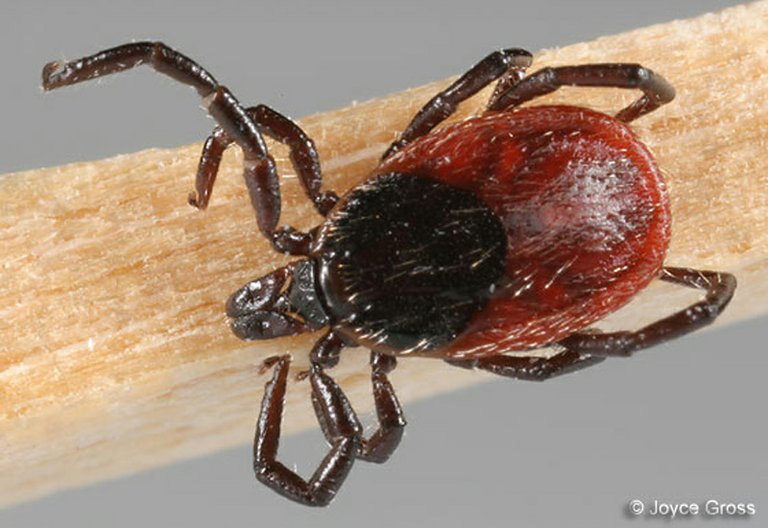 Ahhhhhh, summertime! Everyone is coming out of hibernation.

The good news: Stepping out of darkness into light is entirely rejuvenating.
The bad news: Frolicking outdoors is risky.
Ticks are exploding in population everywhere. Ticks are plentiful, very hungry and very ready to feast upon anything that emits carbon dioxide (that's you). They can also sense vibrations in the ground as well as body heat and smells.
Scientists call these nasty critters "questers," because their rather grim existence depends on questing for warm-blooded hosts like rodents, birds, deer, and us. Ticks feed only three times in their lives: as larva, as nymph, and as adult. Both males and females have a two-year life span.
Ticks don't travel very far on their own, but they feed on lots of hosts that are already infected, and the mobility of their hosts (including mice, deer, birds and people) allows for the spread of infection in two ways: a) an infected tick can "hitch a ride" to a new location; and b) an infected host, in a new location, can be bitten by another tick which can then spread the disease.
As a result of recent increases in vector populations (such as mice and deer), and of course human mobility, Lyme disease has spread across the United States and into Canada since 1981.
The western black-legged tick, Ixodes Pacificus, transmits Lyme disease and is prevalent on the West Coast. It can also carry other pathogens that can make you sick. The actual size of the Ixodes Pacificus nymph is tiny, like the head of a pin.
If you are bitten by a tick, please take it seriously. Do not wait to detect a "bulls-eye rash" because many people don't ever manifest a rash. If the tick was infected, and fed long enough to transfer the disease to your body, you're likely to develop arthritic pain in some or all of your joints, muscle pain and spasms, and heart problems. The pathogen can also cause cognitive and neurological damage.

The best way to kill this pathogen is to take antibiotics — the sooner, the better.
But the problem is, the tests for Lyme disease are unreliable and don't give an immediate positive result after infection (because the test depends on a buildup of antibodies, which takes time). So your doctor or naturopathic physician will have to diagnose based on clinical history, using blood tests as only one piece of evidence.
Depending on a discussion you may have with your doctor or naturopathic physician, he or she may choose to give you a standard course of antibiotics "just in case."

How can you prevent yourself from getting bitten by this quester?
Here is good advice from the author of "The Tick Management Handbook," Kirby Stafford:
n When outdoors, wear long sleeves and pants, and tuck your pants into your socks.
n Stick to the middle of trails when hiking. Tick nymphs, the most common form to infect humans, are found in leaf litter, close to the ground.
n Insect repellent is effective. Try permethrin-based clothing or mosquito repellents with a least 30 percent Deet; also available is BioUD insect repellent by HOMS LLC (just Google Homs llc).
n Once home, check your skin immediately! Ticks like every part of your body, especially the hairline, ears, belly button and groin area. Nymphs are small, about the size of a sesame seed. They often look like a tiny dark freckle.
n Bathe within two hours of having been outside, and check your clothing and gear for ticks, too. Tumbling clothes in your dryer on high heat for an hour will kill any ticks you collected.
n Early removal is key. Because of how a tick feeds, if you remove it within 24 hours, you may be able to avoid infection. The problem is, depending on what you were doing, you may not know when it became embedded.
n The best way to remove a tick is with fine-tip-tweezers. Grasp your skin and pull off the tick. Important: Remove the tick by its head and not belly — you don't want to squeeze the belly contents (ewwww) of the tick into you. Disinfect the site and watch for symptoms and infection; then, save the tick! Place it in a small plastic bag or small container. Then Google "Igenex Labs Tick Testing." This website will provide all the steps you need to take in order to get the tick tested.
n If you were bitten by a tick and develop a bulls-eye rash within a few days to a month after the bite, you are certainly infected and need an immediate course of antibiotics to clear the infection. But not everyone manifests a rash, and "bulls-eye" is a bit of a misnomer because rashes can look different on different parts of the body. Fatigue, muscle and joint pain, and general flu-like symptoms are also common early indicators.
n If you think you have Lyme, see your physician or naturopathic physician immediately. It can take a few weeks for your body to build up detectable levels of antibodies, so early Lyme tests may come back negative. This puts the emphasis on a clinical diagnosis (what actually happened to you, and your symptoms), with a blood test only used for confirmation (although the blood test is not itself 100 percent accurate).

If you're infected, your doctor or naturopathic physician will prescribe a round of antibiotics (Doxycycline), which should quickly knock the Lyme out if you act early!
n Last but not least, if you find a tick that has been feeding on you, and think it might be the kind that carries Lyme disease, you can remove it carefully, save it, and get it tested to find out if it's infected. Immediately send the tick to Igenex Labs (which is in Palo Alto, Calif.) by visiting its website, Igenex.com, then click "Igenex tick testing." This is a quick way to check your risk (the test costs $65).
The sooner you find out you're infected, the sooner you can treat with antibiotics, and the better your chances are to eradicate the infection. This is much safer and faster than getting a blood test because the blood tests are not very reliable, and it takes time for your body to build up the antibodies needed for a positive test.
n
Two great websites to learn more about personal prevention and what to do if you're bitten are: lymedisease.org/lyme 101 and ILADS.org and click "Treatment Guidelines."(ILADS stands for International Lyme and Associated Diseases Society.)
As mentioned above, Igenex.com is the place to go to learn about tick testing. Once you type that in, you'll automatically get its site which is a PDF titled "To Send a Tick: -IGENEX, Inc." Igenex is the lab near Stanford University in California that specializes in tick testing. Send in your tick(s) and form to find out if your tick(s) are infected!
If you think you've been bitten, consider talking to your doctor or naturopathic physician about a 4-6 week round of antibiotics for preventive treatment. You'd rather be safe than sorry here. These websites explain this in more detail.
There are well over 100 patients in Hood River treating for Lyme disease. The numbers continue to climb. We have the Mid-Columbia Lyme Support Group here, and if you have any questions about Lyme, call Elaine Walker at 541-490-4019.
If you wish to get tested in Hood River, call Dr. Joan Laurance, ND, at 541-386-4844.