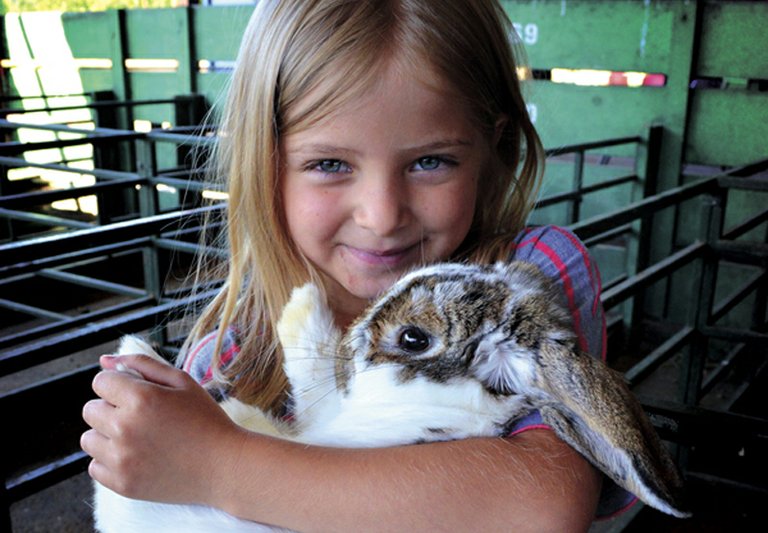 People from around Hood River County lined up at the fairgrounds in Odell Saturday on a warm summer morning for the Small Animal Pre-Fair for students in 4-H and Future Farmers of America.
It was a busy day at the fairgrounds, a preview of what is to come when the Hood River County Fair returns July 24-27.
Volunteers helped weigh turkeys, chickens, ducks and rabbits while also conducting health screenings of the animals and giving valuable tips to the youngsters about how to best care for and show off their animals at the fast-approaching fair.
Sheep shearer John McKergon came from the Willamette Valley to give more than a dozen sheep some summer cuts for the fair. Also on Saturday, market poultry were weighed and given tags.
"I always look forward to seeing the kids have a good time. It's kind of their showcase. Members finally get to show all the hard work they've done," said Dani Annala, 4-H coordinator with Oregon State University Extension.
On Monday, 4-H members turned in their record books, in which they documented their projects over the past year; the books themselves were judged on Tuesday. They will be placed on display for anyone to read throughout the fair.
July 17 brings open scale, in which any member can bring their animal for weighing. Weight limits are among the fair entry rules, and the open scale "serves as a pre-warning," for the kids, according to Annala.
(Animals that do not make weight can be shown and compete for ribbons, but cannot be sold in the livestock auction.)
"It also keeps them in line with how a producer would do it, so it's teaching them those lessons, too," she said.
Other 4-H pre-fair activities include Friday's Fashion Revue, in which members are judged and scored on their clothing presentations, and poultry set-up will be in the afternoon. On Saturday, barn set-up begins.
Adults have their deadlines, too: Open Class entries are July 22, 11 a.m. to 7 p.m., and July 23, 8 to 10:30 a.m. for baked goods, clothing, food preservation, fruits and vegetables, textiles, ceramics, art, hobbies and handcrafts, and photography, along with youth Open Class baked goods.
On July 23, Open Class Flower Registration runs from 9 to 11 a.m. Flowers will be judged from 1 to 7 p.m. Tuesday and noon to 4:30 p.m. July 23.
Changes this year
n Hood River County Youth Livestock Auction for FFA and 4-H animals will be an hour earlier, at 4:30 p.m. on July 26.
n The 4-H horse show will be Aug. 3- 4, 8 a.m. to 5 p.m., rather than during the fair. But numerous horse events and competitions, including team penning and ranch sorting, are planned in the Frank Herman Arena. Look for details in the July 22 edition.
Look for more free kids activities, at the Mutton Busters pen and other locations. These include roping, stick ponies and money toss Of course, tractor rides at the park, an annual favorite, will return as well.