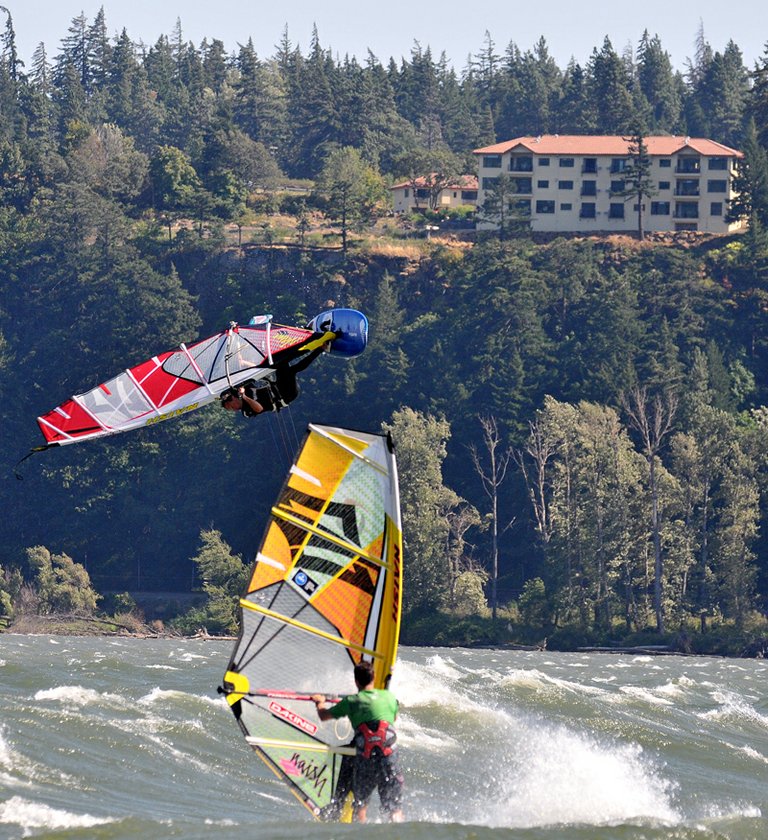 In an effort to "revive the stoke" in the Gorge as a world-class locale for windsurfing contests, the Columbia Gorge Windsurfing Association and the American Windsurfing Tour are teaming up this week to put on Freestyle Frenzy. The two-day event has a wind window of July 17-21 and will be held on the first two windy days within that range at the Hatchery (Spring Creek Fish Hatchery, 4 miles west of the bridge on Highway 14).
"The Hatch is a prime place for an event like this," said Greg Stiegel, CGWA executive director. "It's got good wind, good swell and a section of flatwater on the inside perfect for competitors to throw tricks, all super close to a natural stadium seating for spectators."
Freestyle Frenzy will feature three separate categories of competition, each broken into different divisions. Super Freestyle and Gorge Style will run the one day and the Jump-off the other.
"Super freestyle will feature the pro-level windsurfers showing off their flashy, flat-water tricks and technical moves," Stiegel said. "Gorge Style will be for the more old-school, classic Gorge moves like big front and back loops; classic stuff the local sailors throw a lot of. The Jump-off will strictly by the numbers to see who jumps the highest, which anyone can participate in."
Along with CGWA and AWT, the event is aided by Xensr — a sailor-mounted iPhone device that will be used to measure exact height of competitors' jumps. In addition to providing sensors for the contest, Xensr donated $1,500 of prize money to help draw more entrants and revive the competitive Gorge windsurfing scene that has seen a slump in recent years.
"Since the Gorge Games and the last Freestyle Frenzy in 2008, local freestyle windsurfing events and their draw have been in a slump," Stiegel said. "Our goal is to generate some excitement this year, revive the stoke and to have this turn into an annual event that draws more people to the Gorge. Windsurfers love coming to the Gorge, and there are a lot of pros out there who want any excuse to come here to compete. We just need a couple solid events to help make the trip out here worth their while."

Along with providing a forum for pros to show off their best and flashiest moves, the three-event format helps level the playing field for other local shredders, many of whom may not have the most technical moves but are famous for monster hangtime and classic big-air tricks that the famous Gorge wind and waves facilitate.
Competitor division will be divided into Pro, amateur, youth and female, and registration will be open until the day of each contest.
"It should be the best and most exciting water-sports event of the summer in terms of spectating," Stiegel said. "The Hatchery is a perfect place to sit and watch these sailors huck themselves around the river. And with the contingent of out-of-town competitors we're expecting, we'll get to watch our local Gorge riders defend their home turf and duel it out with one another."
Forecasts look like wind will return to the Gorge starting Wednesday and Thursday this week, so the first day of competition will likely be one of those days. CGWA will release contest days and times as soon as it makes the call based on wind at gorgewindsurfing.org.
Event sponsors are Xensr, Columbia Graphics, Advantage Orthopedics, Sailworks, Everybody's Brewing, Black Project Fins, Sensi, CGWA, Dakine, Makani Fins, Big Winds, Andrew's Pizza, NoLimitz, Windance, Vela and Chinook.