This week volunteers at Adopt A Dog have selected Mia as the program's adoptable pet of the week. They describe her as follows:
"Mia is a 9½-year-old Shih Tzu/poodle mix. Her owner is no longer able to care for her and thought it best for this sweet little girl to find another home.
"Mia may be 9 years old, but no one who meets her believes it! She is one sparky little thing! She's super-playful with other dogs and loves her toys, and is great with kids, too.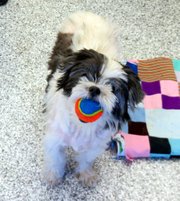 "She likes to bring her toys to the little kids in the foster home in hopes they might want to play along with her — or if her toys are all nicely put away in her toy box, guarantee she'll make sure they're all out and lined up for her to keep an eye on! She's usually seen carrying one of the stuffed toys around, just for the heck of it.
"Mia gets along with everyone and is usually the last one playing. There's nothing negative to say about this girl! She is very snuggly and cuddly but also loves the great outdoors, especially if she's got other dogs with her ready to play. The video on our website is just a small taste of how fun she is.
"She's fine with cats, housetrained, current on shots, micro-chipped and spayed. The adoption fee for Little Miss Mia is $115; cash or check only, please. The fee to adopt is charged to recoup standard veterinary expenses."
Since many of AAD's dogs are in foster care, please call ahead to meet Mia at the Hukari Animal Shelter, 3910 Heron Drive, Odell; 541-354-1083. Adoption hours are Wednesdays from 5-7 p.m. and Saturdays from 9-11 a.m. Applications may be downloaded at www.hoodriver-adoptadog.org and faxed to 877-833-7166.
The Adopt A Dog program offers 24PetWatch microchips, which include free registration into the 24PetWatch pet recovery service. (For more information visit www.24pet-watch.com or call 866-597-2424.)