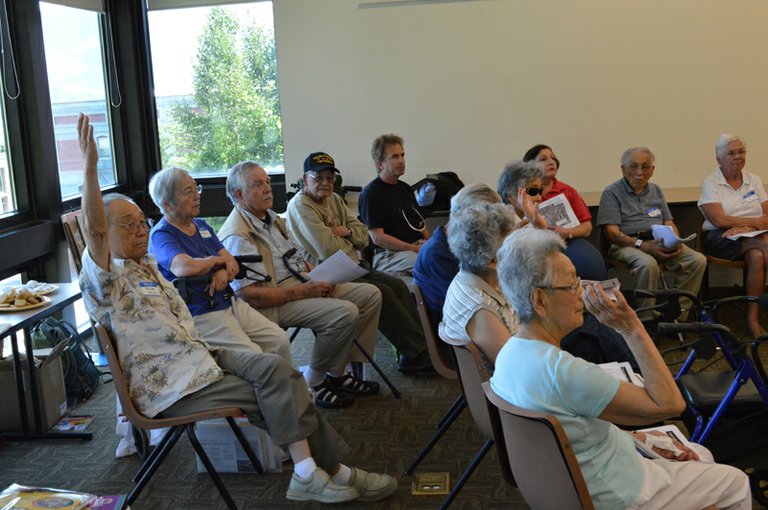 The Jeanne Marie Gaulke room of the Hood River County Library was packed with people who came to give input and listen to the National Park Service's presentation on restoration plans for the Tule Lake Segregation Center in northern California — a notorious World War II internment camp for people of Japanese descent.
Several who attended the recent public scoping meeting were Nisei, second-generation Japanese Americans, who were interned at the camp themselves. As a teenager, Homer Yasui, who now lives in Portland, was forced to leave his home in Hood River and spend the summer of 1942 behind the barbed wire fences and guard towers of Tule Lake. Yasui was one of 29,000 people incarcerated at the facility throughout its existence and one of more than 100,000 Japanese Americans who were interned in similar camps during the war years.
"I'm pleased to see so many people show up," Yasui said, looking around the meeting room in the Hood River Library. "This is a badly, badly traumatized valley."
Hood River is one of over a dozen cities on the West Coast that will be visited by the Park Service throughout the summer to help gather information on how the Tule Lake Unit should be restored so that visitors can get a full sense of what internment was like. After the camp finally closed in 1946, many of the facility's buildings, particularly the barracks, were sold off to private individuals, while the structures that remained gradually fell into disrepair. In 2008, the Tule Lake Unit was declared a National Monument by President George W. Bush.
Mike Reynolds, superintendent for the Tule Lake Unit and Lava Beds National Monument, expressed the importance of gathering information from those affected by the internment before it's too late.
"The buildings are falling down and we need to gather oral histories because people are aging," he told the crowd at the Hood River meeting, most of whom were elderly themselves.
Asking those who suffered through the internment experience to tell their deeply personal stories has often proved difficult as many would rather leave the memories of Tule Lake in the past.
"I don't blame them for not wanting to talk," Yasui said. "They were hurt badly."
Yasui did give his perspective on his time at Tule Lake though, which was surprisingly upbeat.
"While I was at Tule Lake, I made a lot of friends and did a lot of playing around and had a lot of fun, but to put it in context, I had nothing to lose, except my freedom," Yasui explained, noting that as a teenager out of school, he had few responsibilities.
Still, it wasn't an altogether pleasant experience.
"I remember the dust, I remember the lack of privacy, and all that, but in general, I'd say I had fun in camp and I think if you asked a lot people my age if they had fun in camp they'd say, 'Yeah, I had fun,'" Yasui said. "There were people who wouldn't say that, and rightfully so."
Hood River resident Lil Kurahara, who was also interned at Tule Lake, looked back on the experience less fondly.
"It altered my life, but I can't say it was all bad because I met my husband (Janus Kurahara) there, but I lost a mother on the third day and that kind of was sad," she remembered tearfully. "No provisions were made to take her to the hospital. They took her in the back of a cargo truck and she passed away on the third day."
Kurahara said she was "among the people who prefer not to dwell on that for years" about Tule Lake, but noted she was fully aware of why sharing her story, even the painful parts, with the Park Service was important.
"I have grandchildren and great-grandchildren who have taken great interest in the history," she said, "so I think this would serve a purpose to educate them and they like to know all the details."
Near the conclusion of the meeting, a brainstorming session was held to discuss what interpretive exhibits should be included in the project and what aspects of life at Tule Lake should be shown. Suggestions from the audience were plentiful and included displaying original or replica guard towers and barracks, recording oral histories from former internees, making comparisons to other internment camps, having exhibits on what daily life was like at Tule Lake, and showing information on the difficulties families experienced upon returning to their homes after internment.
For Joan Yasui Emerson, a Hood River resident who was born at Tule Lake, the most important piece of history that needed to be preserved was how families were personally affected by internment.
"There was a writing project in Portland and one of the Nisei wrote a story, a simple short story, but it had me in tears, of packing up in Hood River — it still makes me cry," said a visibly emotional Emerson, "and seeing the family dog left behind and the dog chasing and chasing and chasing and finally giving up, knowing it would never see its family again.
"Those are the kind of human stories I think have to be told so people can take it to heart," she continued. "It's one thing to put up pictures of the camps, but it's another thing to hear the stories of the people and what it did to them — and it did do something, no matter what people say, it did something to them."