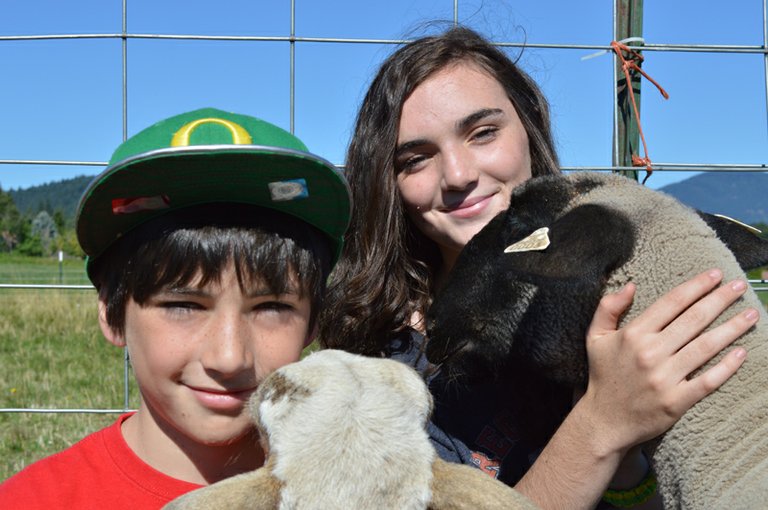 If Aidan and Ellie Smith were sent back in time to live during the days of the pioneers, they'd be able to pull their own weight around a homestead, no problem.
That's because Aidan, 11, and Ellie, 14, who are brother and sister, have garnered a litany of skills over their time in 4-H: a youth development program most often associated with teaching young people about agriculture including how to raise and show livestock.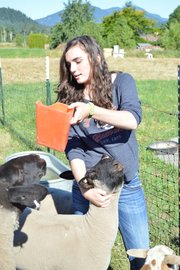 4-H is a key part of the programming for the annual Hood River County Fair, which kicks off Wednesday, July 24, and Aidan and Ellie are gearing up to compete in the fair once again this year.
Talking with Aidan, Ellie and their mother, Barb, at their home on Post Canyon Drive in Hood River, it becomes pretty clear the youngsters are more than involved with just animal husbandry and will be pretty busy come next week — not that they haven't been already.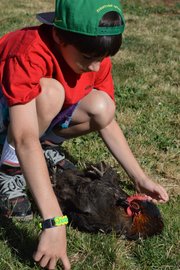 "At the fair, we do sheep, poultry, and rabbits and some inside exhibits," Ellie explains. "We do sewing, cooking, fiber arts, photography, art."
Both Aidan and Ellie have been participating in 4-H programs for six years, including a junior 4-H program called Cloverbuds — a nod to the 4-H four-leafed clover logo. Their love of 4-H has been passed down to them from their mother, who also participated in 4-H while growing up in Hood River, as did her mother, Jean Stone.
Aidan and Ellie already have three shows under their belts this year — the Boatman Lamb Camp in Prineville, the Mid-Columbia Junior Livestock show in Tygh Valley, and the Blue Mountain Jackpot in Heppner — but that doesn't mean they're slacking off for the county fair. Ellie says she and her brother head out to the pens in the backyard "every night when it's cooler, to work with the animals."
Although it isn't a category of showmanship at the fair, Aidan is also a highly skilled hypnotizer of chickens, which he says are his favorite animals to show.
"You lay them on their backs and let them calm down," Aidan narrates while performing the procedure on Cuddles, a 3-year-old Copper Maran chicken, "and then you draw a line across the ground in front of them with your finger."
After tracing the line in the grass, Aidan slowly withdraws his hands while a mesmerized Cuddles lies motionless on her back, staring out into space for several seconds before awkwardly flopping to her feet as if nothing had happened. Success.
While chickens are Aidan's favorite animal, Ellie prefers the company of sheep, which she feels most comfortable showing at fairs. One sheep in particular, a Suffolk named Louie, is Ellie's favorite, whom she says is "like a dog" and has no problem getting along with the menagerie of animals present at the Smith estate.
"He likes to play with the cats," she says. "It's pretty funny."
Though Aidan and Ellie may grow close to the animals, many will go to market, meaning Louie may wind up on a restaurant table some day with a side of mint jelly. But they won't wind up on the Smiths' dinner table.
"You can't eat them once you name them," Barb notes. "It doesn't work."
Still, Ellie believes it's good to not be disassociated from how her food gets to her plate.
"It's better to eat something that you know where it came from," she says.