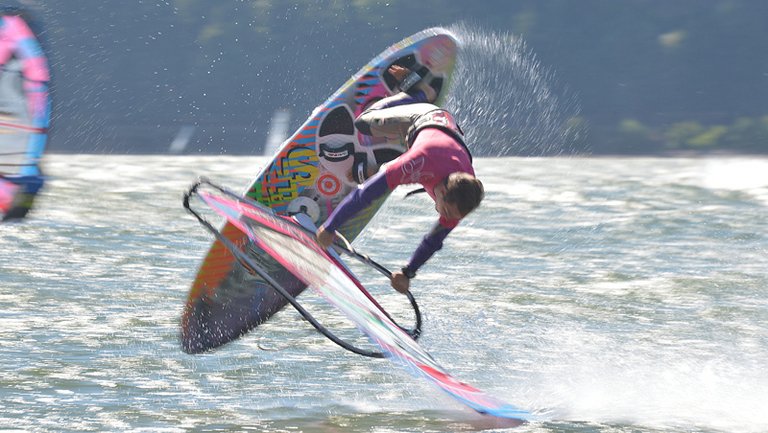 Summer sunshine: check. Strong wind: check. Classic Gorge swell: check. Large audience: check. Lineup of competitors excited to huck, flip, jump and jibe around the river for bragging rights and prize money: check.
Photo Gallery
Freestyle Frenzy 13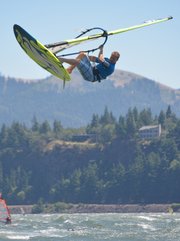 Freestyle Frenzy returns to the Gorge after a five year hiatus, bringing top notch windsurfing competition to the Hatchery.
Gorge Freestyle Frenzy a success: check.
With less-than-ideal wind forecast earlier this week, organizers and competitors of the Gorge Freestyle Frenzy windsurfing contest were pleasantly surprised Wednesday morning by classic Gorge conditions that peaked in the 35 mph range and lasted through most of the afternoon.
The event, recently revived by the Columbia Gorge Windsurfing Association/American Windsurfing Tour after a five-year hiatus, brought 50 competitors from six countries (U.S., Canada, Mexico, South Korea, Australia and England) and several dozen spectators to the Hatchery for a full day of freestyle and big-air windsurfing.
Event highlights
Super Freestyle top five:
1: Bryan Metcalf-Perez; 2: Wyatt Miller; 3: Tyson Poor; 4: Rob Warwick; 5: Mitch Gingrich/Nick Allen
Gorge Style Top five:
1: Mitch Gingrich; 2: Jake Miller; 3: JP Bowles; 4: Nathan Mershon; 5: Scott Hazenboom/Sean Aiken
Women Freestyle:
1: Ingrid Larouche; 2: Roxanne Christensen; 3: Laura Miller; 4: Tanya Ferguson
Jump-off top five:
1: Dale Cook, 2: Sean Aiken, 3: Bryan Metcalf-Perez, 4: Jake Miller, 5: Steven Max
With an early morning start and the goal of getting every round of three different contests done in one day, things went quickly and with little break in the action. In the Super Frenzy division, Bryan Metcalf-Perez beat out fellow resident pros Wyatt Miller, Tyson Poor and Rob Warwick to finish on top of the 16-man field. The Gorge Style category — judged for the classic big-air and swell riding moves Gorge sailors are known for — saw Mitch Gingrich rise to the top over Jake Miller in second, JP Bowles in third and a field of 18 total. Women's freestyle competitors finished with Ingrid Larouche in first, followed by Roxanne Christensen, Laura Miller and Tanya Ferguson.
"We're stoked," says Greg Stiegel, CGWA executive director. "The forecast wasn't looking great, but it nuked all day and we had a really good turnout. By the time the Jump Off came around in the afternoon the wind had backed off and the swell was coming down, which was a bit of a bummer."
Using arm-mounted Xensr devices to take precise measurements, the Jump Off was a simple highest-jump-wins format. No surprise to anyone who knows the Gorge scene, the event favorite and renowned huckster Dale Cook edged out the competition with a jump of 18.81 feet. Sean Aiken was second at 14.12, Metcalf-Perez was third with 14.0 and Miller was fourth with 12.55.
"The numbers were okay, but definitely not as high as those guys can go," Stiegel said.
In addition to providing sensors and helping run the event, Xensor donated $1,500 in prize money to help attract competitors.
Next up for the local windsurfing scene is the fourth race in the annual summer Gorge Cup racing series at the Hood River Event Site. The series continues with Race 5 Aug. 3 and the season finale race Aug. 31.
The CGWA is also gearing up for its annual King of the Hook event, which will be Aug. 11 at the Hook. The whimsical event dates back to 2001 and is more of a fun-focused gathering than a contest.
Finally, final two swap meets of the season are set for Aug. 4 and Sept. 1 in the Luhr Jensen parking lot. Set-up for sellers starts at 7 a.m. and the meet opens for buyers at 8 a.m.
See gorgewinsurfing.org for details.