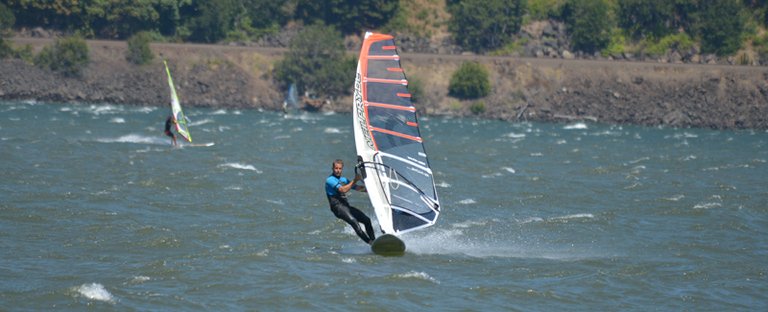 In what organizers and longtime competitors agree is one of the windiest races in the Gorge Cup's long history, more than 30 windsurfers put their skills, and gear, to the test over the weekend at the Hood River Event Site. Saturday's action included gusts into the 40-mph range, and Sunday into the upper 30s, giving racers in the summer-long series a true taste of what nuclear Gorge conditions can dish out.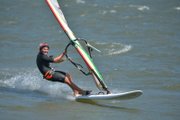 Bruce Peterson finished the first day of seven races in first place, winning the first five before dropping the last two to the day's second-place finisher, Jay Watermeyer. Fiona Wylde was third on the day followed by MacRae Wylde and Jay Salzman rounding out the top five.
"It was a pretty wild weekend of racing," said Scotia Bauer, Gorge Cup race director. "It was so windy that a lot of people chose to race on their wave gear. Saturday was gusting into the mid-40s at the Event Site, which is pretty rare. Wind that strong is definitely out of the sweet-spot for racing, but it made for some really fun spectating."
The second day of racing saw slightly less wind, but not by much. With Peterson out for most of the day due to getting "whacked on the head," while racing, the leaderboard saw Tyson Poor rise to the top in four of the six heats that were run that day. Fiona Wylde continued to make a statement in the local racing scene as the 16-year-old finished second behind Poor and in front of her father, MacRae, in third, Salzman in fourth and Jac le Roux in fifth.
Current series leaders
1: Fiona Wylde, 5.7 pts.; 2: MacRae Wylde, 9.0 pts.; 3: Jac le Roux, 13 pts.; 4: Sam Bauer, 18 pts.; 5: Bruce Peterson, 22.4 pts.; 6: Toshi Kato, 26 pts.; 7: Jay Salzman, 26 pts.; 8: Jorge Arzola, 30 pts.; 9: Igor Landais, 30 pts.; 10: Alex Nielsen, 30 pts.
With the two days of racing scored separately, Fiona Wylde leads the overall standings through four of six races in the series; MacRae Wylde is second, le Roux is third, Sam Bauer is fourth and Peterson is fifth out of a field of 42. The final two races are scheduled for Aug. 3 and 31.
"This has been a great year for racing, and for new participants," Bauer said. "This weekend we had a family come in from Texas to race for the first time. Their youngest was 12 years old, which was great to see him out there racing with our oldest racer, who is in his mid-60s."
Bauer said that although the season only has two races remaining, new participants are encouraged to join the fun and comradery of the longstanding local series.
"The first race is free to new participants, and you don't have to have special racing gear," she said. "For those who windsurf but have never raced before, the Gorge Cup is a very friendly way to give it a try."
See www.gorgecup.com for details.
Saturday top 10:
1: Bruce Peterson; 2: Jay Watermeyer; 3: Fiona Wylde; 4: MacRae Wylde; 5: Jay Salzman; 6: Bill Czinege; 7: Alex Nielsen; 8: Peter Hill; 9: Alyson Fromm; 10: Jeff Fagerhorn
Sunday top 10:
1: Tyson Poor; 2: Fiona Wylde; 3: MacRae Wylde; 4: Jay Salzman; 5: Jac le Roux; 6: Alex Nielsen; 7: Alison Fromm; 8: Travis Perez; 9: Bill Czinege; 10: Bryan Metcalf-Perez