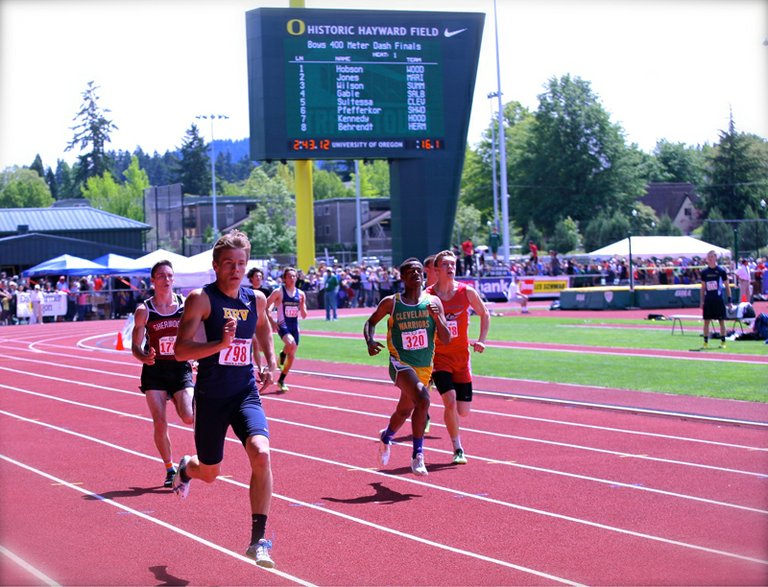 Parker Kennedy has been making great strides toward the goal of becoming one of the top young decathletes in the country. While many of his friends were kicking back and relaxing in the first weeks of summer vacation, the Hood River Valley High School sophomore was busy competing in, and winning, the USA Track and Field state and regional championships.
As a 15-year-old, Kennedy won the USATF state decathlon title last month at Sandy High School, and went on to win the Regional Junior Olympic decathlon this month in Seattle. The decathlon consists of the 100-meter dash, 400-meter dash, 1,500-meter run, 110-meter hurdles, high jump, pole vault, long jump, shot put, discus and javelin.
"With the decathlon, you have to stay totally consistent, both physically and mentally," Kennedy said this week after taking a kiteboarding lesson to "unwind" from a busy season of training and competing. "If you're not consistent — if you lose focus — things can fall apart quickly. But you can also recover from a bad event if you stay focused and make up points in the others."
Last summer Kennedy took the summer season a step further and traveled to the Junior Olympic Nationals in Baltimore, Md., where he placed 11th as a 14-year-old competing in the 15-16 year old division.
"I was headed for a podium finish but collapsed during the 1,500 and didn't finish, which really threw my score off," he said. "This year my plan is to hit it hard starting in August and build a good foundation, so when the time comes, my body is ready to compete."
This year he is choosing not to attend the same meet, instead focusing on qualifying for the higher-caliber 2014 USATF Junior National Championships next June, which brings together to top 16-19-year-old track and field athletes in the country to compete for individual honors and a chance to represent USA on the world stage.
"Working hard between now and then is what it's going to take," he said. "What I like about the decathlon is that I can rotate training through different events so I don't get bored or burned out by doing just one thing. I can't really let up this year; there are a lot of other kids who want the same thing as me and are working hard to get there."
During his freshman year at HRVHS, Kennedy won the 400-meter Columbia River Conference title, finished second in pole vault (behind teammate Patrick Crompton) and ran on the conference champion 4x100 and 4x400 relay teams. At the state meet he finished seventh in the 400 meters and helped the relay team (with Wyatt Webber, Parker Irusta and Cesar Rodriguez) to a fourth-place finish in the 4x100 and fifth in the 4x400.
Kennedy also played on the HRV varsity basketball team, which he says he's planning on doing again this winter.