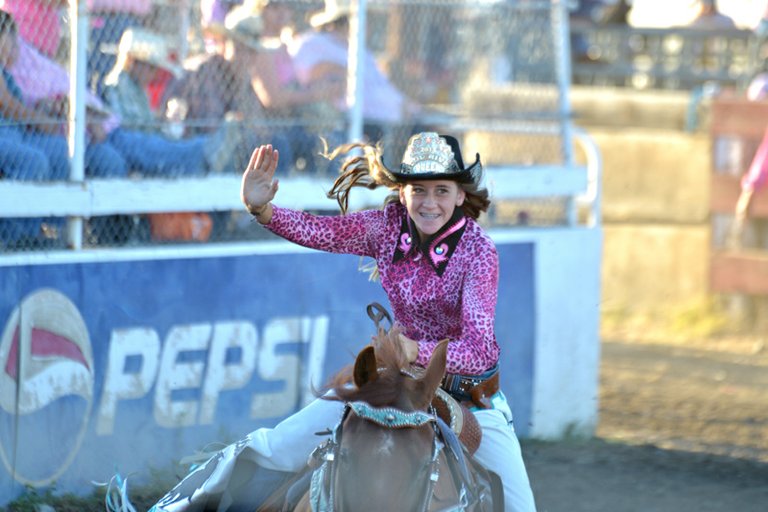 For Hood River cowgirls Jayden Shelton and Chantelle Carter, competing in the 48th Annual Fort Dalles Days "Rough & Wild" Pro Rodeo was undoubtedly the highlight of their three-year rodeo career.
The two friends participated in the Northwest Professional Rodeo Association event all four days (July 17-20), while proudly riding their horses in the 7:30 p.m. opening ceremony procession at Milt Tumilson Arena in The Dalles.
Following the singing of the national anthem and introduction of all the rodeo dignitaries, including Grand Marshall and Oregon State Rep. John Huffman, the duo proceeded to ride around the large arena while smiling and waving to the crowd of rodeo fans prior to the evening's scheduled events.
"We go around the Northwest to compete in junior rodeos and we also ride in parades at towns where the NPRA is appearing at," said Carter, who rode Ellie, her 18-year-old quarterhorse. "It was so much fun riding around the arena during opening ceremonies on all four days."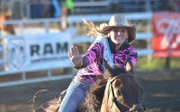 For Shelton and Carter, both 14-year-old incoming freshmen at Horizon Christian School, entering the Fort Dalles Days Rodeo for the first time last Wednesday was a significant step in their progression as equestrian competitors.
Shelton rode Jake, her 13-year-old thoroughbred horse, in the barrel racing and timed in at 19.40 seconds. Carter rode her 18-year-old quarterhorse Ellie around the three-barrel course and clocked a fabulous time of 18.47. That mark ranked her 41st out of a total of 79 riders. Pamela Capper (17.12) of Cheney, Wash., took first place to earn a $1,534 purse.
"I've done barrel racing and roping events in junior rodeo the last two years, but I thought I did pretty good for my first time ever in a big rodeo like this," said Carter.
Carter, Shelton and Jade Marks are members of the newly formed Hood River Rodeo Queen Court. The trio attend rodeos and parades along with girls in other cities on the NPRA circuit, such as The Dalles Pro Rodeo Queen Candace Shattuck of Roosevelt, Wash.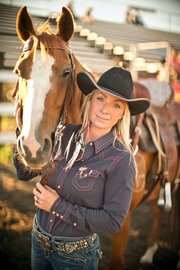 The trio will be signing autographs and competing in team penning in the Frank Herman Arena during the Hood River County Fair July 24-27 in Odell.
"We've never had a rodeo queen representative from Hood River," said Carter. "Jade, Jayden and my mom (Kathy) also helped get the rodeo court started for the first time this year and it's sure been lots of fun."
Hood River's Crystal Beam also competed in barrel racing at The Dalles Rodeo, where she posted a time of 21.93 seconds Friday evening on her 7-year-old quarterhorse, Greeley. It was the first time Greeley had ever run in an NPRA, regulation-sized barrel racing arena.
"It was her first big rodeo and she handled herself OK," said Beam, 33, a Hood River County School District bus driver. "I know she can run faster and I was hoping to get in the 17-second range. I'm proud of her. We'll keep trying some more and we'll get there.
"We'll enter a few more events and just take things slow and easy to help her get more familiar with the rodeo procedure."
Beam and her husband, Chad, have a 12-year-old daughter, Josee, and a 4-year-old daughter, Charly. She's a 1997 The Dalles High grad and Chad is a 1999 Hood River Valley High grad. Crystal's cousin is 2013 HRV grad Kyle Beam, who was named Oregon's Class 5A Baseball Player-of-the-Year in June.
"I heard the crowd roar when the announcer (Chad Nicholson) introduced me," said Beam, who says she'll enter 10 rodeos this summer. "It was great to see Hood River area students and friends that I grew up with in The Dalles supporting me so much."
There are 15 rodeos remaining on the 33-event NPRA schedule that concludes with finals Sept. 20-21 in Prineville. Two upcoming local rodeos are Aug. 16-17 in Tygh Valley and Aug. 24-25 in Goldendale, Wash.