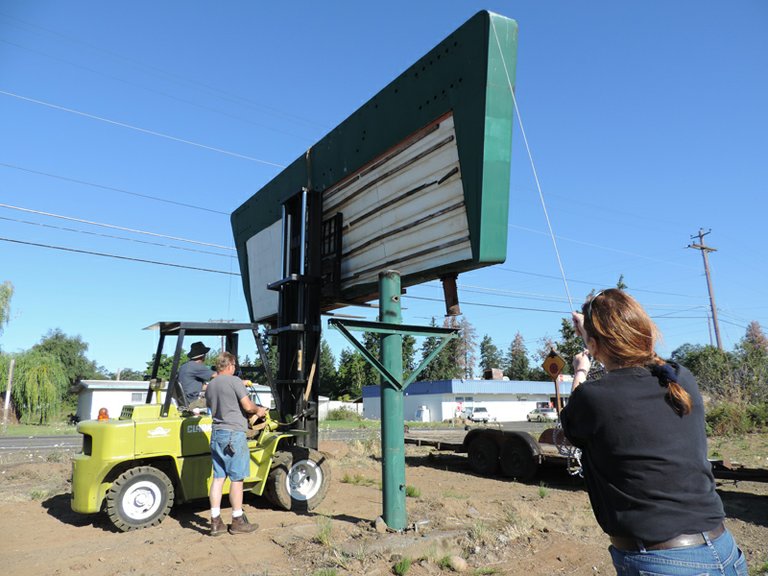 A Tucker Road landmark is gone, but not far gone.
The entrance sign for the former Trail Drive-In was moved on Friday from where it stood for 60 years, but unused for the past 12.
The piece of Hood River history has been moved around the corner, and will return to roadside duty in a year or so.
The drive-in closed in 2011, but the sign remained. The property owner, Tucker Road Properties LLC, donated the sign to Western Antique Aeroplane and Automobile Museum, where volunteers will repurpose it for use as its entrance sign, less than a half-mile from the sign's original home.
A forklift hoisted the sign out of the two posts and lowered it onto a flatbed for transport 300 yards east.
"Hold it — wires!" Brian Brandt called out to forklift driver Don Ferency, and clipped the last, albeit long-disused, electrical connection to the former drive-in.
Donna Davidson, WAAAM's assistant director, said it will likely be a year until the sign is operating again. New footings have been engineered, but "once we get it down we have a lot to learn about it. We have to figure out how to make it work again." One plan is to equip it with an electronic lettering system.
"We just want to give it a try to make into something neat. It's about history. It's going to be cool," Davidson said.
Don Durr oversaw the operation with help from Brian Brandt, Don Ferency, Andy Anderson, and Davidson. Rick Zeller also helped prepare the sign for dismantlement.
On Friday the crew took care in lowering it from its moorings. Davidson looked like an experienced rodeo hand the way she gripped one of the guide ropes and steadied the tilting sign.
"It's a short move, 500 yards, but you might as well move it a thousand miles," she said.
"We need to keep piecing things together, but thank goodness the museum will be around for 100 years, so we have the time.
"We've got a lot to learn about it, how to get power into it, a lot to learn before we can get it working for WAAAM. But the time had come to move it and we asked and they said, 'sure,'" Davidson said.
WAAAM received a bid for renovating the sign that she said was prohibitive, "so that's where we have some professional volunteers to figure that out.
"It's volunteers and it's shop space and it's money, but we have some money that was given for a sign, so we have some working capital with it," Davidson said.
And as early as next summer, the sign will be back in place, illuminated or otherwise, and serve the same purpose as when it was the drive-in sign: inviting people in cars to pull in, park, and spend a few hours.
"New people in town might not get it, but those who have been around here, will get it," Davidson said.