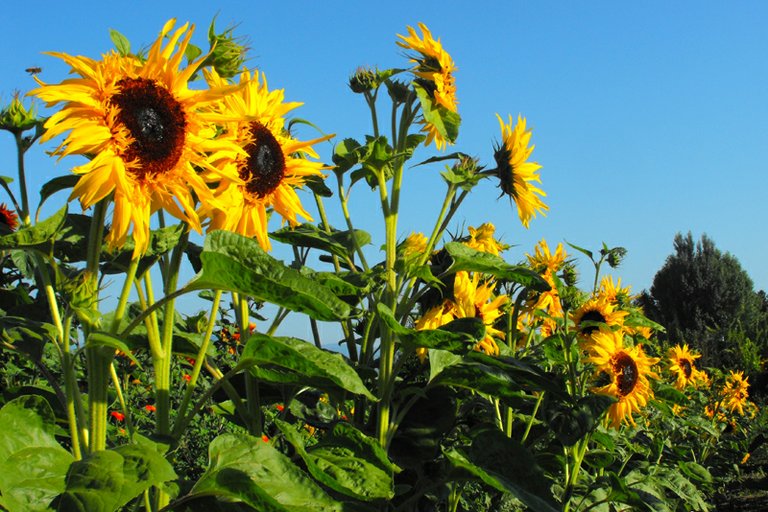 Van Gogh Days returns to Rasmussen Farms Aug. 3-4.
The activity-filled event celebrates the beauty of summer's signature flower — the sunflower — which Vincent Van Gogh made famous in his series of works painted from 1887-89.
Fields of the colorful blooms can be seen at Rasmussen Farms throughout the month of August. There are 70 named varieties of sunflowers in the sunflower gardens, as well as traditional sunflowers growing among the vines of its 10-acre pumpkin field. Admission and parking are free.
A quilt show and sale featuring handmade quilts — including some with sunflower themes — will be a part of the weekend event. There will be live music both afternoons, artist demos, wine tasting and a food cart, offering pulled-pork sandwiches, yakisoba noodles and vegetables. Covered or outdoor picnic tables are available and fruit and a selection of cold beverages are available in the sales barn.
Sunflower desserts are also available for sale, and sunflower recipes and surprises will be offered throughout the weekend.
For the kiddos, there will be vegetable games and treasure hunts on this scenic working farm.
No reservations are needed, but the Rasmussen staff does recommend reservations for large groups to assure the best experience. (Whether visiting as an individual or with a group, please leave dogs at home.)
Van Gogh Days was an immediate hit when it was introduced in 2003. Painters, photographers, and those who just enjoy strolling through fields of bright sunflowers in one of the Northwest's most scenic locales flocked to the popular destination farm.
Rasmussen Farms is open seven days a week from 9 a.m. to 5 p.m. It is located at 3020 Thomsen Road, 6 miles south of Hood River.
For more information call 541-386-4622 or 800-548-2243, or visit rasmussenfarms.com or the farm's Facebook page.