Port of Hood River intern Alison Danko will leave her mark on an economic impact study happening here in Hood River.
Danko, a 2011 Hood River Valley High School graduate, became an intern at the Port after requesting an internship for the summer. Port Executive Director Michael McElwee gave her the project he had been setting up, the ECONorthwest Economic Impact Study.
Danko's summer internship is being funded by the Whitman Internship Grant Danko received from her school, Whitman College, in Walla Walla, Wash.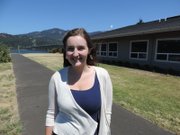 To receive the grant, Danko had to first find and commit to the internship then go through a lengthy application process, detailing how the internship related to her career goals and her studies. She was accepted, but Danko still has to send updates during the summer to receive the grant.
The grant money is paid to Danko like a paycheck, which she can use for whatever she wishes. Whitman College uses the grant to encourage their students to intern.
Danko happened to ask for an internship at the Port when the ECONorthwest study was just beginning.
"We're trying to find the port's direct contribution to the area," said Danko about the study.
ECONorthwest is a consulting firm that specializes in economics. The Port has worked with it before and decided to hire the company to conduct the study.
Danko started her internship in late May and will leave in early August to begin her study abroad in Copenhagen, Denmark.
"I will be sent a copy," she said, "so I can read it."
The study will include information Danko has gathered through interviews and reviews of past studies. She has also drawn maps for the study and written reports. On July 16 Danko presented an update on the progress of the study to the port commissioners.
"It's just been giving me really good experience," she said.
Recently, she and ECONorthwest Project Director Terry Moore interviewed 10 business owners/managers whose businesses were situated on Port property.
"In our interviews, we were essentially looking to gather useful, quantitative data," she said.
To do this, Danko and Moore asked open-ended questions.
"We asked about their business; how the port helped them," she said. "Everyone really went with that."
At Whitman College Danko plans to major in economic environmental studies, an interdisciplinary major. Her interest in environmentally related work has been with her for a long time but not her interest in economics.
"My interest in economics has been a lot more recent," she said. "I hadn't had a lot of exposure to economics before taking classes at Whitman.
"It makes sense to me. It's fun to see the real-life applications of what you're learning in class because it is really applicable," she added.
Danko has seen the real-life applications first-hand at her internship.
"This internship has solidified my liking of economics," she said.
She still doesn't know what she will do for a career, but she is planning to make it something involving the skill she's gathered at school and at the internship.
The study will help the Port update its strategic plan and help it better understand how it is affecting the Hood River economy, as well as provide ideas for the future.
"This is such an applicable experience," said Danko about the internship. "I can apply so much of what I've learned in class."
Moore, who has taught economics in the past, has also furthered Danko's education in economics, giving her tips where they are needed
The state is also doing a study on all 23 Oregon ports. The ECONorthwest study will be used by the state to further its study. The state study is more general than the Port's study.
Danko's first journey into an economics-related internship seems to have proven successful.
"Everyone is so nice and has helped me so much," said Danko. "I worked with all the Port staff. Everybody combined has a great amount of knowledge."
Danko is the daughter of Joan Laurance and Bob Danko, who live in Parkdale.