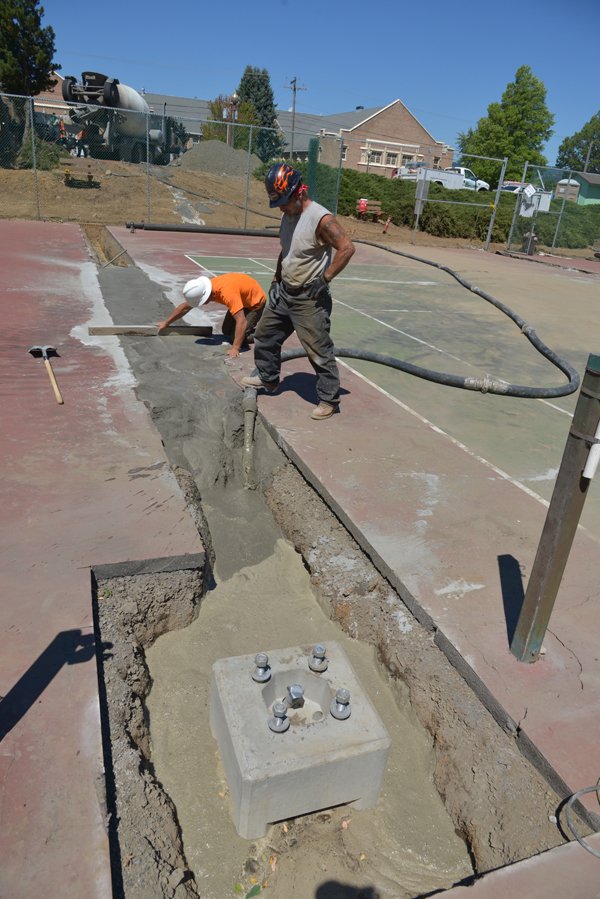 For area tennis players, the timing couldn't be worse to have the city's only public courts torn up and unusable, but for those who have played on the ever-cracking concrete surface of the May Street courts (Tsuruta Courts) over the years, another month of waiting, or playing elsewhere, will be well worth the sacrifice.
About a month into the $260,000-plus project, crews from Crestline Construction were busy Thursday pouring concrete to fill trenches that were cut into the courts to connect electrical conduit to new light post footings installed at mid-court. When completed, the court's two old light fixtures will be moved to the outside edges and two new fixtures will be located between the three courts.
"Right now the project is on schedule, but we're unsure of exactly when the new light poles will arrive," said Mark Lago, City of Hood River Public Works director. "We're hoping they'll get here the first week of August but we don't know."
Lago said overlaying of the new court surface will have to wait until the light posts are installed, so the estimated completion date of early September is still possible, but will depend on when the posts are delivered.
In the meantime, a new French drain system around the perimeter has been installed to prevent the shifting and cracking problems that have plagued the courts for years, an ADA ramp will be installed and volunteer work parties are being planned for later this fall to do landscaping work and other finishing touches.
"It's exciting that this is finally happening," said Leslie Kerr, local tennis coach and Hood River Tennis Court Committee board member. "I know people have been a little upset that we are doing construction in the middle of summer, but with the new court we chose to go with, it really couldn't have been done any other time of the year. When it's done, it will have been worth the sacrifice."
With a price tag of about $132,000, the new surface, called "Premiere Court" will be laid over the current one, once it is leveled and sealed. The new surface is designed to be a low-maintenance, high-endurance option that comes with a 25-year warranty.
Fed up with constantly repairing cracks and playing and coaching on an unsafe surface, Kerr and the HRTCC spearheaded fundraising efforts for the renovation project. A major source of the funding — about $178,000 — came in the form of grants from the U.S. Tennis Association and Oregon Parks and Recreation. Hood River Valley Parks and Recreation added $8,000, the City of Hood River came up with about $25,000 and about another $60,000 came from individual and business donations.