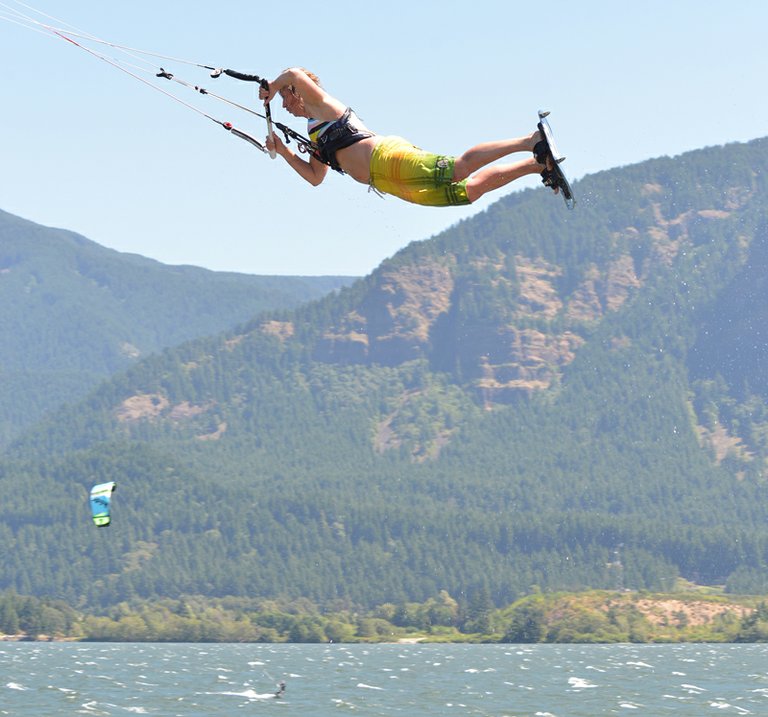 Summer sunshine, strong wind, dramatic Gorge scenery and a large turnout of both competitors and spectators transformed the otherwise quiet Stevenson marina into an epicenter of action over the weekend during the 14th-annual Bridge of the Gods Kite Fest. The two-day event — known for being the longest-running freestyle kiteboarding competition in the country — featured amateur divisions Saturday and pro men and women rounds Sunday, with close to $15,000 in cash and prizes up for grabs.
Saturday's rounds drew about 35 amateur kiters, including a good number of Gorge locals who were there to defend their turf in front of an audience of a couple hundred.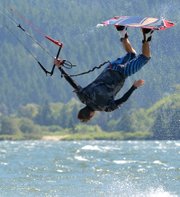 BOTG PLACERS
Amateurs:
Groms
Vateo Boersma
Austin Keillor
Mateo Soltane
Marcus Catlett
Girls
Julia Lieberman
Erin Mayer
Savannah Boersma
Masters
Billy Kipling
Jason Norwood
Allen Beeler
4 Cory Roeseler
Women
Carol Bolstad
Sarah Wilson
Kelly Watermeyer
Ashley Service
Caitlin Kinny
Men
Drew Christianson
Brendan Kerr
Mitch Lawrence
Dylan Murphy
Blaine Baker
Best Crash: Cory Roeseler,
Caitlin Kinny
Best sport: Mitch Lawrence
Most stoke: Austin Keillor
Pro's:
Womens:
Shannon Gormley
Britney Todd
Colleen Carroll
Rachel Callahan
Mens:
Jesse Richman
Brandon Scheid
Victor Hays
Drew Christianson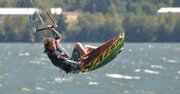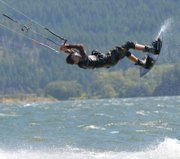 "The venue puts spectators right in front of the action," said Tony Bolstad, event organizer. "At one point I know we had over 350 people sitting on the grass watching."
The grom division (under 17) was up first Saturday and saw Hood River's Vateo Boersma beat-out Austin Keillor and Mateo Soltane for the top three. New this year was a female grom division, which saw Julia Lieberman, Erin Mayer and Savannah Boersma finish in the top three.
"We're seeing more young kids who want to compete, which is great to see," said Bolstad, who took over running the event about five years ago. "This year we had enough young girls enter to make their own division. That's an encouraging sign for the future of the sport. What's cool about the history of this event is that a lot of young riders have used it as a springboard to start professional kiteboarding careers."
From the young bucks to the old bones of kiteboarding, the Masters division saw several faces familiar to the kite scene for at least the last decade. Billy Kipling, Jason Norwood, Allen Beeler and Cory Roeseler filled out the top four slots respectively, with Roeseler earning the highly esteemed best crash award for a 30-foot swan dive off a handle-pass-gone-awry.

Along with a lot of volunteer support, Bolstad has been aided in running the event by his family, including wife Carol and kids Grom and Shannon Gormley. Carol led the charge to win the amateur women contest Saturday, while Shannon won the pro women's field Sunday with her high-flying kiteloops that rivaled those of the top men.
Florida rider Drew Christianson beat out friend and local Gorge kiter Brendan Kerr for first in the men's division, with Mitch Lawrence, Dylan Murphy and Blaine Baker rounding out the top five in the final heat.
For Kerr, a 2013 Hood River Valley High School graduate, performing well and finishing second was the culmination of a lot of hard work, and a great way to remember his last summer in the Gorge before heading to school in about a month.
"I did the Bridge of the Gods when I was about 13," Kerr said. "I tried one trick, broke my leash and lost my kite, so I didn't really get to compete. After that I wanted to build up my confidence and learn some tricks. I've been working hard this summer to get there, and I think I rode about as good as I could have Saturday.
"The group of local young kiters is definitely growing. A few years ago when I was a freshman, it was pretty much just myself, Levi Roeseler and Nick Cooper. Now there's way more. There's definitely a large group of local kids getting into the sport, and a lot of them are taking it pretty seriously. "
Kerr works at 2nd Wind (one of his sponsors, along with Dakine and Liquid Force) and is going to Cal Poly San Luis Obispo in the fall.
"I'll be studying industrial engineering, and like to say I'm minoring in kiteboarding," he said. "It's a good school and a great area for kiteboarding, so I'm super excited."
Along with prizes, part of winning the men and women amateur heats was a place in the following day's pro contest. Christianson fought through two elimination rounds to earn a place in the pro finals against some of the world's top kiteboarders, including Jesse Ricman, who stole the show Sunday.
The Hawaii-based pro and former PKRA World Champion won the event with tricks that few in the world can touch and a fearless style that left the audience gasping and screaming for more.
"Jesse is kind of in his own class," Bolstad said. "He's spectacular to watch."
Liquid Force rider Brandon Schied was second and, fresh off the plane from France, Victor Hayse rounded out the top three.
The Pro women's division came to a showdown between the amplitude of Shannon Gormley and Rachel Callahan and the technical tricks of Britney Todd and Colleen Carroll. The order ended with Gormley in first and Todd, a Hood River native, in second, followed by Carroll and Callahan.