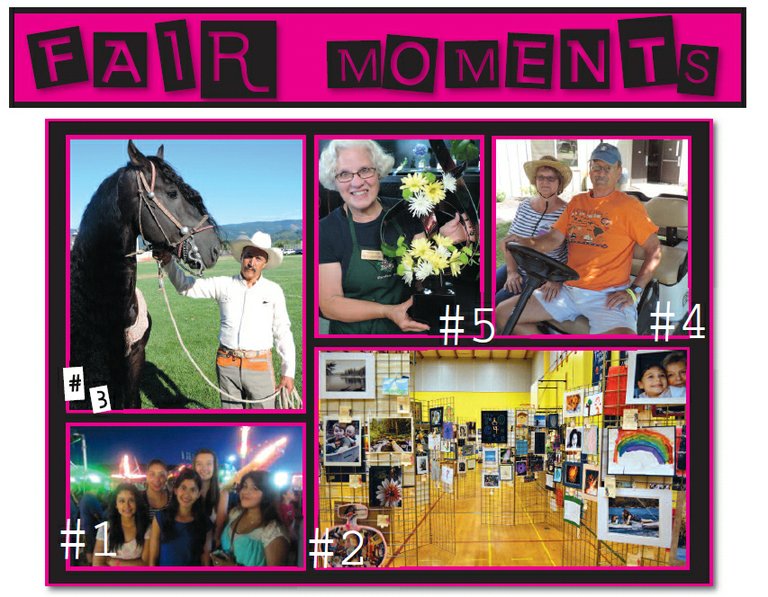 Fairytale fair wish finally comes true
By TRISHA WALKER
News staff writer
Once upon a time, like at last year's Hood River County Fair, I dreamed that someday I would have unlimited time to actually look at the exhibits instead of just following my kids around and watching them ride roller coasters in varying degrees of scariness (not for them, but for me).
This year, I got my wish. This was the first time — ever — that I have been on my own at the fair.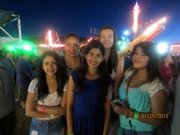 Well, that's not entirely true, I suppose. I did bring Abby, my 14-year-old, and her friend Lily Magana, but I was under explicit orders Not to Follow Them Around. (Apparently I am very embarrassing when I just stand quietly in a place minding my own business.) We agreed that as long as she kept in touch via text and phone calls, we could keep a respectful distance from each other.
This meant I actually had time to look at the exhibits. And not once did anyone ask me to hurry up, or for water, or for fried treats, or for a bathroom break, or how much longer I planned to be because the call of the rides is a strong one.
This also meant that I'd periodically get a text that read, "Don't worry, we're alive, whoops, never mind, we just died."
It was bittersweet, having my dream of unlimited exhibit time come true. I very much enjoyed taking my time and seeing who had entered what, but I also missed my previous, more chaotic fair experiences.
Exhibits under my belt, I took a look at the vendor booths. A kid (you know, someone younger than 30) tried to sell me The Best Set of Knives Ever, and then I learned about upright bathtub installation. I talked with my fourth-grade teacher, Diane Level, and then assured Hood River News reader Alan Winans that I am indeed registered to vote.
It turns out that living three-fourths of your life in a place comes in handy when you've run out of exhibits to peruse and you're left with three more hours to fill.
I chatted with my brother- and sister-in-law, Chris and Elaine, and nephew Kam by the animal arena; I had a great conversation with friend and neighbor Darla Kroll in what apparently was a shuttle service waiting area; I found high school pal Kim Yasui working the migrant information booth and gratefully accepted her offer of water. I saw old teachers, parents whom I know through my kids' schools, and people I've met through the newspaper.
I also saw a lot of Abby's friends, many of whom actually stopped to talk to me like I wasn't an embarrassment at all. I kind of appreciated that. I didn't mean to, but I did run into Abby a few times. For all her ground rules, she seemed happy to see me. (Teenagers are confusing.)
She even organized a group photo with some of her friends ("Hey, you guys wanna be in the paper?") as they waited in line for the Tilt-A-Whirl, boosting my self-esteem considerably. I wasn't allowed to stand there and watch her perfect head get snapped around on that ride, but honestly? I'm not sure I wanted to see that anyway.
Photography exhibit abounds with young talent
By BEN MITCHELL
News staff writer
I'm an indoor cat. In an area with countless recreation opportunities, I seek out almost none of them. With Irish, English, and Russian heritage, I only have trace amounts of melanin in my skin tone and any fun I've ever had outside has been curtailed by the omnipresent threat of sunburn.
While others may be fond of cruising the midway at the fair with a deep-fried Yule log or some other culinary abomination and or riding loop after loop on the Ali Baba ride until they hurl, I prefer the indoor exhibits.
It's calm, it's quiet, it's cool depending on the time of day or if there are fans nearby, it's less populated — all things I enjoy.
After covering the livestock auction for a story in this week's edition, I immediately headed for the art and photography exhibits not just to get out of the heat and the dust but to see what the young talent of the Hood River Valley had to offer.
Now, I've never had formal training in photography, but I was blown away at just how many professional-grade photos I saw at the fair. I was even more shocked when I looked at the tags hanging from their frames and saw how old some of these kids are — their skills far exceeding their years. My girlfriend, who graciously accompanied me to the fair, felt the same way and is far from a photography novice.
I know this is an oft-repeated sentiment to the point that it's almost a cliché, but it's truly amazing to see how many talented young people we have in this area. Who knows — maybe someday we'll have them aboard the Hood River News and they'll get to shoot the fair and look back fondly on the place that gave them their start.
Dancing horses return to arena after eight years
By GILBERTO GALVEZ
News intern
The show began with a quick run-through as Antonio Galvez of Parkdale and his friends, Salvador and Yesenia Arias, rode their horses around the Frank Herman Arena to the music being played by Los Amigos de la Sierra. The horses and riders then left the arena.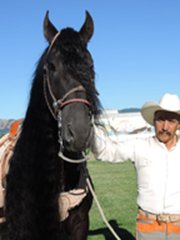 After a while, Galvez and his friends entered, each one on a black horse, Friesians. Behind them came Christian and Cesar De La Mora, roping, and Marcos Galvez, Antonio's son, dressed as "el Ranchero Chido."
The horses left the arena, and Marcos, dressed in a costume made up of orange pants, a black button-up shirt and a tie, did his performance. On either side of him, Christian and Cesar did their rope tricks.
When they were done, the horses re-entered; this time for the main event. Antonio and his friends made their horses dance and do some tricks while Los Amigos de la Sierra kept playing traditional Mexican music.
This was not Antonio's first time playing at the fair. Eight years ago, he had been asked to perform along with some other friends. This year, he was asked to perform again and said yes. He did wish he had had more time to prepare, but in the end, he liked how the performance went, having organized everything himself with very limited time.
n
Hood River News intern Gilberto Galvez is Antonio's son.
'Gab cab' drivers give weary fairgoers a lift
By KIRBY NEUMANN-REA
News editor
"Is this the cash cab?" Marie Mallon jokingly asked drivers Red Lago and Jerry Petricko one day at the fair.
More like "gab cab."
Petricko and Lago, two longtime fair volunteers, took turns driving the shuttle around the fairgrounds. Mallon and Elaine Walker, who joked that they are "the fair princesses," hopped aboard during a lull, and got a ride from the fair office to the livestock barns.
"I just enjoy talking to people; I was told at one time I could talk to a post, and that's probably true," said Petricko, in car with fair board president Vickie Ward.
"I've lived here all my life and I've been to a lot of fairs, and I can answer a lot of questions."
"It's important people see smiles when they come to the fair," Lago said. "We're like ambassadors.
"The nicest thing is to come to the fair and see people coming in and smiling," said Lago, who on Thursday had started at 7 a.m. volunteering with Lions, "and then I came over to relieve this Corvette driver."
That was a tip to Petricko's hat of the day.
"I wear a different one every day: the Corvette was for Senior Day. I told people, 'I'll have my speed up!'" Petricko said.
For several years, a golf cart has been made available for people who needed a lift from one end of the grounds to another.
In past years Nick Kirby had the honors but he was in West Virginia for national Boy Scout Jamboree so Fair Manager Clara Rice turned to Lago and Petricko. This year the fair rented a larger, five-passenger Shuttle 6 EZ Go.
One of Petricko's favorite moments came when a little girl about 5 years old rode with her mom and grandma and asked Petricko, "Where are the horses?"
"I told her the 4-H show won't be there, and she started crying; but then I told them there will be cowboys and cowgirls later (for adult horse and cattle events), and then she did a happy dance."
Petricko concluded the fair by driving around in his UO Ducks hat Saturday. Asked what he would tell OSU Beaver fans, he said, 'They have to ride on the back.'"
Margaret Taylor finds pleasure in floral design
By KIRBY NEUMANN-REA
News editor
What holds Margaret Taylor's flowers in place?
Hidden hairspray lids and pill bottles were used by Taylor in her County Fair floral entries.
Reuse is part of the beauty of award-winning Artistic Display by the retired Hood River math teacher.
"If you are into flower design then you become obsessed, looking for containers and things you can use," said Taylor, who won five Artistic Design categories, in addition to the top prize, the Emily Plog Arrangers Award, for her "Down the Winding Road" creation.
In it, she used a twisting, 2-inch-wide ribbon to accentuate the stated theme, and Pom, Fuji and Daisy chrysanthemums and Oregon grape sprigs.
Taylor, who loves the challenge of combining beautiful flowers with found objects in keeping with prescribed themes, also won the "Majestic Mount Hood," "Old Red Barn," "A Summer Garden's Beauty" and "Ducks in a Row" blue ribbons.
The winding ribbon she found in the décor section at a home supply store.
"Someone put it out on the sale table and I saw it," Taylor said. "I thought, 'Hmmm,' and stuck it back in the closet for a year or so before I used it and I had an occasion to do it and here it is."
Taylor continues her wry explanation of how the occasion arose:
"We got the Fair book, and I saw the categories and I thought, 'That looks like a winding road.' At least it's winding."
"Ducks in a Row" required three similar flower arrangements, and Taylor's winning entry used the unlikely combination of circular Gerbera daisy and the more linear pink crocosmia — and Irish coffee mugs, which she happened to have on hand.
Taylor said she has been entering floral design for "maybe four years."
"I didn't really get into this until I retired," said Taylor, who taught math in high school and at Columbia Gorge Community College.
"I've taught everybody," she said.