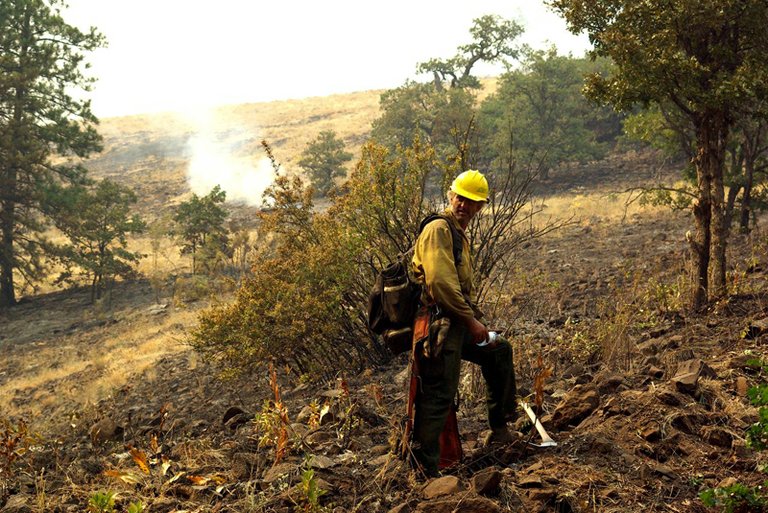 The Mile Marker 28 fire near Goldendale, Wash., expanded over the weekend and Monday to an estimated 20,337 acres but firefighters made some headway on containment, which was listed at 25 percent as of Monday night.
Evacuations were reduced from immediate to precautionary at noon Monday in areas north of Box Canyon Road, and to the advisory level in areas east of US Highway 97 and south of Box Canyon Road within specific sections. Cleveland and Bickleton area evacuation levels set July 28 remain unchanged and Highway 97 remains closed until further notice.
Non-emergency vehicle traffic north of Satus Pass is prohibited, although local traffic may use the highway to access their homes.
A Red Cross Shelter has been set up at Our Father's House Fellowship, 207 S. Klickitat St., in Goldendale, according to an announcement from the organization.
Red Cross volunteers from around Oregon and Washington chapters are managing three shifts to welcome and care for clients. Even those who don't want to stay at the shelter may come in for meals. The shelter also serves as a community center where people affected by the fire can get information about fire status, resources for kenneling pets and livestock, register with Red Cross Safe and Well, and stay occupied with games and puzzles.
Red Cross health service and disaster mental health volunteers have been made available to help residents affected by the fire.
So far the shelter has provided 518 meals and snacks and 11 overnight stays.
Fire responders planned today to begin mop-up along existing control lines and continue to build control lines for full containment.
Total personnel working the fire increased over the weekend from about 800 to 1,345, representing 13 local, state, federal and tribal organizations, according to Inciweb reports. The fire is experiencing active growth on its east end.
n
In southern Wasco County, containment of the 51,340-acre Sunnyside Turnoff Fire grew to 95 percent Monday, according to an Inciweb report. Total fire personnel have been decreased to 499, with those released assigned to other emerging fires in Oregon and Washington.
The fire is being turned over to a local incident management team.