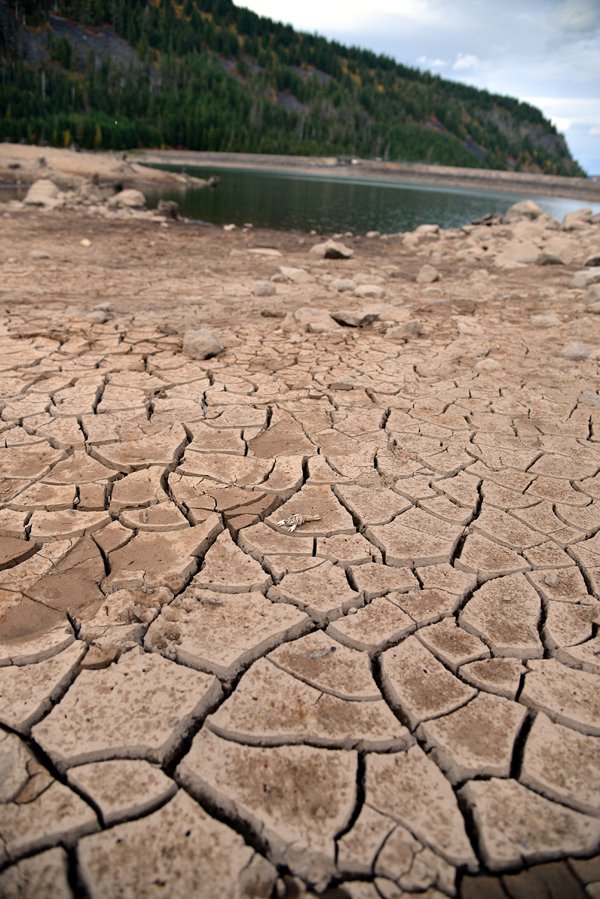 July's uninterrupted hot, dry weather has upstaged arid August, and water supplies are a concern in the Hood River Valley.
Water district authorities aren't yet sounding an alarm; call it raising an alert, but the effect is the same: Growers and other large users, as well as homeowners, need to look at cutting back on use, according to John Buckley and others.
"The main thing right now is that conservation is very important," said Buckley, manager of East Fork Irrigation District (EFID).
"We've seen some early summer water usage," Buckley said. "We got heavily into water in May, and we don't normally get into heavy water until June."
Watching Your Water:
Middle Fork Irrigation District officials said they appreciate its patrons' conservation efforts and efficient use of water. With the hotter than normal temperatures early in this season, stream flows are getting lower than normal. Users should know water rights and stay within them. Fix broken and leaky gaskets and nozzles and utilize the district's exchange program. Call 541-352-6468 for assistance.
n
Cindy Thieman, with the Hood River Watershed Group, urges residential water users to consider salmon and the local economy when making choices about irrigation this time of year.
"Every time we water our lawn or landscaping, we're taking water out of the river. This leaves less water for fish and irrigators who are producing food for our tables and fueling the local economy," she said.
"The standard guideline for lawn watering is 1 inch per week," she said. "This promotes deep root development and avoids over-watering. During late summer, consider cutting back on this amount. It's OK to let your lawn go dormant for several weeks this time of year."
For more on backyard water conservation and landscape care, visit the Oregon State University Extension Service website at extension.oregons... or contact Thieman at cindy@hoodriversw...
EFID serves 930 customers on the east side of the Hood River valley from the slopes of Mount Hood to the lower valley. EFID has no reservoirs, and pulls directly from the river.
"The glaciers are receding, but the volume of water in East Fork of the Hood River is not there," Buckley said. "Normally there is approximately 200-250 cfs (cubic feet per second) at the headworks, but this year we'll be lucky to be a half that. It decreases rapidly in summer but this year is unusual in that it happened this early."
He said that as of Monday, the headworks near Tollbridge Park showed 45 cfs. In a normal year you'd have 100-125 cfs.
Over at Farmers Irrigation District, manager Jer Camarata reports that its main source, Kingsley reservoirs, are taking in 700 to 800 gallons and seeing 4.2 million going out every day. He said this imbalance of intake-output, termed a "burn rate," is cause for concern.
"It varies year to year and this can be normal in August, but in mid- to late-July it's going to be dry," Camarata said. "You see demand at that level and you put up a yellow flag and ask people to realize it's going to be tight, water-wise, this year."
EFID serves primarily growers, while FID's user base is about half residential and half agriculture.
In the Upper Kingsley reservoir it works out to a burn rate of 6.5 cfs or approximately 4.2 million gallons per day.
At the current rate of use there are approximately 46 days of irrigation supply left in the Kingsley reservoirs, yet there are 61 days left in the irrigation season, which runs April 1 to Sept. 30.
"Through careful management, asking users to voluntarily cut back, and the hope of rain, we are essentially trying to make up a projected deficit of two weeks supply due to the drought-like conditions," Camarata said.
"There is very little coming in and a whole lot going out," he said. "If we can get people to cut back a little bit, and think about it a little bit, usually what we see is that demand will drop."
Buckley and Camarata both said their districts are still at the point of asking people do make voluntary cutbacks — for now.
"We look at stream levels historically, where they were 10 years ago, five years ago, and last year," Camarata said. "We're concerned, and every August we look at the issue. This year (the drop came) a little earlier, so you start cutting back. What we have to do as a district is cutting everyone back, asking people voluntarily, up to one-fourth of the (water) right." That's one-quarter of 5.62 gallons per minute per acre.
"We ask that people cut back, but we're not there yet," he said when asked about mandatory reductions. "We still have to assess burn rate, and we have another week, two weeks to look at it before we say, 'We need to go to a curtailment plan; we need to cut people back,' and start putting people on a rotation.
"So what we're doing is just asking our patrons, all of our patrons, not just the orchardists or the golf course or schools, to cut back and think about ways they can use water conservatively, because if they don't, we could force them into a curtailment or a rotation system, which we may still have to do."
"We haven't gone directly to the growers," with an appeal, Buckley said. "We're hoping the micro-sprinklers they're using will help and we hope they comply and not pull what their actual quantity is. This time of year it's easy to add an extra line or two hoping to get a little more growth for your pears.
"Our concern is that if they try to pull extra water then we can get into a situation where we'd have to ask for a cutback," Buckley said. Buckley is looking ahead at the pattern of harvest and water use, and hoping things will level off by September, and that come winter the glaciers will get a heavy dose of restorative snow.
"A lot of times when you start the harvest, you'll have the lower east side that will turn some of the water off while they do harvest, and they do harvest, right up the valley, and the lower ones will gradually turn the water back on again," Buckley noted.
"But it plays like it never comes back to a total catch-up, because when (the south end) starts to finish up harvest with their Bartletts, then the north end is starting up with d'Anjous, and from that point on we start to increase water rapidly. They increase back up once they've harvested their Bartletts; they'll (spigots) go back on again. They cut back on some of the water but they pretty much go full-bore again. We never play a total catch-up to our 100 percent because what happens is someone is always doing harvest going farther south."
Buckley said the Bartlett season appears ready to start on Aug. 8 or so, about 5-6 days earlier than usual.
"With a little luck and the freezing level stays up, we'll probably squeak by; but if growers decide they want to go into heavier quantities than what they're already using we'll probably have to go into voluntary cutbacks," he said, noting that the last time the county was in this situation was 2005. "We've been doing very well the last several years; water quality has been good, turbidity levels have been better.
"Glaciers are real critical to the water source of this valley and if they start depleting faster than what we can carry or keep water on the mountain, then we keep depleting our source every time," Buckley said. "We want to keep the glaciers abundant as much as we can. When we get warm weather earlier than normal they have a tendency to melt off faster."
"The only thing we can hope for, in the irrigation districts and the patrons we have, is we get a real good snowfall in the winter. That's about the only thing we can depend on. Our district has no reservoir; we're dependent totally on the northern glaciers of Mount Hood."
EFID also provides water for customers of the 1,000-acre Mt. Hood Irrigation District, at 1,000 acres located on Leasure Drive and east to portions of Miller Road.
"What we do, when we see demand go down, we close the valve on the reservoir and cut it back, so we can keep it (water level) up there as long as possible. We don't want to just open the faucet if no one has their glass underneath. If there's no glass under the faucet, meaning the sprinklers aren't on, then we're going to turn it off up top and then try to anticipate that demand, when people are going to have their faucet underneath."
How does FID anticipate demand? "Our biggest demand is the big growers; so we just reach out to them. Some of the demand we can anticipate, and ask them to use different watering strategies such as watering in the morning or at night.
"We haven't done anything official yet, but before it gets to that point we want to ask people to think of things they can do voluntarily. Usually if you don't tell people 'We're in a drought and flows are low,' they just go home and turn on the faucet and the water's there, and it's no problem. But since we're on the ground we see it every day."