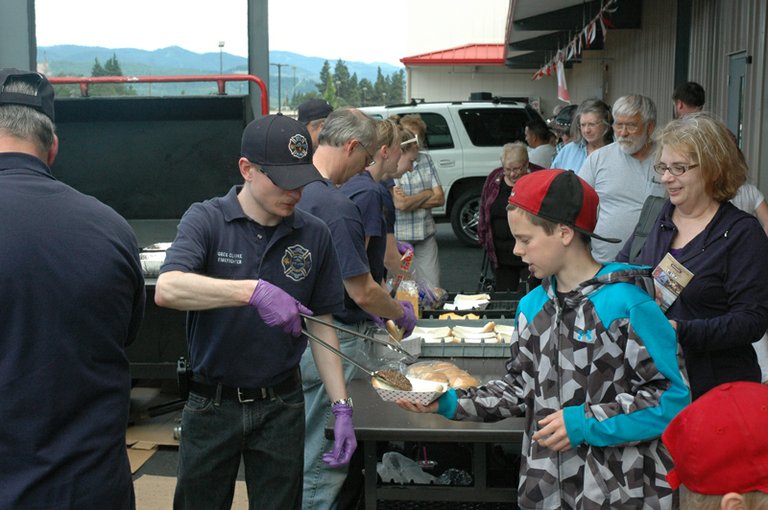 The largest dining hall in town on Saturday was located in the shed at a new hardware store.
Crowds gathered at long tables and on hay bales at Hood River Supply for hot dogs and hamburgers cooked by West Side Fire Department.
Saturday was a record sales day for the expanded store, on Tucker Road on the Heights, said CEO Pat McAllister, terming the facility the company's largest capital construction since the original Heights building went up in 1967. Hood River Supply also owns a store in Odell.
The Heights store expansion was completed in April, but the store waited until May 30 to June 1 to invite the community in for a party, the usual time for the store's customer appreciation event.
"This project is a community effort," involving the Hood River Supply cooperative members and contractors on the project, McAllister said. Local contractors did everything from the parking lot paving, framing and landscaping, to paint, carpeting and the fire suppression system.
"We only let contracts to people who do business with Hood River Supply," McAllister said. General contractor and project manager was Randy Franz of Hood River. The project cost $3.3 million for the building and property.
Also part of the weekend festivities were lawn mower and grill give-aways, performances by local musicians, volunteers and dogs from Adopt A Dog, kids painting flower pots with the help of Hood River Valley High School cheerleaders, and more.
McAllister said the traffic delays due to ODOT paving on the Heights on Thursday were not a problem for people coming to and from the store.
The store now measures 19,500 square feet, tripling the size of the former store, which was torn down to make room for parking.
"We're bolstering our lawn and garden," McAllister said. "One of our biggest areas for growth in last few years has been the lawn and garden side."
The north garden center shed remains a "work in progress," while the interior arrangement of merchandise is mostly in place. The added floor space gives Hood River Supply enough room to stock and display large items such as patio furniture and tractors.
Paint, fasteners and general hardware also have at least twice as much retail room as before, according to McAllister.
Setting the right product mix and "getting things merchandised just right" is an ongoing process of fine-tuning, he said.
"We've partnered with Ace, having been with them since 1976, and have increased our partnership, taking advantage of things they have offer," McAllister said. "They were our main partner in establishing the Odell store."