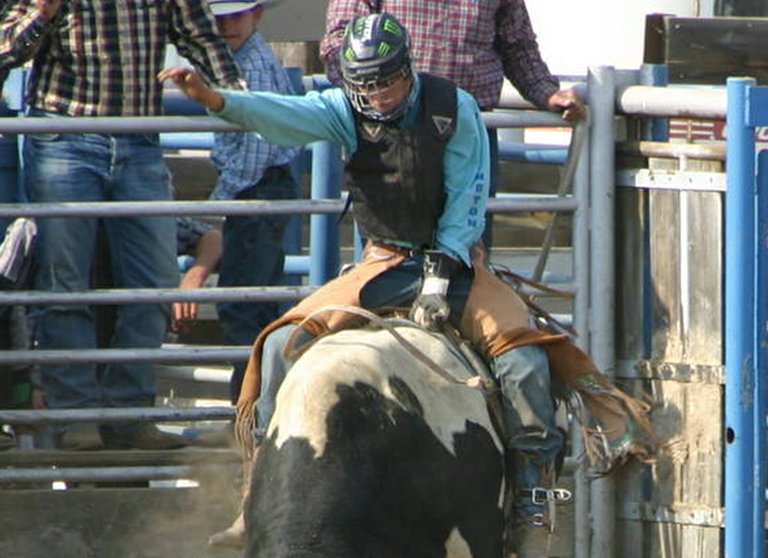 For most people, 8 seconds doesn't hold much significance; it's a sip of coffee in the morning, a flip through the newspaper, a stroll across the street, a brief daydream. But if you're a bullrider like RJ Hicks, 8 seconds can be the world –– the difference between success and failure, the culmination of a season's worth of hard work, compressed into not much more than the blink of an eye.
"It's a hard feeling to explain," says Hicks, a Horizon Christian School sophomore. "About half the time everything goes black, it's over in a blink and I have a hard time remembering what just happened. Everything goes so fast. There's no time to think, just to react. I spend so much time preparing for just 8 seconds; when I actually get a ride it's the best feeling in the world."
As a sophomore, Hicks' third-place finish last weekend in the Washington State High School Rodeo Association finals is a big accomplishment, and an inkling of a promising future in bullriding. The high school championship, held in Ellensburg, Wash., was the culmination of a 17-event season split between rodeos last fall and this spring. As a top-four finisher, Hicks qualifies for the National High School Finals Rodeo in Rock Springs, Wyo., July 14-20.
"Points through the season get combined, and I was in the running for the state championship last weekend," Hicks said. "I just didn't have a great rodeo, though. I drew some pretty good bulls and got bucked off all three times. They're all pro bulls at that level — about 1,400 pounds — and only two guys got rides all weekend."
At nationals, Hicks will have two chances to ride in the opening round against hundreds of other high school riders from across the U.S., Canada and Australia in what is currently labeled the world's largest rodeo. From the first round, only the top 20 riders advance to the "short-go," which will be nationally televised and carry prizes and thousands of dollars in college scholarships.
"It's pretty cool to have a chance to compete in the world's largest rodeo," Hicks said. "It means a lot for me just to be there. As a sophomore my goal is to just go out and do the best I can because if everything goes well I'll have two more shots at a title."
Hicks says his ultimate goal — one he's had since his first ride when he was 9 years old — is to be a professional bull rider. In the meantime, he's training hard, keeping his goals realistic and riding in as many Northwest-area rodeos as he can. This weekend he'll be in Bickleton, then he's off to Glenwood, Goldendale, Tygh Valley, and Enumclaw.
"Between rodeos and camps he will be busy all summer," said Rusty Hicks, RJ's dad. "It's a lot of fun, and a lot of work. As a parent, it's pretty thrilling. It can be scary too; he's had some close calls this season, but thank God he's been injury-free."
To help support RJ's quest for a national championship buckle, the two are asking the community for sponsorships. Last summer Hicks finished sixth in Washington, which qualified him for the Silver State International Rodeo in Winnemucca, Nev.
"The community really stepped up and supported us last year, which was amazing," Rusty said. "We're hoping people can do the same this year. It's an expensive trip and any little bit helps us get him there."
Anyone willing to sponsor RJ is asked to contact him at 509-637-0653 or rustysguideservice@yahoo.com.