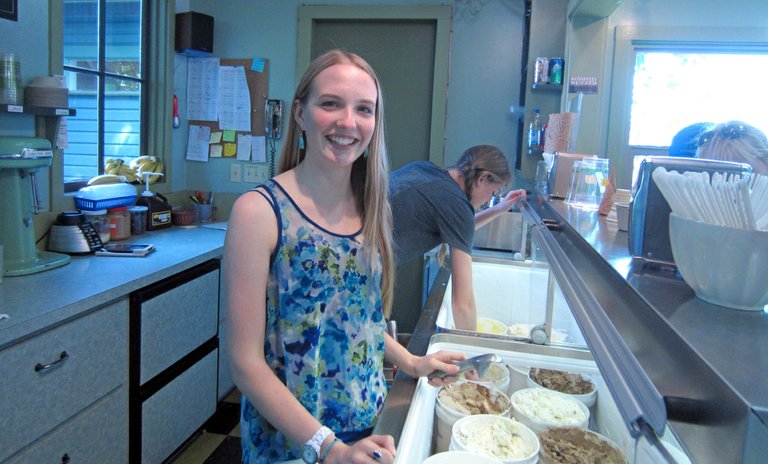 Molly Clarke, Hood River Valley High School senior, has been employed at Mike's Ice Cream for the past three years, and she can't think of one downside to working with ice cream all summer long.
"It's one of the best jobs ever," she said.
Clarke has lived in Hood River all her life and was a frequent customer at Mike's growing up.
"I still remember certain people who worked there, who would split my scoop in half for me; little things like that."
Clarke began working at Mike's the summer of her sophomore year, when she was 16. She had volunteered at the business for Community Work Day the year before and enjoyed the experience, plus, as she said, "Everyone I knew who worked there loved it."
Clarke already knew owners Tassie Mack and Mike Kitts — her mother, Ellen, has been their bookkeeper for 27 years — and that spring break asked if the two needed help.
Mike's has a longstanding tradition of hiring only high school and college-aged workers who maintain a 4.0 GPA.
"I hire by grade point average," said Mack. "Kids know by the time they're 5 that if they want to work at the ice cream store, they have to get straight A's all their life."
It's not so much that having straight A's means you're brilliant, said Mack, as much as it means the kids know how to work. Mike's employees tend to be "the busiest kids, the overachievers," said Mack. "Molly is both. She's a hard-working girl."
A steady stream of customers flows in and out of Mike's April 1 through Nov. 1. "There's lots going on, and I get to see it all," said Clarke. "Everyone who comes to Hood River filters through Mike's eventually.
"It's popular because of the whole atmosphere Mike's has," she said. "It's not like going through a drive-through. People are more personable, and I think you get a lot for the price. And it's fun to sit outside on the lawn and enjoy the sunshine."
A typical shift is four hours and involves answering a lot of questions — such as how to get to the nearest ATM or what ingredients are in the ice cream flavors — as well as cleaning and serving.
"You get lots of repetitive questions," said Clarke. "It's kind of funny to be asked numerous times a day, 'What's in Galaxy?'"
And yes, employees get free ice cream, but that's not the best part, said Clarke. "It's lots of fun," she said. "Everyone is so happy to come in.
"I really like the owners, and everyone is super-nice. You become friends with everyone who works here."
Working at Mike's — and this year, at The Ruddy Duck, another of Mack's and Kitts' businesses — has helped Clarke become more outgoing. She also credits the job with teaching her time management and customer service skills, two things she feels will help her in the future.
Clarke graduated from high school today, June 7, and will attend the University of Utah in Salt Lake City this fall. She plans to major in business marketing. Aside from that, the future is open. "I'll take classes and see what happens," she said.
She's looking forward to meeting new people, going to a bigger school, and lots of skiing. Clarke was captain of the Hood River Valley High School Ski Team this year. She also plays lacrosse.
Clarke isn't sure whether she'll be able to work at Mike's again next year. "I hope to get back to Hood River next summer," she said, "but I may have to establish residency in Utah, so I don't know."
But for now, Clarke is enjoying a summertime behind the counter at Mike's, and Mack is grateful.
"She's perfect, she's absolutely perfect," said Mack. "Every year I get one or hopefully two (kids) who understand the full scope of the job. Molly is one person who has always understood the full scope, and when I look at the schedule and Molly's on, I relax.
"In 27 years, Molly is right up there in the top five," said Mack. "She's a miracle as far as I'm concerned."