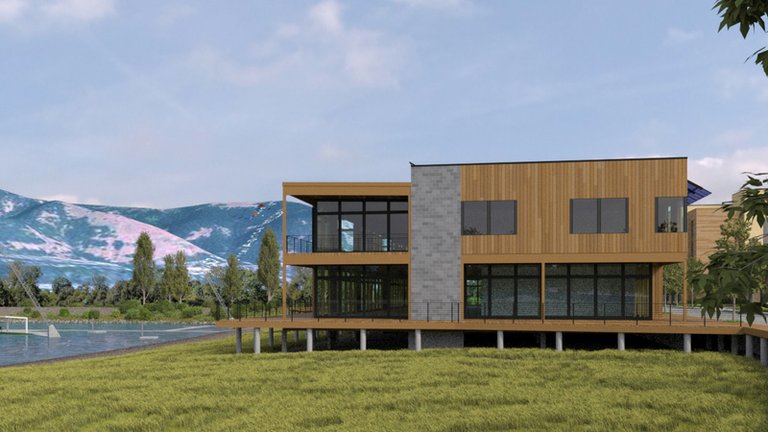 Hood River City Council approved the Nichols Landing hotel and commercial building project Monday night and gave the green light to its own State Street improvement project, in a wide-ranging, four-and-a-half-hour meeting.
"We are excited to be coming to Hood River and bringing a much-needed hotel and office building," said Steve Naito of the Naito Corp., which will build the four-story, 45,000- square-foot, 88-room hotel, doing business as a Hampton Inn, and two-story, 20,000-square-foot commercial building in the Nichols boat basin on the Columbia River, along with a parking facility.
The council's formal action was to approve the conditional use permit and preliminary site plan, and also vacate a 6,875-square-foot section of right-of-way along Interstate 84 as part of the project.
Opponents of the project reiterated their concerns over constructing a new building within the flood plain, and the effects of stormwater runoff on water quality.
"It's just plain bad policy," said Brent Foster, attorney for a citizen group that has opposed the project, and said it would likely appeal the decision to the Land Use Board of Appeals. Monday's action followed a hearing, continued from last month, on a remand of the issue from LUBA to the city.
Foster and Naito both presented information, and three citizens, all opposed to the project or aspects of the process, spoke to council Monday.
Cori Lahr of Portland told the council that Department of Environmental Quality regulations on stormwater controls are "all bones and no meat," and said the city should give priority to healthy salmon, public safety and space for recreation.
Council member Ed Weathers disputed the opponents' claim that the state would not test or enforce stormwater impacts.
"I don't know what will happen in this case, but DEQ is no lame duck," he said.
"It's a real disappointment that the council would allow new construction in an active 100-year flood plain," Foster said. "It goes against the most basic components of good planning. I fully expect we will appeal this but we need to go back and have a formal discussion."
Naito said the stormwater system will retain and filter runoff; and that there is no ban on building in the flood plain: "It just has to be done in a way the ordinance requires, which takes into account flood hazards."
Council member Kate McBride said she wants "the most stringent stormwater (control) system," and Naito said the company will do the more extensive infiltration system if DEQ requires it; otherwise it will install mechanical filters that will keep heavy metals, already in the soils of the property, from being "transported" to the river or surrounding properties.
The company must also acquire a National Pollution Discharge Elimination Permit, and the Corps of Engineers must sign off on the development project before it can proceed.
"It will be one of the most environmentally protective stormwater ports in the state," Naito said. "This was a contaminated brownfield. We will combine the protections we've done in cleaning up that site and incorporating a state of the art biofiltration system that will actually end up producing cleaner water going into the basin than is currently occurring."
n
In other action, the council, acting as Urban Renewal Agency, approved a $4.47 million contract with Crestline Construction of The Dalles for the State Street improvement project. This will mean extensive street repaving, sidewalk repair and replacement, undergrounding of utility lines, and other improvements to take place over the next 18 months. Work is due to start in about a month, primarily off-street.
The council also heard extensive testimony on a proposed change to planning department fees but tabled the matter because of the wealth of new information. Council members expressed concern over what was termed an "open-ended" fee charged to citizens to appeal land use decisions by the planning commission.
Council member Kate McBride stated, "I would never vote for this proposal as it is written."
The State Street Urban Renewal bid came in $300,000 over budget, but the city will make up for it by borrowing against other Urban Renewal funds, to be paid off in time with the rest of the project, and by reducing expenditures on State Street improvements.
(Until after Labor Day, little work will be done in the affected roadways of State between Sixth and Front, Front, or Oak between Front and First.)
To do this, engineers will look at keeping in place sections of sidewalk that were installed less than 10 years ago, along the county library frontage, and by making changes to the design of the retaining wall between Front and Second streets, according to project engineer Devy Bell.
By pulling the wall out a few feet, less shoring is needed, but it will mean that parking will remain as parallel for those two blocks, rather than the planned diagonal, so four spaces are likely to be lost. Bell said costs will also be saved by reducing some park benches and other amenities.
In other council business:
n Work has resumed on the sidewalk project along Portway Avenue, in front of Hood River Waterfront Park, Public Works Director Mark Lago told the council. The work was held up after the city found it would cost $23,000 over the $250,000 budget, based on utility lines being either mislabeled or misread, and had to resurvey the project, according to Lago.
City Manager Bob Francis said the city is looking into how it can recoup the cost overrun after determining how the error was made. The work, except for landscaping, should be complete by July 4, Lago said.
n Council met in executive session to discuss contract negotiations with police and emergency services organizations but took no action when it returned to public session, other than to set a special meeting June 17, 6 p.m., to continue review and discussions.