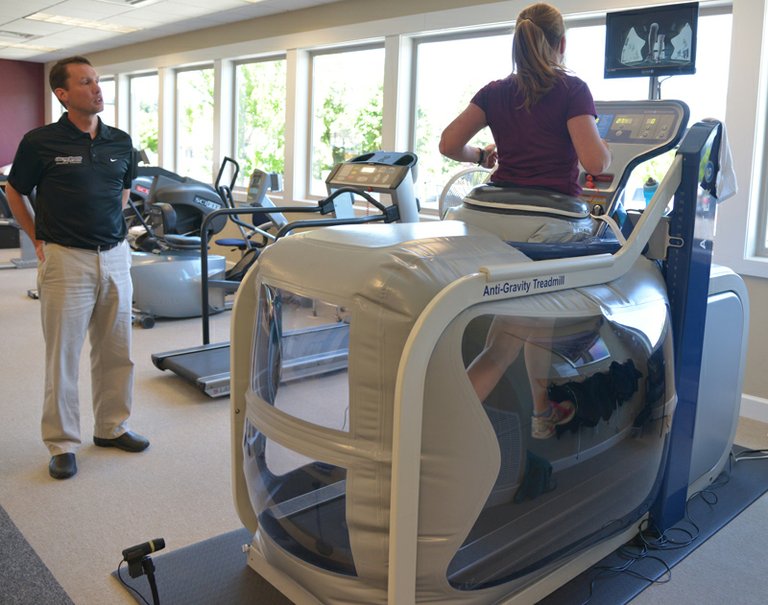 Have you ever wondered what it would be like to walk on the moon, to run through clouds, or bound like Tigger?
Or, more realistically, have you ever imagined the ease of walking or running if you were just a fraction of your current body weight?
Gorge Spine and Sports Medicine has a new machine that can help you answer those questions. The Hood River Heights clinic purchased a state-of-the-art AlterG Anti-Gravity Treadmill a few months ago and is already seeing great benefits from a machine that can "unweight" users and ease burdens people may have with walking and running.
The machine looks like a treadmill attached to a giant bubble. Using a pressurized air chamber attached to a person's waist, the machine calibrates the user's body weight then uses pressure and blowing air to support the user to certain percentage of their body weight, anywhere from 20 to 99 percent.
Kateri Lohr arrived at Gorge Spine and Sports Medicine one afternoon with a treadmill workout to pound out. She slipped on a pair of neoprene shorts similar to wetsuit shorts sewn into a kayak skirt , then stepped onto a treadmill partially surrounded by a plastic bubble. After raising up a metal and plastic support, she zipped her shorts into the plastic bubble and turned her attention to the controls on the screen in front of her.
Lohr powered-up the machine, which immediately began blowing air into the chamber while calibrating her weight. Once properly supported, she started her workout on the machine, adjusting speed and weight as she went along.
For Lohr, a dedicated runner, the new machine has been an instrumental tool in getting healthy enough to run pain-free while rehabilitating a lower spine and tailbone injury. Lohr has been rehabilitating her injury since November. She started using the treadmill three days a week in April and is now able to run on it for a full hour without experiencing any back pain.
"I've been able to rebuild my mileage base without pain while becoming stronger and regaining my cardio," she explained. Her goals are to get healthy enough to no longer need the machine for training, and then to compete in a marathon this summer or fall, if her health continues to improve.
The treadmill has quickly become a popular tool at Gorge Spine and Sports Medicine. Physical Therapist Tom Moline explained that although the machine is a great new tool for rehabilitation, it's also useful for athletes who, "don't have an injury, just soreness from overuse that won't go away because their sport doesn't let the injury rest."
One example of this are the Hood River Valley High School track runners who used the treadmill as a training tool this spring. Moline explained that runners can "run faster for longer at less weight. Since runners feet are moving faster, they are still getting a great cardio workout while improving their turnover and working on quick feet."
A number of high school track athletes used the machine to train through overuse injuries such as shin splints.
In addition to athletes, a group that has seen huge benefits from use of the treadmill is post-surgery patients. According to Sally Askins, a physical therapist at the clinic who specializes in joint therapy, patients who have joint replacement surgery are permitted to weight bear as-tolerated almost immediately after surgery.
These patients, Askins explained, can't even walk into the office without a severe limp or the use of a walker or cane, but once they get on the machine and are sufficiently unweighted, they can begin to stride normally. This, according to Askins, "is beneficial because it allows these patients to use muscle groups not usually available to them immediately after surgery and prevents them from developing secondary problems from weakness and limping."
The machine is outfitted with three cameras that record the user from the front, back, and side views. This video can be viewed in real-time or recorded and played back later which allows users and therapists to analyze gait and posture to monitor limping caused by an injury or to make corrections.
Before the availability of the Anti-Gravity Treadmill, therapists had limited options for unweighting patients while they exercised. Moline explained that he has been watching the technology develop over the last decade, and felt the technology for this particular machine, originally developed by NASA, had evolved to the point where it was affordable enough to take the leap.
The cost of a treadmill of this nature is between $30,000 and $80,000, said Moline, depending on whether it is a therapy model, a sport model, or somewhere in between. Gorge Spine and Sports Medicine has an upgraded therapy version with a treadmill that allows users to run as fast as five-minute miles.
In addition to being available to therapists and various athletic groups in town, Gorge Spine and Sports Medicine sells time on the machine to individuals. Moline explained that this program can actually save sore or injured individuals a great deal of money because they don't need to pay for as many therapy visits and can get healthy quicker.