Oregon writers Ralph Salisbury and Ingrid Wendt will present a reading at the Hood River Library on June 18 at 7 p.m.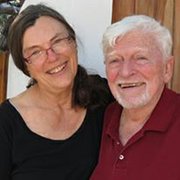 Salisbury is a well-known writer and poet who has 15 books to his credit and, at age 87, has a long life of stories to tell. "So Far, So Good," his memoir, a new book published by the University of Nebraska, details much about his early life as a part-Native American child in Iowa, as well as his adult life. Salisbury joined the University of Oregon faculty in 1960, where he is now professor emeritus. A resident of Eugene, Salisbury has been married to author Ingrid Wendt for 44 years.
Wendt is the author of several poetry books and educational guides, and has won several national awards for poetry. She has taught literature and poetry writing for more than 30 years at colleges and universities in the U.S. and Europe. Her honors include the Oregon Book Award, the 2004 Editions Prize from WordTech Editions, the 2003 Yellowglen Award from Word Press, the Carolyn Kizer Award, several Pushcart nominations, an Oregon Literary Arts Fellowship, and the D.H. Lawrence Award. Her poems have been featured on NPR by Garrison Keillor of "The Writer's Almanac."
This program is free and open to the public. The appearances by Salisbury and Wendt are sponsored by the Hood River Library District and Libraries of Eastern Oregon (LEO) as part of a regional tour.
For more information, please contact the Hood River County Library District at 541-386-2535, info@hoodriverlibrary.org, or visit their website at http://hoodriverlibrary.org.