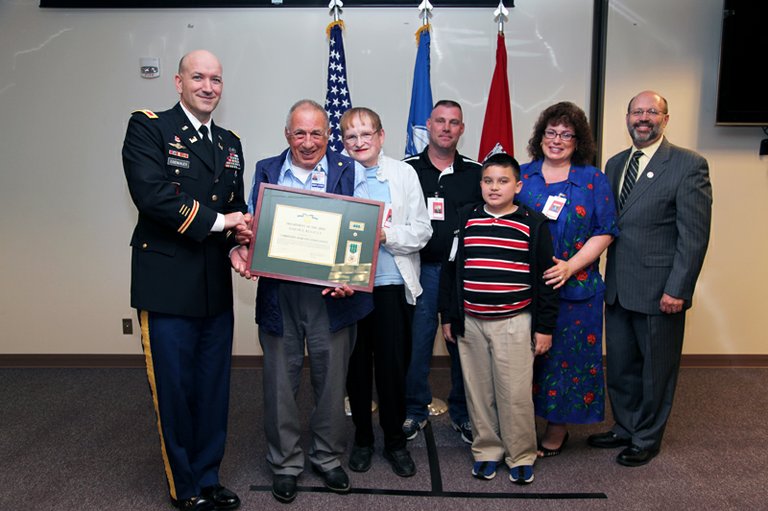 Cascade Locks — Joe Renault's award certainly came through the proper channel.
The Cascade Locks resident, who tends the locks at Bonneville Dam, last week earned the coveted Commander's Award from his employer of more than four decades, the United States Army Corps of Engineers in a ceremony at the Corps' headquarters in downtown Portland.
USACE annually honors employees for duration of service, and for general and specific acts of exemplary service.
Hood River resident Mike Colesar was among a team of engineers earning the USACE Innovation of the Year Award (see photo, page A2).
Renault received the only 50-year pin on the day, in addition to the top civilian award, from District Commander Col. John Eisenhauer.
The award states: "Joseph Renault is presented the Commander's Award for Civilian Service for his selfless service as Lock Operator with the Bonneville Lock and Dam."
"I was surprised all to heck. I wasn't even expecting it," Renault said. "I just kind of sat there and the commander said, 'Come on, Joe, get up with here with me. I was shocked. I was speechless." With him were his wife, Nancy, and children Angelia and Michial.
The award goes on: "Mr. Renault sets the bar for dedication work ethic and safety. In his 44 years with the project, Mr. Renault has not had an injury, accident or property damage incident. He is the face of the Corps of Engineers to commercial and recreational traffic that lock through Bonneville. Mr. Renault is truly one of the unsung heroes of the Bonneville Lock and Dam, Portland District, and the U.S. Army Corps of Engineers."
"When I came off Cloud 22, I realized that I did my best and to serve the public the best of my ability," Renault said.
Renault's 50-year award includes his time in the Army Air National Guard and reserves, dating to 1963. He served at the old Portland Air Base as a firefighter until 1969, and was transferred to Bonneville Dam. He has been a locks operator since 1979.
In all 50 years, Renault has missed one day of work – for a 24-hour flu bug in 1973 or so.
"A day later, I was ready to wrestle a bear," Renault said.
"Joe is one of the most dedicated and reliable employees to have ever worked at Bonneville Lock and Dam," according to the Corps' public affairs office.
"Every year Joe donates large amounts of leave to fellow employees in need. As far back as records can be reviewed there is no indication that Joe has ever had an injury, lost time accident or caused any damage to government property.
"As the face of the Corps of Engineers for commercial and recreational traffic transiting through the gateway to the inland marine transportation system at Bonneville Lock and Dam, Joe represents the U.S. Army Corps of Engineers with pride and professionalism. The frequent users of the Navigation Lock know they are in good hands with Joe Renault at the reins."
Renault, who will retire on Jan. 2, was modest about his recognition.
"I love the job. I meet a lot of nice people I know the guys on board (boats) personally, and we know the (Corps) guys and their wives, and we socialize on and off the job."
He said he tries to give the personal touch, with safety as his top priority.
"If you got recreation boats in, you gotta watch them. Sometimes they say, 'I've been here before, I know what to do,' but it's knowing how to tie up on the mooring bed, and a lot of times they don't understand.
"I'd rather go out and talk to them personally because a lot of times when they come in, you've got visitors on the south side, and I don't want to embarrass them on the radio or the public address, so I go and talk to them."
One of the perks of the job came three years ago when he had tea on deck with Ringo Starr. The Beatle came through on his boat, en route to Lewiston, Idaho.
"I couldn't believe it. I was told a private yacht (was on the way) and it would be Ringo Starr," Renault said. "He was waving and everything, and the river pilot had me take him up slow because he couldn't tie up like he was supposed to because (Ringo) only had one cleat.
"I was out in the stern of the boat having a glass of iced tea, and we were talking to him from the bottom almost all the way to the top."