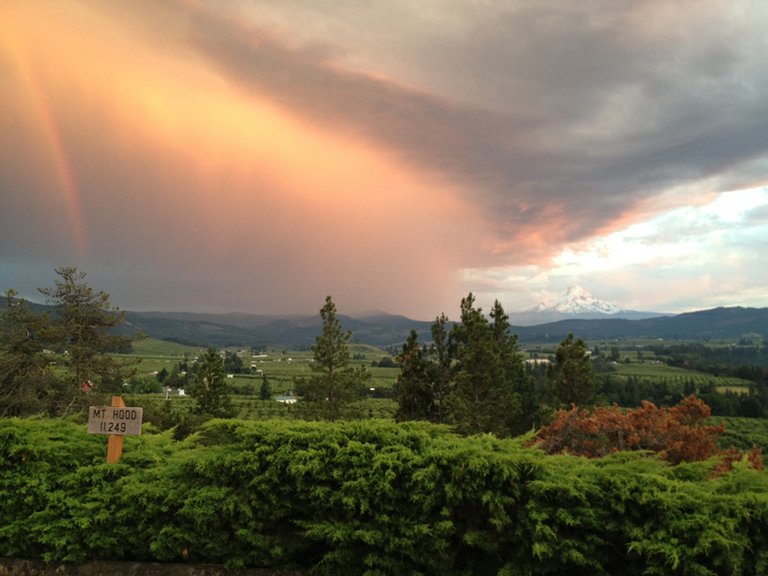 Hood River residents were treated to an impromptu light show last weekend, courtesy of Mother Nature.
A thunderstorm rolled into the Gorge late Saturday evening — interrupting a day that had otherwise been mostly sunny, hot, and dry up to that point — and was gone to the north almost as quickly as it had come.
Lightning flicked from cloud to cloud, and to the ground, as the valley experienced a powerful storm that brought with it a brief, but intense downpour.
According to Jon Gehrig, wildfire coordinator for Hood River Fire and EMS, the storm was responsible for both starting and extinguishing at least one confirmed fire just outside of town.
"As far as our lightning storm over the weekend, there were two strikes reported — one in the Wy'East Fire District and one in the West Side District which was confirmed in the vicinity of Eby Road," Gehrig reported. "The rain extinguished this fire before personnel arrived."
The storm brought with it localized rain that drenched some areas of the Hood River Valley while leaving other areas mostly dry. The business district of Hood River was pummeled by the cloudburst, but Gehrig noted that the Middle Mountain weather station (located in the mid-Valley) reported no measurable precipitation for Saturday.
Gehrig speculated, though, that "the impact of the lightning storm may have been worse if we hadn't received precipitation on Thursday," and that "there was enough moisture to keep the fire vector low."
Lightning-caused wildfires at this time of year aren't typically a chief concern for firefighters. Gehrig explained that historically, only around 7 percent of wildfire vectors reported in the month of June for the past 40 years have been caused by lightning.
Instead, Gehrig advised that currently "we should be most concerned about our actions, as a fire is more likely to start from debris burning, fireworks, a careless campfire or smoking."
The Oregon Department of Forestry officially declared fire season in effect as of the morning of June 14 and a burn ban will also start, per usual, on July 1. Gehrig advised people to contact their local fire departments to see what is permitted under the ban.
Though the storm brought with it some precipitation, Gehrig didn't expect any of the rain received last weekend or any of the precipitation in this week's forecast to have an impact on this year's fire season, which is expected to be a "high hazard season" due to a dry spring.
"I don't … foresee the coming weather to change the outlook for the season," he said. "My advice is to remain vigilant, as the fire season is upon us."