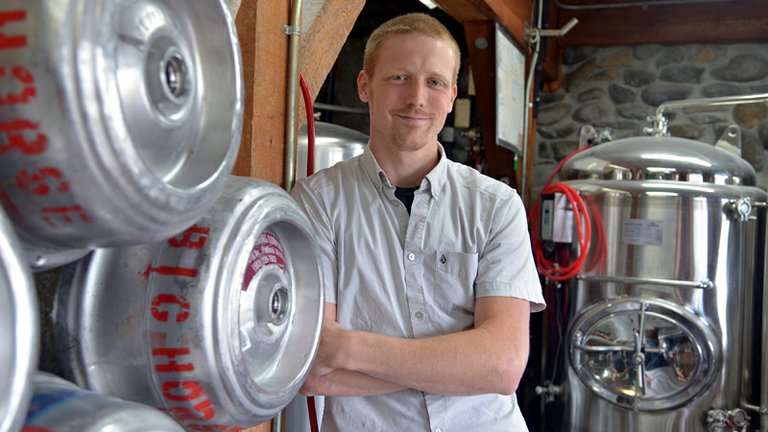 Originally published June 19, 2013 at 4:48 p.m., updated June 20, 2013 at 9:05 a.m.
Darrek Smith is the youngest brewer in any of the county's five commercial breweries, and he works in the oldest, and smallest, ale house.
Smith's story is a unique one, even in the diverse field of ale authors in our midst.
He works alone in a four-barrel system that expanded to six tanks last year from the original four installed by his boss, Randy Orzeck, who was the first Big Horse brewer.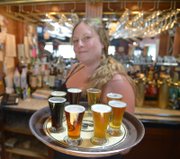 In a brewing tradition seen all over Europe, he is handcrafting beers one floor below the pub where it is served. Big Horse has this in common with Full Sail and Solera, where pub areas also are located directly above the tanks.
(Asked what's new and soon to come at Big Horse, Smith said Big Horse Saison with brett will be available this week at the pub and at Stevenson Blues and Brew Festival this weekend.
(He has started a series of rotating IPAs, 8.0 percent alcohol content and above, including the new Strictly Rude and last year's Paragon.)
Smith is 29 (not 27, as the June 19 article said), and he has a son, Jude, 4.
"He's another big inspiration for me. He's a great human being. Even though he's only 4, he's the happiest little kid in the world. I love having that relationship.
His history at Horsefeathers goes back to when he was too young to hang out in any bar. At 16 he and friends used to sneak into the lower level of the restaurant and play pool.
At age 18, he left Hood River and lived a year in the New York City area, doing volunteer work for a religious organization he from which he — and some of his immediate family — have since severed any ties.
He lived in Hood River a while, and then moved to Portland when he was 20.
"That's where I got introduced to beer. I didn't think I'd like beer," Smith said. "People would say 'Let's grab a beer,'
and I would say, 'I don't like beer. Beer is crap.'"
But gradually that changed, and he acquired a taste.
"I started getting into beer more after I started brewing," he said.
He spent five and a half years actively home brewing, before his Big Horse predecessor, Jason Kahler, handpicked him in late 2011.
HRN: How did you get your start as a brewer?
"I was with a friend, having beer, and he said, 'We should try making beer.'
"I said, 'I didn't know you could make beer.' You go to a restaurant and you like a dish and you think, 'I could make that at home,' but I didn't think about that with beer."
Next, an ex-girlfriend got him a home beer kit.
"The girl is out of the picture," he said. "My ex led me to drink and I never had time to thank her for it. It's a joke but there is some truth to it.
"The first year was not very successful. I didn't know where to get my information. I'd go online and get all contradictory information. Once I learned where to get my information that turned it around.
"My first good batch was my first, and my second batch was really good, the one after that — and the next 50 were no good.
"That's relating it to my standards now. I guess at the time they were all right.
"I knew once you do one correctly, even if there's a whole bunch of bad ones I knew I could do it correctly. It just takes a lot of time and studying, and trial and error."
How many trials?
"Past 50. I mean there was even a point when I was brewing, had a batch that wasn't taking that great. I didn't know why it wasn't, wasn't sure I wanted to continue it as a hobby, and that's when I found the right information."
So was there a particular source? Or did you know the right places to look?
"First, I went to local Homebrewers of the Gorge, a great source because a few of them have been doing it for 15 years, have great palates, and can tell you what went wrong and how to change it.
"I started hitting all the brewers around here, including Jason (Kahler, his Big Horse predecessor), and then started looking to Jameel Zaneischef, an award-winning brewer, and books on brewing and microbiology and yeast. I didn't understand it right away, but I would bring (beers and ideas) to the (homebrew) group, and get feedback. I did that every single week.
"About three years ago I started making good beer, or even a couple of years ago, consistently making good beer, and about two and a half ago I really started nailing it down."
At home, Derrak uses a tiered stainless steel system, "not that much different from what I do here," he said of Big Horse, where he uses a 4.5-barrel system, producing 150 gallons at a time.
"The thing with brewers is we all go through same process, whether you're making 100,000 gallons or making five."
HOW WOULD YOU DESCRIBE YOUR METHODS?
"I'm pretty meticulous. Once I have a goal set in my kind I won't stop until I get it perfect, and keep trying and trying. With brewing you have to be anal about it. If you're not, you're not going to make good beer.
"I like it because it's challenging. I like challenges. Life's pretty boring without them."
SO IS BREWING AN ART OR A SCIENCE?
"Anytime you create something there's art in it. There's definitely science, the microbiology part of it. A lot of people refer to it as craft more than an art. I think it's parts of all three."
HOW DO YOU DISTINGUISH CRAFT FROM ART?
"My brain doesn't work that way. If you're constantly creating something and it's different every time and it's unique to you, where if you were to give someone the same equipment and they couldn't replicate what you do, I would say there is some amount of art in there.
"Anyone can make a craft beer. I think what they do to it personally adds the art side of it."
WHAT'S THE SECRET TO GOOD BEER MAKING?
"I guess you have to have the attitude that if you fail it's okay. I have a second-hand quote from another brewer, whenever he had to dump a batch, he says 'it feels liberating.' I love it when I fail, because anytime I succeeded I didn't learn as much. You have to be willing to fail because you can't be dogmatic. You have to be very fluid and kind of be open to hanging up your opinions about how to brew."
WHAT'S YOUR FAVORITE BEER TO MAKE?
"After close to 400 batches, there are only a couple (beer styles) I haven't brewed: northern German alt biers have not been done; there are a couple of beers in that style (to make).
"I love making sour beers. They take a long, long time, upwards of two years, sometimes even longer. There's something about having something take so long, there's more satisfaction after you wait that long, and finally get to drink it and it tastes great. I love making German style lagers, one of my favorite styles to make and drink. Smith said lagers "is one of the few styles I want to nail on head.
"I like to compare my beer to the way the Germans make it and try to get it just right.
"Any style other outside Germans, are only ones I would mess around with. They're really hard to make. If you manipulate the recipe you can't really compare them."
HOW DO YOU FEEL BEING IN FIRST POSITON?
"I love it. It's nice to do something different after doing drywall for 14 years. It was very monotonous and I hated that job from day one.
"It feels good I found something I liked that I never knew existed, and I worked really hard to get to a place where . . . I didn't think I'd be here this quick. A lot of people will start as an intern, go to assistant, and then after years, the head brewer will leave, and get that, I went directly in, it was really fast, and kinda cool."
IN GENERAL TERMS, THIS IS NOT THE KIND OF VOCATION YOU SAW FOR YOURSELF, GIVEN THE KIND OF RELIGIOUS UPGRINGING YOU HAD GROWING UP?
"I used to come in here and play pool and sometimes get kicked out because we were minors, but Jason was one of the brewers I met from the local scene. I'd bring him my beer, he'd give me feedback, I'd keep bringing him my beer. When Kahler left, Randy. Orzeck, Big Horse owner, asked him who he suggested for brewer.
"There were a few people wanting the job and he recommended me, which was pretty nice."
(Jason Kahler, his predecessor, left to set up his own brewery, Solera in Parkdale.)
HOW HAS THE TRANSITON GONE?
"It was an absolute crash course. We had problems with glycol, snow three feet deep, then Jason (Kahler) got really busy at his brewery. Usually an assistant brewer trains under a head brewer for six months. I got two brews. Then I did one of my own and it just clicked. We mainly brewed Jason's beers. When he left I started doing my own recipes."
WHAT ARE DERRAK SMITH'S BEERS LIKE?
"I'm kind of notoriously known as far as our home brewer group for having clean beers: clean as in I tend not to let the esters go crazy, and get all peppery, clovey or fruity, I tend to have those subdued and let more of the malt and the hops speak."
WHAT'S YOUR FAVORITE THING ABOUT BREWING?
"The favorite thing is I can contrast with my old job, and I can create something that is completely unique to myself and I don't have to be brewing the same beer every day. In a big brewery, this is just like a bigger home brew set up.
Randy (Orzeck) is really cool, there are no restrictions. I have 100 percent freedom and that's what I love about brewing, that and the community. I know all the brewers in the gorge and many of them in Portland and if I call them up and say I'm short on a kind of yeast or malt or hops, they'd gladly give me some. There's no competition, whereas when you drywall, there's actually families with competing companies, undercutting each other on bids.
"It's the community around beer, I love it. I've never heard of a brewer or brewery kind of stiffing other brewer. I go to Everybody's, I drink their beer for free."
JUNE 2013
HOW HAVE YOUR BEERS CHANGED IN YOUR FIRST YEAR AT BIG HORSE?
"My hoppier beers have gotten hoppier, not more bitter, but hoppier
"I'm working on a series of Wild Belgian ale, with brettanomyces. Most brewers won't allow it, but I embraced it. I love brett."
He said his limited tank size precludes doing outright sour beers, given the length of time it ties up a tank.
HOW DO YOU ENSURE THE BRETT STAYS OUT OF THE REST OF YOUR ALES?
"I just have an insanely strict cleaning regimen, even more with brett. Everything gets cleaned thoroughly, and something like a plastic fill line gets thrown out after one use".
HOW LONG WILL IT BE ON TAP.
"When it goes. It's summer, so it'll go fast."
AFTER A YEAR AS BREWMASTER, HOW WOULD YOU DESCRIBE YOUR BEER MAKING STYLE?
"Kind of like my friends tell me, even if I make a funky beer it still tastes clean."
DO YOU STILL PARTICIPATE IN GORGE HOMEBERWERS CLUB?
"I still go there regularly. We had a yearly homebrewers' brew day (in late May) that was a lot of fun."
ARE YOU HAVING A GOOD TIME WITH BIG HORSE?
"The beers are finally coming out like I wanted them to. Usually there's a learning curve when you're on a new system. The beer will come out drinkable but not like I had in my head, like I wanted them to be.
"Any new brew you introduce the first time, rarely does it come out perfect, the way you want it, but more times than not they are coming out the exactly the way I want them to. But I'm guessing brewers will never be 100 percent happy."
*This article has been updated to correct Darrek Smith's name.