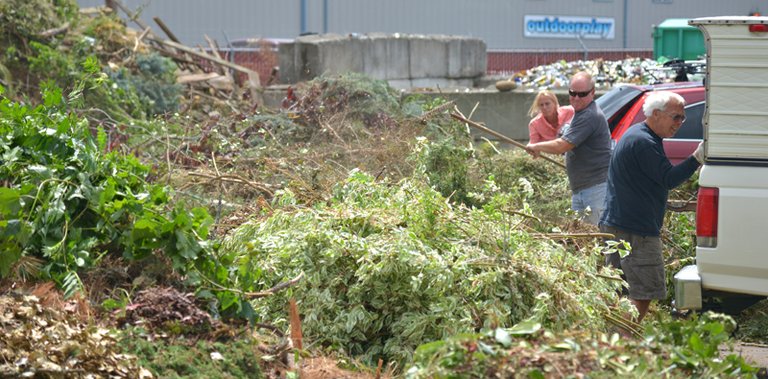 Representatives of Hood River Garbage Service say the days of people abusing the free Wednesday yard debris drop-off service — either wittingly or unwittingly — at the Hood River Transfer Station will soon be over.
During the June regular meeting of the Hood River County Board of Commissioners held last week, Jim Winterbottom, site manager for Hood River Garbage, said due to the rapidly increasing volume of yard debris received by the transfer station, employees will have to start enforcing in earnest service restrictions that have fallen by the wayside.
"Historically, we've had a situation with city residents, that are ratepayers, that they are allowed to drop free yard debris off on Wednesdays. We do accept the yard debris six days a week at a charge of $10.83 a cubic yard," he told the board during the June 17 meeting.
"Through nobody's fault but our own, we have been lax on policing. We've had cars coming through the gate on Wednesdays and it's not uncommon to see Cascade Locks residents, people from Parkdale and, lo and behold, people that aren't even ratepayers … so it's gotten out of control."
Winterbottom said the transfer station has also been seeing yard waste coming from non-residential customers, including "orchardists and vineyards," citing the presence of fruit boxes and large branches in the yard debris dump piles as evidence of the practice.
Hood River Garbage has asked customers to only bring tree trimmings that are less than 6 inches in diameter and 4 feet in length to its facility on Guignard Road, although Winterbottom admitted in a later interview that restriction "hasn't been a hard and fast rule."
The free service began approximately 10 years ago, according to Winterbottom, who said it was established to accommodate city residents who paid for curbside garbage service but also wanted a way to dispose of their tree and shrub trimmings. Since then, the total tonnage of raw material accepted has grown from an annual 40 tons to 1,517 tons last year and is on track to break 2,000 tons this year.
Furthermore, Winterbottom estimated that a sizable majority of the yard debris comes from residents outside the city limits.
"At this rate, we're going to be out of compliance with our operating permit at the rate material's coming in," he warned the board. "We can't move it fast enough."
Particularly worrisome to Winterbottom was the fact that a burn ban will go into effect July 1 and typically brings with it a spike in yard debris loads at the transfer station since residents, for the most part, can no longer use fire as a means of disposal.
"It's gonna bury us with yard debris because it's an easy out for people in the county," he said of the burn ban, "which we don't mind as long as there's some source of revenue for us to handle that material."
Board Chair Ron Rivers was surprised at the non-residential yard waste and suggested it was a good idea to step up enforcement overall.
"I think if they use the service, they should pay for it," he said matter-of-factly.
Although Hood River Garbage does charge a fee of $10.83 per cubic yard for non-customers, Winterbottom noted that hardly anyone shows up on any other day besides Wednesday.
"I can't remember the last time I rang a customer up for a load," he said.
To make matters worse, Winterbottom added that Hood River Garbage doesn't make any money off the yard debris collections and in fact, loses money. When the transfer station reaches capacity, yard waste is trucked to a facility in The Dalles where it is accepted for a charge of $25 per ton. He said transportation costs average about $275 roundtrip.
In order to make up for lost revenue, Winterbottom said Hood River Garbage has begun "stopping customers that can't verify they have a curbside service," and will turn them away if they won't pay.
While county residents also haven't technically been eligible to use the free service either, Winterbottom said county ratepayers would be able to still use it until the end of 2013. After that, county customers will have to pay, although the rate structure has yet to be defined. Winterbottom planned on returning to the board in July to further discuss the matter.
The biggest hurdle for Hood River Garbage right now, though, is to try and figure out a way to verify whether users of the yard debris service are actually customers — short of stopping and asking each one individually.
"We're not sure what we're going to do," Winterbottom said. "We've got two weeks to figure it out."