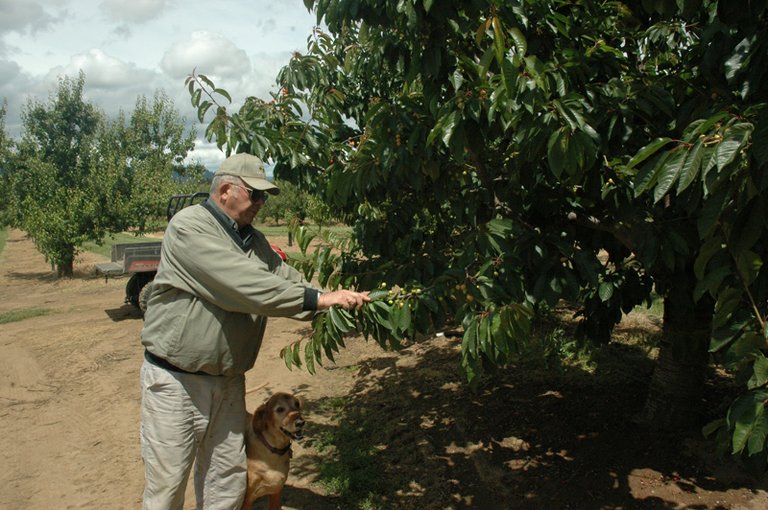 Rick Routson's earliest memory takes place in his family's orchard: When he would venture into the orchard with his parents as a child, he was usually placed in one of the big wooden fruit bins for safekeeping.
That was in the 1940s. Today, Routson is the owner and operator of Routson Orchards, a three-generation farm in Parkdale. He took over the family farm in January 1971 after four years with the Forest Service when his brother Jerry retired. But his roots go much deeper than that, having been only 18 months old when his father, Harry, purchased the farm from the Noji family in 1943.
And aside from two years in the Army, where he spent 13 months stationed in Korea and finished his service in Los Angeles, Routson has always called Parkdale home.
When his father purchased the farm, the 78-acre orchard grew mostly apples and pears. After the apple market turned in the 1990s — there were no local buyers, so the fruit was sent to Washington state — Routson gradually phased out the apples entirely.
The farm's main focus is pears, with Bartlett, Anjou, Bosc and Comice growing on 74 acres. The Routsons send most of their pears to Duckwall for processing, although a few go to Diamond Fruit, as well.
About nine years ago, the family added four acres of late-growing cherries — mostly Skeena, but a few Sweethearts, too. The cherries are all sent to Diamond for packing before reaching their final destination in Southeast Asia.
These varieties of cherries were selected, he said, to "stay away from the Bings that flood the market." Cherries are generally picked in the middle of July, with pear season running August to October.
An orchard, however, requires nearly year-round care. Workers begin pruning in the middle of January or the beginning of February, depending on the weather — Parkdale's growing season is generally shorter and later than the rest of the valley — and there is a never-ending cycle of mowing and moving irrigation pipe.
These days, Routson Orchards is busy fighting fire blight, a black ooze that appears mainly on Bartlett trees. Affected trees must have limbs cut off or are completely removed. It's too early to tell yet what this year's crop will look like.
Having lived in Parkdale his entire life, Routson has seen many changes come to the upper valley. "There's a new store — the old one burnt — and quite a few people have moved up here," he said. You don't see logging trucks on the roads like you used to, he added, and there have been many changes in the fruit industry as well, with farmers sending fruit to be packed rather than packing it themselves.
Actually, that's how he thinks his parents met — in a packing house. His mother moved to the upper valley in 1908, and his father in 1915, after serving in World War I.
"It's in my blood," said Routson.
Routson's son Darrin and his family now live in the house Routson grew up in. He won't reveal a retirement date for himself just yet — "I just can't stay out of the orchard," he said — but he's in the process of turning the business over to Darrin, who has followed in his father's footsteps.
The farm employs eight full-time workers, including Darrin, although in peak season, that number is between 12 and 15. Routson's wife, Patty, and Darrin's wife, Julie, work, too, checking bins and making sure fruit is handled correctly. Patty and Julie also take care of paperwork and bookwork.
"I work outside a lot," said Routson. "That's the part I like best."
Besides his work in the orchard, Routson was a volunteer with the Parkdale Rural Fire District for 25 years. "Back when I got out of the service, they were always looking for volunteers, like they are now," he said. "That's why I joined, to be a part of the community."
And it's that sense of community that has kept Routson in Parkdale. "I'm living fine," he said. "I'm not one to get up and travel or move somewhere else."