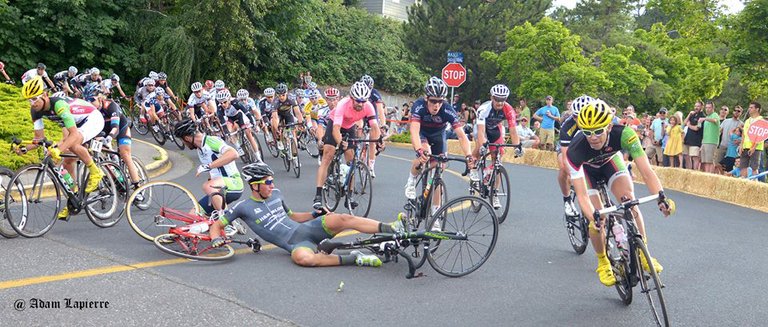 Cameron Cogburn and Amy Thornquist combined smart racing with athleticism and sheer endurance over the weekend to win the overall pro men and women titles of the 2013 Mt. Hood Cycling Classic. The two edged out their closest competitors by less than a minute over the four stages, hinting at just how tough this year's field was.
Cogburn, of Boston, edged CashCall Mortgage's Logan Loader, who held the yellow jersey until the last stage by a mere six seconds over the four stages to take the win. Robin Eckmann of California Giant/Specialized was 21 seconds behind, and Ian Crane and Craig Richey were 34 seconds and 51 seconds off Cogburn's mark.
Thornquist finished fifth in Sunday's race to secure first place overall, 15 seconds ahead of Alison Tetrick, who actually edged the 40-year-old Reno racer by four seconds in the final stage.
Standing atop the podium Sunday at Cooper Spur Resort — the finish line of Sunday's epic Three Summits Road Race — top three pro men and women overall finishers had to overcome an onslaught of tough competition over the three-day event to earn honors as the winners of the 11th and final Mt. Hood Cycling Classic.
For comments by Race Director Chad Sperry, see page B1.
For in-depth coverage of the race, complete results and stage-by-stage reports, see
mthoodcyclingclassic.com.