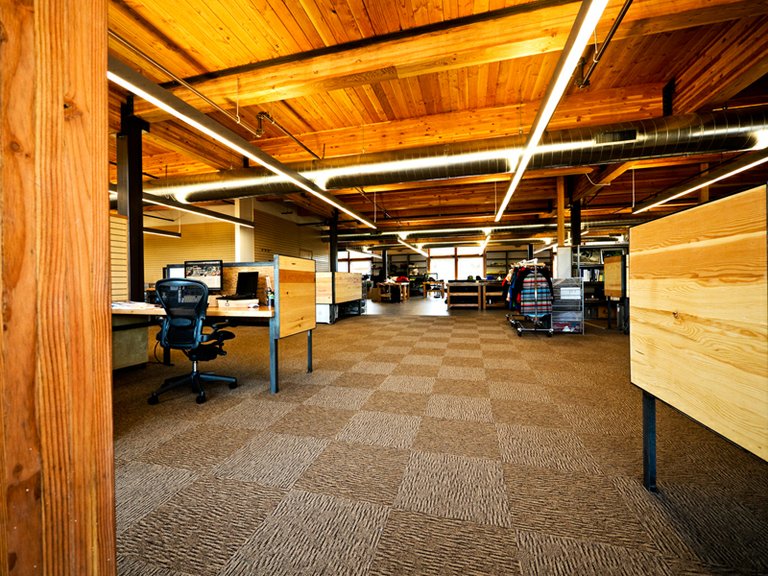 DaKine employees are happily settling in to their new 25,000-square-foot company headquarters, and the move from their aged Columbia Street location to a recently completed Hood River Waterfront building is a welcome change for the current staff nearly 50 who will call the office home.
With an airy, contemporary feel and two stories of floor-to-ceiling windows overlooking the Columbia River, the move puts DaKine's headquarters literally a stone's throw from its testing grounds and its roots as a premiere manufacture of wind and water sports accessories.
"Being a Hood River resident for over 26 years, it has been great to see the recent development of the waterfront area," said Chico Bukovanski, DaKine's national sales manager . "We are proud to move into this new facility with many great amenities for our employees, and to remain a cornerstone of this new waterfront development for many years to come."
The company has a five-year lease for its space in the building, which was constructed over the last year and is still getting finishing touches to its top floor and roof. The building — one of three built along Portway Ave. in the last two years — features a Northwest contemporary design with a light-industrial element that's a natural fit for the company's progressive image and the team of artists, product designers and developers, sales and marketing and customer service that will operate from the Hood River headquarters.
"The new office will allow our employees to focus on what they love most — designing and testing the best action sports accessories and gear on the planet," Bukovansky said. "The space will (also) afford us an opportunity to continue to expand and further cultivate our product development department."
Founded in Hawaii and headquartered in Hood River, DaKine now produces a wide range of products for all seasons and terrains. Over the past year, the company has made what it calls "significant investments in product development, including a team expansion of new product designers," and the space, staff says, will "accommodate not only the brand's recent growth, but its long-term growth projections as well"
DaKine's move came after about two decades in its former downtown location to the east of Full Sail Brewing. With that space now vacant, Full Sail, which owns the building, has begun a full-scale renovation of the space that will allow the company to expand its bottling line and house storage and staff offices currently located in the former Expo building owned by the Port of Hood River.

"The idea is to have everything under one roof," said Greg Knutson, Full Sail's human resource director. "We are hoping that will be accomplished by this time next year."
Knutson said expanding bottling operations, which should be complete by the fall, will allow the company to use bulk glass for its beer and keep more of the bottling process in-house.